Archive for the 'How To' Category
Posted on October 21st, 2011 • Filed under How To • No Comments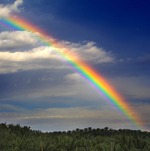 In this tutorial, we're going to make an animated double rainbow in HTML5 / Canvas. I'm doing this to teach you about the HSL color space, and to show you a more sophisticated way of using it.
I'll soon have another tutorial which recreates the same examples in Processing.js. Some aspects of this are easier in Processing, and some are easier in HTML5/Canvas – the difficulty is roughly the same for both, I've found.
To draw a rainbow, we need a graphics framework to work with. In this tutorial, I'm going to draw everything using the Canvas APIs which are part of HTML5. This means that if you are using an older web browser, like IE 8 or earlier, you're not going to see anything!
Keep Reading this Tutorial at KrazyDad.com…
Posted on August 14th, 2011 • Filed under How To • No Comments
The rather makeshift laser cutter payment box that had been taped to the wall served us well, but it gave up the ghost today. Which gave me the perfect excuse to use the Rahulbotics BoxMaker to make a new one.
BoxMaker is a simple little app that you tell how big to make a box and it generates a PDF that you can load into the laser cutter and make the box. It lets you specify the size, thickness of material, and even the laser kerf. It uses finger joints to hold the sides together without fasteners. If you set the kerf right, the box won't even need glue. BoxMaker is free (postcard-ware) and runs on Windows, Mac, and Linux. But there's also a online version so you don't even have to install anything.
I had the box designed, cut, and hung on the wall within a half hour, thanks to BoxMaker.
Posted on February 16th, 2011 • Filed under Events, How To • No Comments
This past weekend we participated in the Cinefamily Pajama Party screening of Electric Dreams. There was dancing, smashed-monitor-into-valentine's-day-card making, photo booth action, etc. Rusty Lemorande even put in an appearance, answering questions about some of the behind the scenes action of how things went down (note to self, knowing Barbra Streisand, not a bad idea)
One of the things we brought to the table(s) were these little LED Hearts Lights. We've put them on Thingiverse and on Flickr. This is our first thing on Thingaverse officially. Don't worry. We'll make more.
If you haven't heard of Electric Dreams, here is the Culture Club video of one of the songs they have on the Soundtrack.
[Update 2011-02-15] We've added our extras to our store for for anyone who would like an original of their own: CRASHSpace LED Heart
Posted on January 13th, 2011 • Filed under Events, How To, Local Resources, News & Updates, Services • 3 Comments
A Realtime Multi-Media System
What will we do?
You will learn the basics, workflow and methods of this programming environment and paradigm through a few simple examples.
From there you'll start to see the innumerable possibilities and get a glimpse under the covers. We will really start to see how it is changing our approach to large installation based projects, performance based art pieces and other realtime digital media. Getting a feel for this environment will no doubt inspire more questions and ideas which will dictate where we more deeply explore. Expect a great collaborative learning environment as dynamic as TouchDesigner itself.
Have a look at the forums and you will see that the community is small, but steadily growing. You can find answers to many initial questions there. One can also find a great repository of shared files and components offered by users and developers in an effort to connect TouchDesigner with a slew of amazing technologies being explored in digital creativity.
Explore the following:
- implementing a Kinect to create an interactive game or control device
- getting an arduino input working for an accelerometer
- light sensor feedback fun???
- a user interface to control a robot?
- a musical instrument that creates tones based on camera input???
- an interactive graphical environment or data visualization
So what is it really?
The interface is similar to Max/MSP or Pure Data, in that it is a visual, node-based programming environment. The objects at your disposal range from simple mathematical operations to complex OpenGL texture generators. There are several ways to customize and hand-code your own methods, as well as extend and connect to external generators, controllers, sensors, cameras, etc. You could look at it like a custom rigged combination of openFrameworks, processing and Max/MSP with a focus on creating real-time OpenGL based graphics.
Who is our guide?
The class will be led by Peter Sistrom. Peter is an architectural designer by trade, who's interests have been veering towards generative art, realtime graphics and media environments for the last 3 years. He has worked in designing, installing and performing interactive and media based projects. These days, Peter devotes his free time to creating abstract visual animations and actively developing realtime media for live performance with TouchDesigner.
Of TouchDesigner Peter says:
In the last year I have been using TouchDesigner for my personal art making and some production work. In this time, I have grown more and more convinced of its place at the top of the new wave of multi-media art and production tools. This year has also seen the program used in several rather high profile productions, ranging from YouTube's Guggenheim awards ceremony to the Plastikman (Richie Hawtin) world tour video system. Aside from full blown production, TouchDesigner has also been used in interactive installations and collaborative art making at MIT. TouchDesigner is also quite a pleasure when used for smaller personal projects, whether it be a music visualization, as the backbone for some fun I/O hacking, or just about anything else you can think of!
Want to start now?
[Updated 2011-11-13] fixed formatting and product name to "TouchDesigner"
[Updated 2011-11-21] updated link for Arduino-TouchDesigner interfacing
[Updated 2011-02-15] RSVP, invite your friends, or just see who'll be there with the facebook: http://www.facebook.com/event.php?eid=110587359019435
Posted on January 4th, 2011 • Filed under Events, How To, News & Updates • 11 Comments
This project was an adventure to say the least. The ideation was much longer than typically allow. Inspiration came from:
Truth be told I did complete something cool, but it was only the beginning. It was Christmas day. I was on server watch for my company (we doubled our traffic that day). I had my folks in town. What better place to entertain them while maintaining vigilance then at @crashspacela ?  This first pair of glasses made a great demo of the power of open hardware and our tools at crashspace. I designed and lased out the pair while we were skyping with far away friends.
I already knew I'd be iterating on the design to add LEDs similarly to how Bkubicek had, but my folk were hungry and we had Xmas dinner to attend to. After I safely put my folks to bed that night I went out dancing with some friends and blacklights. Immediately start discovering other necessary improvements that were sorely needed. The wire joints broke. They didn't stay on ones face. The florescent orange acrylic turns kinda green in a nice mercury vapor black light. Even given this initially failed first attempt people loved it.
On sunday, I was back at the space designing the LED holding portion and a new joint. The joint proved very weak, so I opted for thicker acrylic.  The local plastic shop was again open on Monday, so I grabbed some 1/4 inch florescent red. At this point I realized I lacked any UV LEDs and started begging everyone I knew to scrounge some up. I started taking stock in all the other parts I'd need to complete a single pair to figure how many I could make. At this point we had plenty of flashing and orange LEDs on hand, so I knew in the worst case it wouldn't be an issue. My limiting part turned out to be the CR2032 batteries of which each pair requires two. I could grab some at radio shack or whereever, but the cost online is about 90% less so didn't feel like rewarding the locals for their gouging. Luckily I happen to have 16 of these so 8 pairs were possible. Definitely enough for a sizable NYE crew.
Tuesday I was back in the lab design the LED holder with the 1/4 inch acrylic, tuning the battery placement, adding an option gusset, and adding a hole for a strap. This makes em a little more like goggles. I came out with the lased parts for single pair pretty close to final.
Wednesday I was working on sourcing LEDs and straps and figuring how to best tie a strap conveniently.On a trip to the $99 cent store where there was rumored to be some sweet day-glo glasses straps. The straps didn't work at all, but in my searching I found these little plastic clips. I'm clueless as to what for they're originally intended. They make a nice battery clip and switch. Bonus! Again I brought out a pair to show and pass around. Again they broke. I decided then to thicken the arm piece to completely enclose the battery.
Thursday, I lased parts for all 8 pairs and on the way out of the space I found someone had left me UV LEDs. I love my hackspace! I had to help with the decorations for a NYE event, so ran off to that. I brought along enough parts to complete a single pair and it took a lot longer to assemble than I'd hoped. I again found an opportunity to gift a pair and road test. Success! no breakage. Given that it took a while to assembly I was up that night tying the knots, force fitting LEDs, and taping batteries in place. Good times!