Posted on May 10th, 2013 by at0mbxmb • Filed under Events • 2 Comments
The fine folks at Instructables are pairing up with Crashspace on Tuesday, May 14th, from 7pm – midnight for our first Instructables Build Night!
We'll be hosting this event in place of our normal monthly public meeting, which means that all are welcome to come and experiment!  The theme this month is conductive paint.  Arrive early–space will run out fast!
Image courtesy of trendhunter.com
So what is conductive paint, you ask?  Well, it's a multipurpose conductive material which looks and feels similar to paint.  In the image above, a dancer is using it to connect circuits on the walls and floors to compose a song with her dance.
What you need to bring:
Creative ideas! The goal is to create great Instructables around great projects!  Your project doesn't need to involve Bare Conductive Paint, but it can if you'd like!
Your own supplies, aside from the paint. Do you want to paint on paper, your favourite dress, dishes, or nun-chucks?  Bring 'em!
What Crashspace + Instructables will provide:
Bare Conductive Paint
Pizza!
Space to work, and the tools available in the shop
Posted on May 9th, 2013 by outlawpoet • Filed under Events • No Comments
It is once again the hallowed time! This Saturday we will accept any and all donations of materials, equipment, broken electronics, old bits and bobs.
Remember, most electronics cannot simply be thrown away, they contain heavy metals, toxins, and mixed plastics, and must be dealt with by people with the tools and technology to do so, so our landfills don't leak awful things into the groundwater.
The city of LA has an eWaste program, you can drive your stuff to locations you can find on their website. But failing that, you can bring it to crashspace to use in our projects!
On MegaTakeApart days, we accept donations of anything and everything. Tools and materials we can use, broken or old things we can repair, those items worse off still can be a source of spare parts, components, and materials. What left over we transport to recyclers and/or dispose of safely.
MegaTakeApart has also become a social time, since there's always people there, and there's a crew of members and visitors all through the afternoon with no particular focus other than screwdrivering the incoming donations, so if you've wanted to check out crashspace in a relaxed setting, you should stop by. And bring an old printer/crt/unused soldering iron/dead robot/vacuum chamber/broken rc plane/leaky batteries. We can use/fix/disassemble/recycle it!
(and yes we've gotten all those things and more as donations, you wouldn't believe how much unused stuff is sitting out there in garages and closets. Bring it out! Donate it and see it used in our next crashspace project!)
Posted on May 8th, 2013 by matt • Filed under Events • No Comments
Learn about this project on May 29th at 8pm.
This zanny project because RedBull gave us some sweet hardware  to enter their contest (http://creation.redbullusa.com/).
We built a mobile interactive night club experience. We could deploy this thing anywhere. We can steal crowds that are otherwise waiting to get inside some other event with our brilliant glow and interactive control. We shot a little gorilla video and got people moving.

We borrowed a lot of inspiration, techniques, labor, and code from friends all over the world and at crashspace. We entitled the project Crash Inspired because…
This is Crashspace when inspired.


Another thing we do is collaborate, share, learn, fail, fail, fail, and win! 
In that spirit we are hosting a special event to share the designs and learnings from this project. 
And, YES. There were plenty of failures, late, nights, and bumps in the road we hope you can learn from as well as a lot of very cutting edge tech employed.
Come by CrashSpace on May 29th at 8pm  and meet the folks involved and pick up some new tricks for your next big LED project.
The code is already available on our github.
I hope to see you there! 
  …but you must RSVP here : http://crashinspired.eventbrite.com

Posted on May 7th, 2013 by theron • Filed under Events • No Comments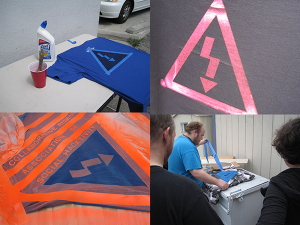 Going to Maker Faire Bay Area May 18/19th?  Need some time to finish your project?  Need a CRASH Space t-shirt to wear?  Come on by Sunday at noon and you can do both!
Tea Shirt Teastravaganza: 12-1 pm.
BYOT – bring your own T-shirt.  We'll have paint and ink and tools and other stuff to turn it into one-of-a-kind DIY apparel.
Project day: 12-4 pm.
BYOP – bring your own project.
Even if you're not going and just want to make a t-shirt or work on a project, come on by.
Posted on May 1st, 2013 by outlawpoet • Filed under Events • No Comments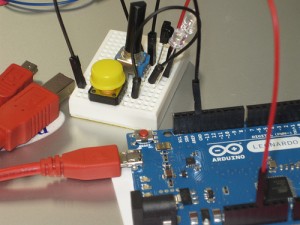 Intro to Arduino is a single two hour course to learn all the basics of how to set up, program, and wire up your arduino to anything. The May 30th and June 1st classes are identical, so feel free to choose the day that works for you!
A laptop and Arduino is all you need to interface with the real world.
Arduino comes with libraries to interface with hundreds of different electronic devices and gadgets. You can use it to connect physical things to everything from simple sensors to internet feeds, leave it running standalone or hook up to computers, other arduinos, custom radios, and much more.
What you need to bring:
a laptop,
along with a little imagination
The Arduino development kit installed on your laptop, which you can find here: http://arduino.cc
What you'll get:
Arduino Leonardo
Cables
BreadBoard
Necessary Electronics components to get you started.
Blinky LEDs
(These materials alone are a $50 dollar retail value!)
About the instructor
Justin Corwin is a co-founder of Crashspace, and a AI researcher. In his spare time he works on custom radio robot helicopter projects and boat designs. He teaches biweekly classes in radio and electronics.
This class is being run twice, once on Thursday, May 30th and again on Saturday June 1st. Pick whichever is better for you, but don't wait too long, the last time we ran this class, we ran out of seats quickly last time!

http://www.eventbrite.com/event/6522175001