Posted on September 21st, 2016 by at0mbxmb • Filed under News & Updates • No Comments
For the past several years, CRASH Space community member Andrew has been collaborating with a team to build a robot that works with rats to map land mine fields. This idea first came about as a sci-fi film that he wrote and directed, but is now coming to life in the form of a robot/animal collaboration aimed to help save human lives.
You can check out their GoFundMe campaign here!
Posted on September 20th, 2016 by levisimons • Filed under Events • No Comments
WHAT: Lecture
WHEN: Saturday October 8th: 5:00pm-6:30pm
WHERE: CRASH Space (Directions & Parking)
WHO: Open to the public
HOW MUCH: FREE!
Ever wonder how the world's population increased six-fold over the past century while the number of people starving dropped?  This is in large part due to the Haber-Bosch process, the most important invention you've probably never heard of.  The Haber-Bosch process allows for human beings to create nitrate fertilizers using nitrogen from the atmosphere and hydrogen gas.  It's a pretty cool trick, but it still requires the use of a lot of energy as well as fossil fuels.
What if we use biotechnology to do same trick but in a more environmentally friendly way?  Come on by CRASH Space on Saturday October 8th at 5pm and hear about one such project from
Dr. Cory Tobin
.
Posted on September 11th, 2016 by at0mbxmb • Filed under Events • 1 Comment
WHAT: Lecture
WHEN: Wed, Oct 12th: 8:00pm-10:00pm
WHERE: CRASH Space (Directions & Parking)
WHO: Open to the public
HOW MUCH: FREE!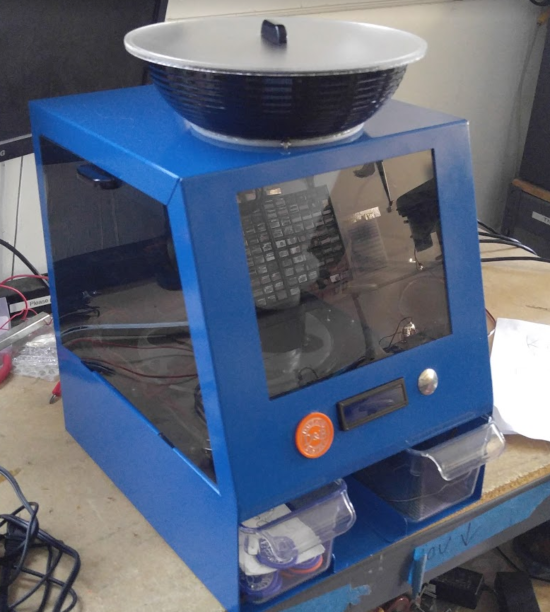 Kevin and Steve's custom chip counter, designed for Dave & Busters
Are you interested in how to do short run product development and manufacturing? Come hear a short talk from Kevin Jordan (@idreamincode) and Steve Goldstein (@stevegoldstein) on their process for developing and manufacturing low production run devices. Following the lecture, Kevin and Steve will host a short Q&A to answer questions from the audience.
Steve Goldstein is a product designer, fabricator and inventor named on 19 patents. In addition to his own product development, Goldstein spent a total of ten years as Director of Entertainment Technology at Disney Imagineering and Sony Retail Entertainment.
Kevin Jordan is a programmer/roboticist that programs a lot of random stuff, from rocket sleds to wind tunnels to kids toys to cat wheels.
Posted on August 31st, 2016 by theron • Filed under News & Updates • No Comments
On May 15th of last year, a Russian radio telescope picked up a "strong signal" coming from the direction of a star known as HD 164595.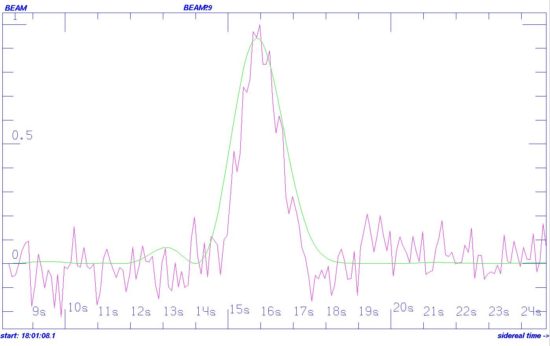 Suddenly, everyone is talking about aliens.
HD 164595 is mostly similar to our own sun, and we know it has at least one planet. And it's reasonably close (as far as nearby stars go).
There are a lot of things this could be other than aliens trying to talk to us, such as Earth-based interference or gravitational lensing from a more distance source. So when something like this comes up, others have to be able to repeat the observation to treat it as an intentional artificial signal.
The SETI@home project makes it easy to help search for repeat observations. But even they are pretty sure that the signal isn't of alien origin.
And now the Russian team has announced that they believe it to be a signal from Earth.
In the framework of this program, an interesting radio signal at a wavelength of 2.7 cm was detected in the direction of one of the objects (star system HD164595 in Hercules) in 2015. Subsequent processing and analysis of the signal revealed its most probable terrestrial origin.
The best speculation I've seen is that since the 11 GHz (2.7 cm) signal was in a band typically reserved for military purposes, they may have picked up a bit of communication from a surveillance satellite.
So no aliens. Yet.
Posted on August 25th, 2016 by theron • Filed under News & Updates • No Comments
Speaking of internet lore, Linux is 25 years old today!
(yeah, it's a wedding cake, sorry – but all of the photos of cakes featuring Tux on Flickr are "all rights reserved" – what the heck is up with that?)
25 years ago today, Linus Torvalds announced he was working on a free MINIX-like OS:
I'm doing a (free) operating system (just a hobby, won't be big and
professional like gnu) for 386(486) AT clones.  This has been brewing
since april, and is starting to get ready.
The kernel wasn't released until September, but the August 25th announcement is considered the birth of Linux.
Linux runs some 96% of the servers on the internet – not bad for a hobby!