Archive for the 'Events' Category
Posted on May 25th, 2016 • Filed under Events • No Comments

If you'd like to join us, enroll in this course!
(If you choose "Audit", it's free!)
These meetups are office hours intended to supplement the Coursera course above. They will be guided by Michelle Leonhart, who is a professional software engineer currently working with Python.
Students are expected to watch the lectures before coming to the meetup, so we can optimize our time together for answering questions. (Similar to a professor's office hours.) However, this course is intended for beginners, so no prior programming experience is required.
Watch the lectures in advance, bring a laptop, come with questions, and make some new friends!
The class runs from May 30 – July 10.
We will be meeting once a week during the course, on:
Thurs, June 2
Wed, June 8, 15, 22, 29
Thurs, July 6
We'll start at 7:00PM. Students are not obligated to stay any longer than they find to be useful to them, but Michelle will be be available until 8:30PM.

Posted on May 22nd, 2016 • Filed under Events • No Comments
CRASH Space is a member- and donor-funded 501(c)3 organization. Below you can find our latest (2015) annual report, as well as our inaugural (2014) annual report. If you have any questions about the organization or the reports, please reach out to info@crashspace.org.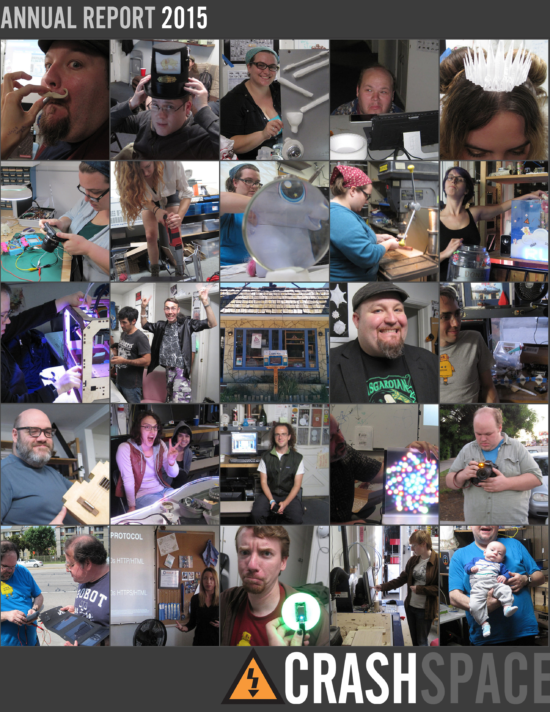 CRASH Space 2015 Annual Report
CRASH Space 2014 Annual Report
Michelle Leonhart
Vice President & Director,
CRASH Space
Posted on May 8th, 2016 • Filed under Events • No Comments
Thanks to everyone who came out to our first Hacker Art Show last month!
Between the art show and our annual meeting, April was a very busy month for us here at CRASH Space! Our endless gratitude goes out to everyone who has been here to help, and everyone's patience as we catch up on blog posts for the past month. 🙂
JaMmInG wiTh tHe CoNs0L3 C0WB0y5 iN CyBeRSpaC3 by @makecation
CRASH THE PLANET was an ephemeral experience, lasting only one night. We had 33 local artists on display, and roughly 200 people in attendance throughout the night. If you missed it, pictures of the show are here and pictures of the setup are here. The works spanned across many dsciplines, including hack art, projection mapping, oscilloscope art, virtual reality, robotics, hand-crafted neon, glitch art, video games, photography, painting and sculpture.
The Perceptoscope by Ben Sax
We also had the pleasure of having Laura (who you may recognize from our Intro to Bitcoin classes) on site at the show interviewing the artists for her grassroots media organization SuchWowTV. We're thrilled for the opportunity to work with a local maker from our own community, as SuchWowTV is an independent org based right here in Los Angeles, just a few blocks away from CRASH.
Check out the video below!
Posted on March 23rd, 2016 • Filed under Events • 2 Comments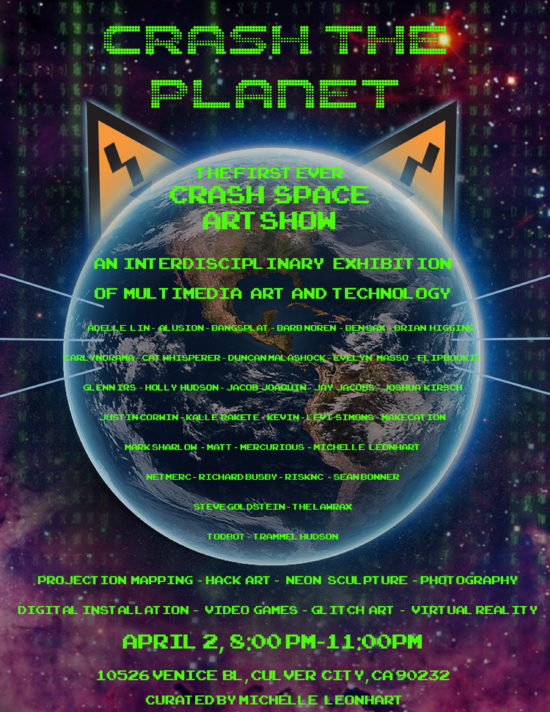 Due to the unique nature of CRASH Space,
this show will ONLY exist in it's entirety on
THIS NIGHT ONLY!
There's only one chance, so don't miss out!

THE SHOW
CRASH THE PLANET is an interdisciplinary exhibition of multimedia art and technology, featuring 30+ local Los Angeles artists.
THE ART
Projection Mapping – Hack Art – Neon Sculpture – Photography – Digital Installation – Video Games – Glitch Art – Virtual Reality – Traditional Painting – Electronic Art – Sound Installation
THE ARTISTS
Adelle Lin – Alusion – bangsplat – Barb Noren – Ben Sax – Brian Higgins – carlynorama – cat whisperer – Duncan Malashock –
Evelyn Masso – Flipbookit – Glenn IRS – Holly Hudson – Jacob Joaquin – Jay Jacobs – Joshua Kirsch – Justin
Corwin – Kalle Rakete – Kevin – Levi Simons – makecation – Mark Sharlow – Matt Pinner – mercurious – Michelle Leonhart – netmerc – Richard Busby – risknc – Sean Bonner – Steve Goldstein – the lawrax – todbot – Trammel Hudson
THE CURATOR
Michelle Leonhart – VP, CRASH Space
Posted on February 17th, 2016 • Filed under Events • No Comments
Join Barb and Michelle tonight at CRASH Space for Wearables Wednesday from 8pm-10pm!
We'll have sewing machines, arduinos, tshirts, cloth, and various electronic goodies to tinker with! (But be sure to bring any materials with you that you intend to take home!) Barb is a maker and educator who runs the awesome tinker channel Barb Makes Things, and Michelle is a professional software engineer with a long history of making, building, and teaching.