Archive for the 'Events' Category
Posted on June 9th, 2015 • Filed under Events • No Comments
On July 18th, Laura Lopez is coming to CRASH Space to give an introductory-level class on Bitcoin!

Bitcoin technology adoption is rapidly expanding in the tech and finance sectors, but the average person still has many questions about how it works and why one would want to use it. Come join Laura and CRASH Space to learn how it works. You'll leave with a basic understanding of bitcoin, as well as a small amount of ready-to-spend bitcoin of your own to help you get started!

This class will cover the following areas:

What is Bitcoin?
Why would you want to use it?
How can you trust the network?
Wallet creation and safeguarding
Sending and receiving bitcoin with your Android or iOS mobile device
A brief overview on the history of currency, and how it has changed over time
Discussion of the social implications of the cryptocurrency asset class

RSVP: HERE
WHEN: July 18th, 2:00pm-3:30pm
WHERE: CRASH Space
WHO: Open to the Public!
HOW MUCH: FREE!
WHAT TO BRING: An Android or iOS device, and questions about bitcoin!
QUESTIONS: Michelle Leonhart at michelle at tinwhiskers dot net

You can learn more at www.bitcoinclasses.com and on the Bitcoin Classes Facebook page!
Posted on May 26th, 2015 • Filed under Events • No Comments
Thanks for a great time, Maker Faire! Take a look at some of our photos! (And let us know if you have more to add to the list)
Barb's Maker Faire Album / Kyle's Maker Faire Photos / Theron's Maker Faire Album
Posted on May 16th, 2015 • Filed under Events • No Comments
Joan Horvath and Rich "Whosawhatis" Cameron wrote a book about becoming a Maker called The New Shop Class.
Joan and Rich will be at the CRASH Space booth (Expo Hall 2758, South West corner in the Hackerspace area) at Maker Faire Bay Area at 11 AM on both Saturday and Sunday to say hi and talk about their book which features CRASH Space members Carlyn Maw, Tod Kurt, and Metalnat Hayes.
Posted on May 15th, 2015 • Filed under Events • No Comments
Crashspace has officially landed at the Bay Area Maker Faire! We have a full and fun booth, including Steve's "Jacob's Splatter" (a combination Jacob's ladder and levitating fountain), Nate's zoetrope, Theron's Bukito and 8-bit ukulele, both of Barb's Hexachords, and of course Sparkles. If you're going to Maker Faire this weekend, make sure to stop by our booth! We're at the southwest end of the Expo Hall, right across from the doors, between the restrooms and Game of Drones.

Also, check out some other presentations by Crashers: Rachel and Josh's SparkleMasters in the Expo Hall right by the Make: Live stage, Tod's blink(1) and BlinkM in the Maker Shed, and FlipBooKit, also in the Maker Shed, who will be doing assembly demos in the afternoons.
Posted on April 2nd, 2015 • Filed under Events • No Comments
March 22, we hosted a Brown Dog Gadgets Solar Panel event, at which we tested out some of their 5W panels, sent to us by the folks at Instructables. We discovered which of the pins on usb ports are dedicated to power (the outside ones), and hooked up multimeters before standing out on the sidewalk in a no doubt odd-looking circle, staring at equipment and saying little. One person had a Neopixel ring hooked up to a trinket, which ran great off of the solar panels.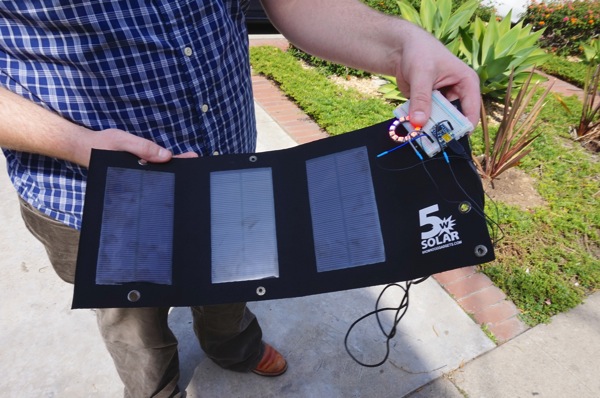 One of our panels was a little quirky, so we began to open it up and discovered a wonky connection on the usb breakout board, which was easily fixed. These panels might let you charge up your phone, slowly. Dante estimated that it would take about six hours to charge his phone from one in bright afternoon sunlight. So, while fun, they aren't entirely prepared to rock our worlds. But, hey, solar! 
Our own Jen Fox and Barb Noren will be writing up project tutorials for the solar panels, so keep an eye out for those. Barb plans to make a solar powered light-seeking robot using these panels and e-waste. Jen's plans are mysterious and spooky.
We will also be hosting Build Nights in April (InstaMorph moldable plastic) and May (Raspberry Pi/Adafruit), so be ready for more fun!