DFN Happy Hour No. 13 : Post Cards from The Edge
Coming up Friday at 5:30 pm PDT members Barb Noren (BarbMakesThings), Tod Kurt (todbot) and Carlyn Maw (carlynorama) are back streaming again! Last week we celebrate our beverage problems (post | video ) while this week we've decided to support the Post Office while showing friends that we care by sending post cards!
https://www.twitch.tv/deepfriedneurons
Last Week Redux
Beverages Consumed:
Barb: Guinness, Draught Stout
Carlyn: Lamarca Proseco, Raspberry Jam, Lime wedge
Tod: The Count Wine
This Week Preview
(The title is a reference to a film and novel by Carrie Fischer)
The USPS has been under assault by democracy cynics for a very long time. The founding fathers recognized that communication is the key to democracy. As the government program that tied our nation together, a functional post office represents a government service success story and threat to the idea that private companies always do things better. TIL: The word "privatization" was perhaps coined by the Nazi's. In addition, the post office represent a threat to government surveillance. The post office has stricter laws protecting privacy (<-4 separate links) than any digital service. Since 1877 the Supreme Court has held
"The constitutional guaranty of the right of the people to be secure in their papers against unreasonable searches and seizures extends to their papers, thus closed against inspection, wherever they may be."

[Jackson ruling]
These protections were made even stricter by the US privacy act of 1974. Snail mail remains the secure standard for secret and confidential material.
The Post Office, via its role in voting by mail also counters voter suppression by making it easier for everyone to participate while still being secure.
All of this has drawn the ire of those cynical souls who believe that a government for the people and by the people should in fact perish from this earth before it's ever even been fully realized.
Examples of assaults on our post office include, prohibiting it from getting into the email and other modern communication services, denying it the ability to enter banking, requirement to fully prepay its retiree health benefits. Every move to repeal that requirement or otherwise support in recent years has been blocked the worst of the worst in congress, executive branch, and their deep pocketed backers. This has come to culmination in the Louis DeJoy buying the job of postmaster general after the forced removal of Ronald Stroman. DeJoy has immediately jeopardized elections via a mail slow down.
So this week: buy stamps, buy merch, and support the Grand Alliance to Save the Post Office.
Books: "How the Post Office Created America" "Neither Snow nor Rain"
Carlyn
Postcards based on coloring book pages from a couple weeks ago.
To qualify for post card mailing rates it must meet the Mailing Standards of the United States Postal Service:
Rectangular
At least 3-1/2 inches high x 5 inches long x 0.007 inch thick (As a guide, an index card is thick enough)
No more than 4-1/4 inches high x 6 inches long x 0.016 inches thick
Post card standard summary for businesses, full spec for machinable letters and cards, and for reference, a paper grade explainer, a paper math explainer and paperweight thickness table and a GSM conversion table.
Barb
If you mail a postcard to say hi, why not include an actual waving hand? I modeled this in Fusion 360, and in the process got to learn how to do joints and movement. Woo learning! I initially planned just to laser cut it on mat board, but saw some scraps of wood and figured, "hey, why not?" The pivot points are 3d printing filament rivets, which I show how to make in this video. Getting gears to turn without binding takes a little bit of fiddling, but this makes for a super fun little mechanism.
The coolest item, IMHO, from the USPS store is the Mr. ZIP shirt (https://store.usps.com/store/product/stamp-gifts/mr-zip-t-shirt-P_842882), which has fun lettering and image, and the word zip is just a great sound. zip. ZZZZZZZZZIP!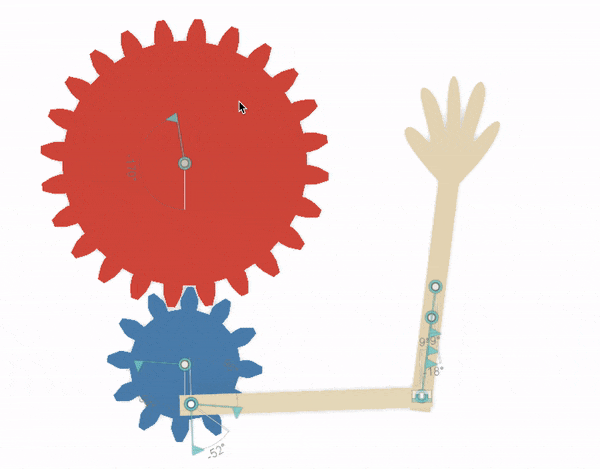 Tod
I wanted to make an engraved PCB postcard, since I can do 5″x4″ PCBs on my Othermill. I think sending a durable postcard, maybe using some of the PCB diffuser art stuff I did before, could be a nice memento. But I was having problems coming up with a design I liked and transferred well to engraved copper. The screenshot is the half-assed result of how far I got. And then this morning I learned from @glowascii that USPS has merch! And a lot of it is really rad. So I got a shirt, but definitely check out the fun "mail carrier" dog costume and toy USPS Jeep! The Postal Service is amazing and here's a tiny way to show support.