DFN Happy Hour No. 12: Celebrate your Beverage Problem
Coming up Friday at 5:30 pm PDT members Barb Noren (BarbMakesThings), Tod Kurt (todbot) and Carlyn Maw (carlynorama) are back streaming again! Last week we sketched out some coloring book pages (post | video ) while this week we've decided to celebrate our beverage problems.
https://www.twitch.tv/deepfriedneurons
A note on this week's topic: addictions are no joke. If you've begun drinking at a level that negatively impacts your life, please call the SAMHSA's National Helpline 1-800-662-HELP (4357) or TTY: 1-800-487-4889. Online therapy can also be a way to cope.
Last Week Redux
Beverages Consumed:
Carlyn: made a "Jam Cocktail" again. 2:1 Jam to Alcohol, ice and mixer in a jam jar if you're feeling thematic. This week I used a plum-strawberry-port jam with light rum
Tod: Another repeat, again Apothic Inferno wine
Barb: Busted out the Sam Adams Summer Ale
This Week Preview
Retail alcohol sales have increased 55% during the pandemic, with consumers gravitating to larger pack sizes. Thats a lot of booze packaging entering the waste stream. Let's keep it out!
Tod
I have long been "celebrating my drinking problem" by simply saving the corks from the wine we drink. But they have to be real wood corks, I don't save the synthetic corks. We have a huge jug of them now. There's tons of crafty projects to make corkboards but I wanted something a little different and more "me". So my take is a modular 3d-printable frame that corks are pushed into. The design is fully parametric in Fusion 360, so if you want a much bigger module than the 4×4 one shown here, you can change a few parameters. I've uploaded the STL and the Fusion 360 file to https://www.thingiverse.com/thing:4551423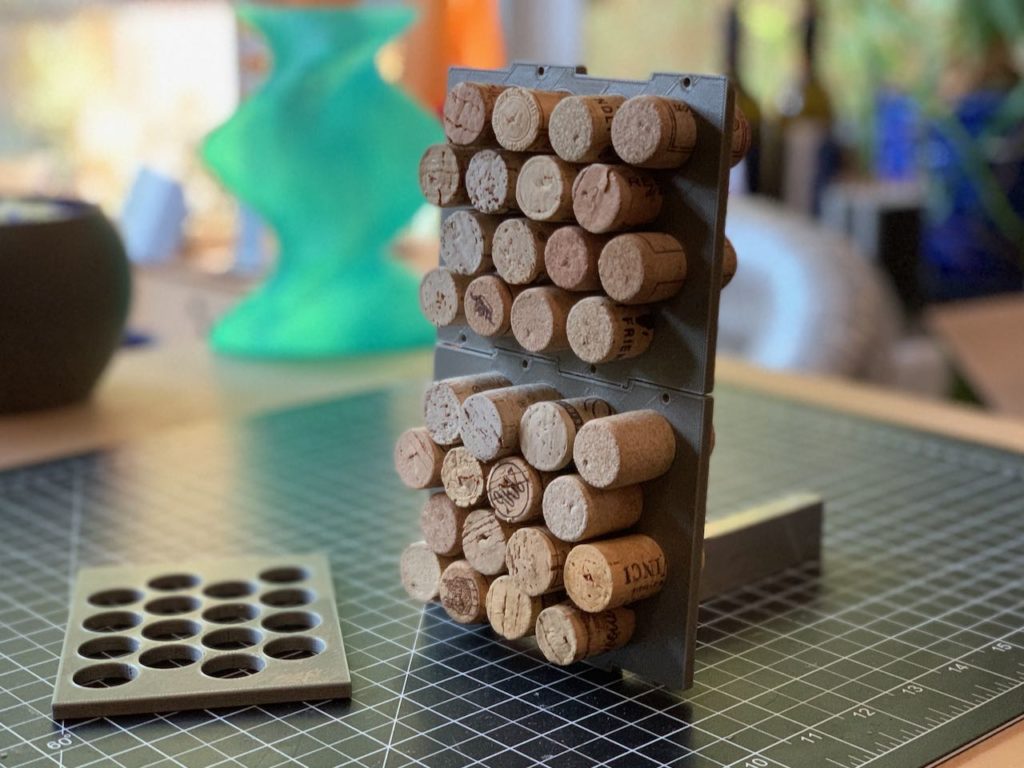 Barb
I suppose collecting items like bottle caps is a bit of an occupational hazard. There are a lot of cool bottle caps out there and I save them, whether to bring in to the creative reuse center or to eventually turn into some project, like this.
I'd initially thought to hammer them flat, punch holes, and make them into a vest. While I may have enough caps for that, I certainly don't have the time or arm strength for it, so I went with a crown instead. A variety of colorful bottle caps are hammered flat using first the rounded end of a ball peen hammer to get the edges slightly angled outward, and then the striking face to make them spread out. One or two whacks on the other side gets a pretty flat face (assuming the cap wasn't terribly bent to begin with – which is not a reasonable assumption). Then I punched holes using a Crop-A-Dile Big Bite, which is fabulous and will eat through just about anything short of thick metal, and attached them with pop rivets.
I'm hoping to add another row to the top of these to make the crown a little more dramatic. Why have a bottle cap crown if it's not going to be dramatic? Hopefully, I'll have that in time for the stream Friday.
Carlyn
But… what if we run out of alcohol?? I looked into the easiest hygienic way to make booze. Wine takes too long. Beer takes grain and we don't have the land for that. Nor do we have a still. I could just leave out juice and see what yeasts and bacterias show up, but I want more of a sure thing. Kombucha SCOBY's ("symbiotic culture of bacteria and yeast") make a nice leather apparently, but they're hard to put in a time out. This left "water kefir grains" or tibicos, which are rock-crystal looking polysaccharide biofilm matrix that can be dehydrated or frozen with minimal damage. I ordered mine from Florida Sun Kefir, but apparently one possible origin involves being cultured from a residue on Opuntia cactus in Mexico.
Making water kefir falls into the "food as pet" category of cuisine I suck at. But since this little pile of microbes is now a member of the family I made the 1st fermenting jar a little sling, based on this water bottle carrier tutorial in case we have to grab it and go. I used a 6.5mm metal hook and some left over yarn.
A number of the tutorials online focus on using tibicos to make a slightly carbonated "healthy soda replacement" to serve to children. I'm going in exactly the opposite direction to get the booziest second ferment I can.