Archive for the 'News & Updates' Category
Posted on August 10th, 2013 • Filed under Events, News & Updates • No Comments
We cleaned up the Metal Shop to better accommodate the lathe and make room for new tools (maybe a desktop CNC is coming soon).
We cleaned up the "office" to make a sewing room. We've a couple machines and serge that are all ready to go. This is just in time for upcoming Public Meeting on Tuesday at 8p and our next ELWire Class. I hope people will come by and use these new resources.
Thanks to Metal, Steve, Kayla, James, Sam, and whoever else keep this place running.
We'll get back to making things for our friends.
Here is a video of Steve and Sam's latest tesla coil (Tesla One):
Posted on June 8th, 2013 • Filed under News & Updates • No Comments
Remember last summer, when Crashspace had the honour of bringing a particularly bright young engineer down to LA to teach Arduino with his custom ArduSensors that he thought up, designed, and produced on his own via his own online store?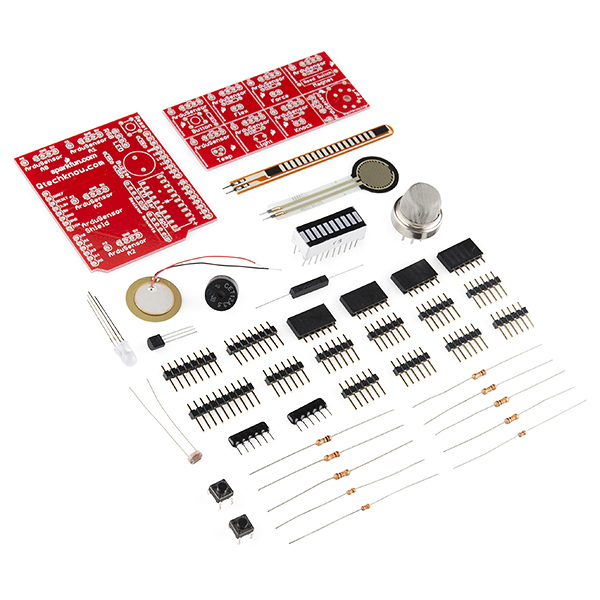 He hasn't stopped working since then, and people are starting to take notice!  SparkFun, a major manufacturer of hobbyist electronics, is now carrying his ArduSensors as an educational kit!
Let me say that again, just in case it hasn't sank in: He's 12. He designed these himself. That's really hard. His kit in amazing. His kit is so amazing it's in the SparkFun store.  Little QTechknow is making the maker dream a reality, and showing kids everywhere that anyone can bring their creations to life with some hard work and dedication.
What are you waiting for?! Go support our young maker friend and buy a zillion of his awesome kits!!
Posted on May 8th, 2013 • Filed under Events, News & Updates • 1 Comment
Learn about this project on May 29th at 8pm.
This zanny project because RedBull gave us some sweet hardware  to enter their contest (http://creation.redbullusa.com/).
We built a mobile interactive night club experience. We could deploy this thing anywhere. We can steal crowds that are otherwise waiting to get inside some other event with our brilliant glow and interactive control. We shot a little gorilla video and got people moving.

We borrowed a lot of inspiration, techniques, labor, and code from friends all over the world and at crashspace. We entitled the project Crash Inspired because…
This is Crashspace when inspired.


Another thing we do is collaborate, share, learn, fail, fail, fail, and win! 
In that spirit we are hosting a special event to share the designs and learnings from this project. 
And, YES. There were plenty of failures, late, nights, and bumps in the road we hope you can learn from as well as a lot of very cutting edge tech employed.
Come by CrashSpace on May 29th at 8pm  and meet the folks involved and pick up some new tricks for your next big LED project.
The code is already available on our github.
I hope to see you there! 
  …but you must RSVP here : http://crashinspired.eventbrite.com

Posted on July 7th, 2012 • Filed under News & Updates • No Comments
Ever wonder what you're breathing?  Well wonder no more!
Project Safecast, a radiation monitoring and mapping project with which CRASH Space has been involved with since shortly after the Fukushima meltdown, is now expanding to include other environmental data besides geotagged radiation readings.  Our first new set of metrics will be various measures of air quality, and as of Friday 6 July we now have our first working air quality sensor:
This monitor currently records and uploads the level of particulate matter, of particle diameter 1 micron or greater, with a GPS stamp every minute.  The prototype photo, from left to right: Shinyei particulate matter sensor, nGeigie board to log data, and GPS receiver.  The next steps involve the addition of gas sensors so we'll be able to monitor gases such as carbon dioxide, nitrogen dioxide, ozone, etc.
Props to Steven Wright (Right on photo)
CRASH Space member Levi Simons (Left on photo)
Posted on April 6th, 2012 • Filed under News & Updates • No Comments
Just launched on Kickstarter, the Luminance project (by CRASHspace member Naim Busek) will be creating the core of a development platform to enable exploration of reactive lighting systems by anyone.
Built around an Arduino core, the Luminance platform can take an application like the "blink" example (the "hello world" of embedded development) and kick it up a notch to "blink when I move" or other even more exciting applications. The system will ship pre-programmed for use straight out of the box or it can be connected to your computer and you can easily make it do something different by dropping a different example sketch onto it. The best thing about the Luminance platform is that it will enable everyone to explore the cool things that can be done with motion or sound reactive lighting.
Designed from the ground up to withstand harsh conditions, the Arduino compatible main board, a sensor shield, an LED driver shield and battery are wrapped in a rugged aluminum enclosure creating a bullet proof hardware platform for use in exploring motion or sound reactive systems.
Since the project is being developed by a CRASHspace member, if funded, a number of the prototypes will end up around the space for use in projects. The Luminance hardware is already finding its' way into projects around the space.
Matt's motion reactive unicorn horn (built using the prototype hardware):