Location/Parking Information For PdWeekend Workshops And Handmade Music
The Pd Weekend workshops will be held at STAR Prep Academy, and Handmade Music will be held at STAR Education's "Convention Center". Star Prep Academy is at 10101 Jefferson Blvd in Culver City. The STAR Prep Academy building is at Pearson Street (which is more of an alley than a street), and there is some parking along Pearson. Otherwise, you can park in an spot labeled "STAR" in the parking lot one driveway West.  They share the parking lot, so please be careful to only park in the STAR spots or you may be towed. There is also plenty of street parking, but keep in mind that the North side of the street is metered pretty much all day long, and it's about $1 an hour.
For the workshops, enter the Eco Station lobby and go through the door on the right to the Prep Academy. We should have signs up to help guide to to the classrooms. There will also be STAR staff, and CRASH Space/New Blankets volunteers to help as well.
Handmade Music is in STAR Education, which is across Pearson.  We will also have folks around to help guide you to the right place.
Tweet Theron @bangsplat with questions on the day.
Here's a map to help out with the parking, plus a PDF that also includes a street map: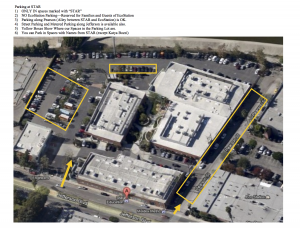 STAR Parking – PD Weekend (PDF Download)