Culver City Police Deparment Community Forum on Immigration Enforcement: Watch Online
We attended this event as a part of the Civic Engagement Survival Guide: a series of free talks and workshops focused on creating a community that is informed, organized, and engaged.
Chief Brixby of the Culver City Police Department held a community forum tonight and spoke on CCPD's role in immigration enforcement. Chief Brixby takes the time to answer community questions, and addresses the "ACLU's 9 "Model" State and Local Law Enforcement Policies and Rules."
"I hear you saying that immigration law enforcement is not the primary, secondary, or tertiary function of the Culver City Police Department.
I hear you saying that sanctuary status, from what you understand […] would not prevent the CCPD from enforcing the law here in Culver City.
I hear you saying that you are already in compliance with the ACLU 9 Model Principles. Is that correct?"
– An audience member

"That is correct." – Culver City Police Chief Bixby
For more local Culver City events on the Culver City Community Calendar. Watch past videos or view upcoming events on the Civic Engagement Survival Guide.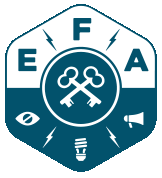 CRASH Space is a 501(c)3 non-profit organization which works to promote education through individual projects and social collaboration. CRASH Space is also a member of the EFF Electronic Frontier Alliance: a grassroots network of community and campus organizations across the United States working to educate our neighbors about the importance of digital rights.
Leading an event in this series is a paid opportunity. We are interested in events which encourage community action and education, on topics such as: civic engagement, social justice, support for marginalized groups, environmental protection, and more. Please send proposals to [info at crashspace dot org]. To support our work, you can donate here.