DFN Happy Hour No. 18: September Projects Begin
Coming up Friday at 5:30 pm PDT members Barb Noren (BarbMakesThings), Tod Kurt (todbot) and Carlyn Maw (carlynorama) stream again! Last week we kept pursuing on our journal tasks (post | video) and this week we wrap up on how it all went.
https://www.twitch.tv/deepfriedneurons
Last Week Redux
Beverages Consumed
Carlyn:

Passionfruit, Finger Lime infused Vodka (45 mL)
St. Germain (15 mL)
Soda Water
Orange Flavored Soda water (A flavor too far! Do not do!)

Barb: Baileys and Soy Milk
Tod: New Belgian 1554 from the Booze Fairy
Links
Libraries
Less awful delivery:
This Week Preview
We've gone with another round of exploring deeper over 30 days rather than jumping from week to week. Barb and Tod chose to turn their 30 day journaling into projects. Barb will be creating some living type and Tod will be working out on modules to make sounds. Since Carlyn can't really drink more liquid… she's finally going to produce things. Will there be 30? Too soon to tell.
Tod
When designing my new Touring Machine synth module, two things worry me: the analog I/O section (it must be pitch-accurate) and the user interface. The UI feels like a harder problem because I'm not sure what I want. For the analog part, I can lean on others (like Émilie and Thea) and that puts me at ease.
So to address the UI as its own thing, I made a little "knobtester" PCB that is the scale and layout of the upper third of the module. It contains all the things you put your fingers on: a rotary encoder w/ switch, two buttons, and two potentiometers. Just from the outset there are questions: Should the encoder have detents? What's the spacing of the two pots so your fingers can grasp them? Should the pots have knobs or be trimmers? How tall do the tact switches need to be? Making the board physical answered some of these questions immediately ("yes", "as much as possible", "trimmers, maybe with micro knobs", and "13mm")
Barb
For September's 30-day project, I've decided to jump off from last month's typography thing and make a mechanically lettered word. "Curiosity" seemed a good choice based on its proximity to cats and its defeat of fear. This week, I'm in planning mode; partly because I don't have easy access to a laser cutter right now, and partly because — come on — planning is a good first step, alright? I've chosen my typeface (one that I made last month, inspired by OpenDyslexic), drawn the word, and pulled it into illustrator for designing any vectors I'll need for laser cutting. To mock up the movement, I pulled svgs into Fusion 360 and modeled them up with joints (joints and I have been having a torrid affair lately). And gif makers are supes easy, so you get animation too. Woohoo!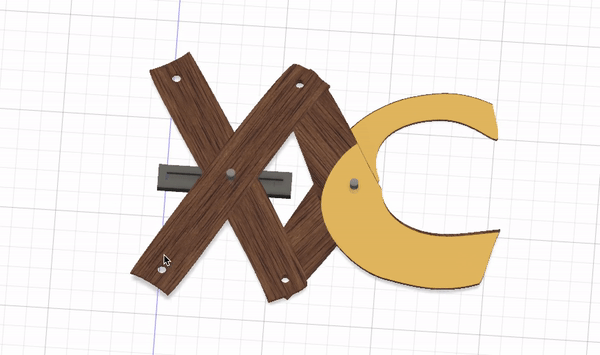 Carlyn
30 Swift "Appettes" is my goal for this month. Tiny apps to get my programming skills back up to speed working on 'lil Quarantine Utilities mostly. If anything starts getting too useful I'm going to need Barb and Tod to set me straight.
This week: