DFN Happy Hour No 17: 30 Day Journals… finale?
Coming up Friday at 5:30 pm PDT members Barb Noren (BarbMakesThings), Tod Kurt (todbot) and Carlyn Maw (carlynorama) stream again! Last week we kept pursuing on our journal tasks (post | video) and this week we wrap up on how it all went.
https://www.twitch.tv/deepfriedneurons
Last Week Redux
Beverages Consumed
Tod: wine with a DRAGON on it, yo: Paso Dragon
Carlyn: stirred with ice -> up glass

45 ml vodka
30 ml cointreau
60mL almond milk
1/2 tsp instant coffee
more instant coffee for garnish
Links
This Week Preview
Barb
Ever since I've had to spend more time working from home and not at coffee shops, I've been wanting to up that ambiance in any way I could. And I figured a sign that said "fika" would fit the bill. It's a Swedish thing, click the links So it's been on my list for a while and gee, what do you mean I'm doing a 30 day typography project? and no I couldn't possibly be interested in making a physical thing to end the month off with! Not at all…
I drew this word before I started in on the rest of the alphabet for the typeface. The sign that came from it is made from cardboard, stripped down cardboard, paper, tubes of reflective mylar, and just far too many sticks of hot glue. I'll probably clean up the sides and do more decoration — maybe collage, maybe paint, we'll see — and post more pictures on my socialmedia.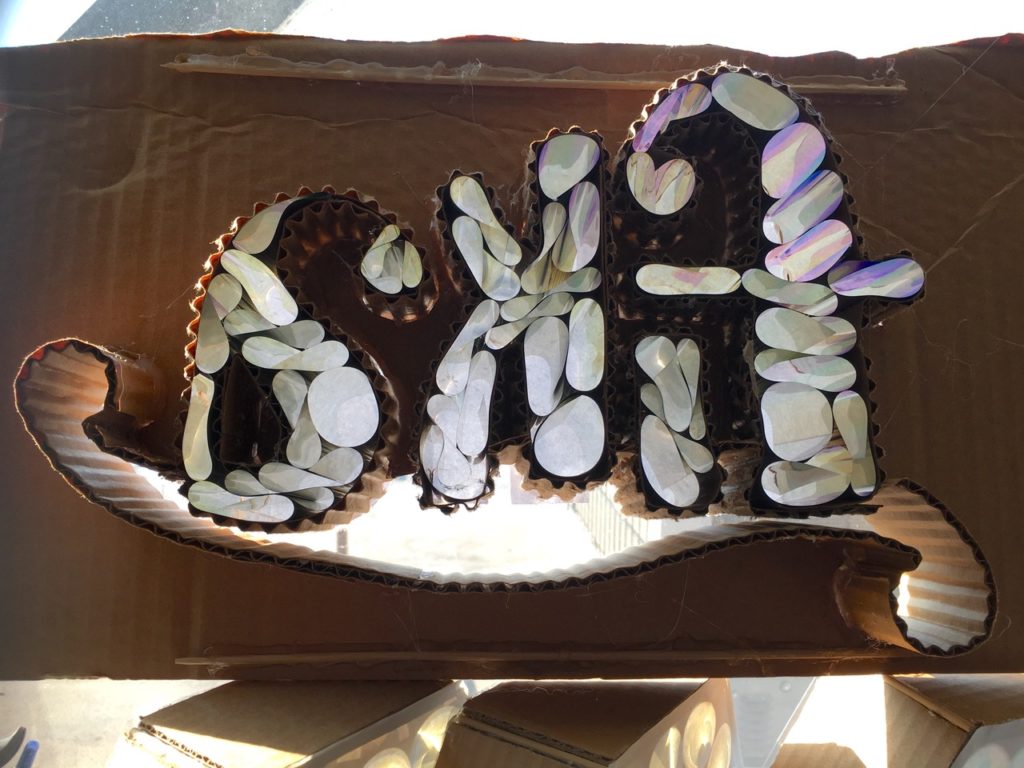 Tod
The original goal of my month-long Deep Fried Neurons project was "30 sounds, one per day", an exploration into making sounds with Eurorack gear that doesn't use sequencers or keyboards. While I only created 15 sounds so far (I'll still do all 30 I think), I've been increasingly using some home-built modules like my TrinketTrigger and TrinketTouringMachine, and that's given me ideas.
So for my next month project, I'm going to design and build a production-ready module that expands on what I've learned. It will be a better "Touring Machine" algorithmic melody generator that builds on the TrinketTouringMachine, but offers proper modular synth signal in/out and additional control knobs. It's also a platform for getting over my reluctance to designing opamp circuits, something I was okay at once many years ago. I've got the start of a design based on an ItsyBitsy M4 and will be prototyping next week.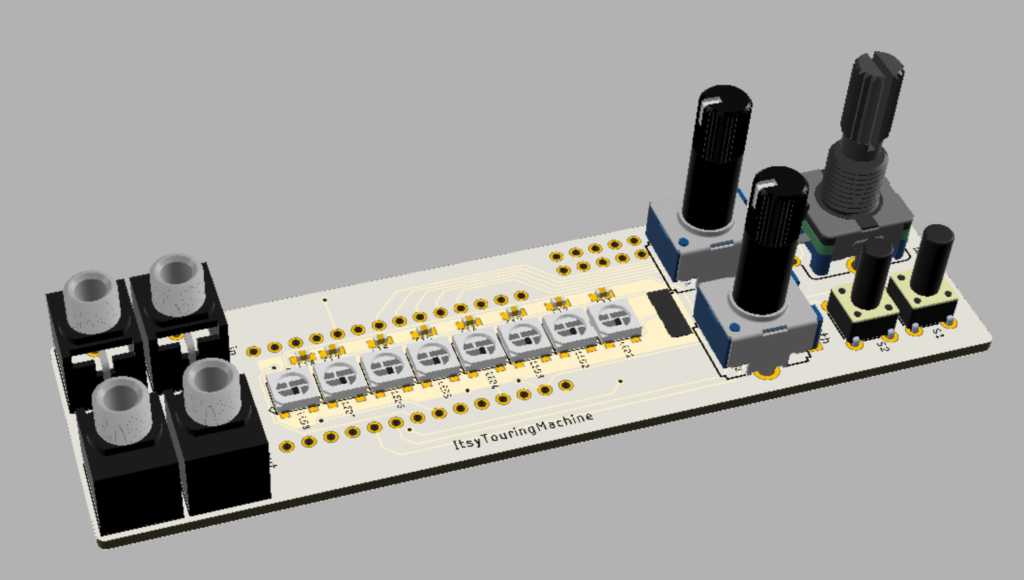 Carlyn
I got a book! From the Library! I'll finally be tasting the passionfruit/finger lime infused vodka. I napped through infusion time on Sunday, but I think that's okay. Wednesday I maybe should have moved the time given that I knew I'd be busy at 4, but I didn't.
Also returning true is scarf.length.now > scarf.length.before, w00t!
| | | | | |
| --- | --- | --- | --- | --- |
| 8/21/2020 | | water | Gastropod: Cocktails | scarf knitting |
| 8/22/2020 | | water | Gastropod: The Bitter Truth | scarf knitting |
| 8/23/2020 | – | – | NAAAAAAAPPPP!!! | scarf knitting |
| 8/24/2020 | | Orange soda water w/ Angostera Bitters | Gastropod: Pizza Pizza | scarf knitting |
| 8/25/2020 | 16:11 | Lemon, finger limes, dried persimmons, sage, kefir grains | Gastropod: Science Diction guest episode Rocky Road, Song Exploder: The 1975, The Birthday Party | scarf knitting |
| 8/26/2020 | – | – | Time-slotted errand. | – |
| 8/27/2020 | 17:12 | Diet Coke | TV Show | scarf knitting |
| 8/28/2020 | 16:03 | water | In Defense of Plants: A Pollinator Plant of the Year Program | |