DFN Happy Hour No. 16: 30 Day Journals Part Three
Coming up Friday at 5:30 pm PDT members Barb Noren (BarbMakesThings), Tod Kurt (todbot) and Carlyn Maw (carlynorama) stream again! Last week we kept on plugging on our journals (post | video ) and this week we keep refining the process.
https://www.twitch.tv/deepfriedneurons
Last Week Redux
Beverages Consumed
Barb: St. Pauli Girl
Carlyn: Frozen(Pineapple, Mango, Banana), water, light rum, triple sec, cinnamon, nutmeg, salt
This Week Preview
Barb
As you're probably aware, common variations in a font family include things like italic, bold, etc. This week, I doodled my way into a typeface that immediately lent to variation, just not those typical categories. I'm calling this font family Hilde, and I've got a variation that reminds me of geometric concrete planters, and now one that looks kind of splintered.
Due to schedule changes, I found myself feeling very off kilter Monday, so I drew it. This is not uncommon for me, I enjoy lettering words, phrases, quotes, whatever, and it's uncommon for me to just use an existing font if I'm drawing it from scratch. In this case, I used the newly created Hilde, but it took on a new look, which then turned into the splintered variation I mentioned before when I started messing around with paint pens.
Tod
I've been playing more with algorithmic melody generation by working on my own module I've been calling the "Trinket Touring Machine". Like my previously-mentioned "Trinket Trigger", this one uses a Trinket M0 running CircuitPython. Initial experiments were in Arduino using the Mozzi audio synthesis library, which totally worked, but CircuitPython is much faster to develop in, especially when you're trying to discover what the UI should be.
My original intent for this Touring Machine module was to make a CircuitPython-based version of Music Thing Modular's wonderful "Turing Machine", which is essentially a clever shift-register circuit hooked up to a DAC (no microcontroller!), with an adjustable noise generator for randomness. But my module has gone a bit more melodic, having the concept of scales and root notes. It's pretty fun, but I know now the two knobs and one button UI is too limiting for what I'm envisioning. So time for Touring Machine Mk2!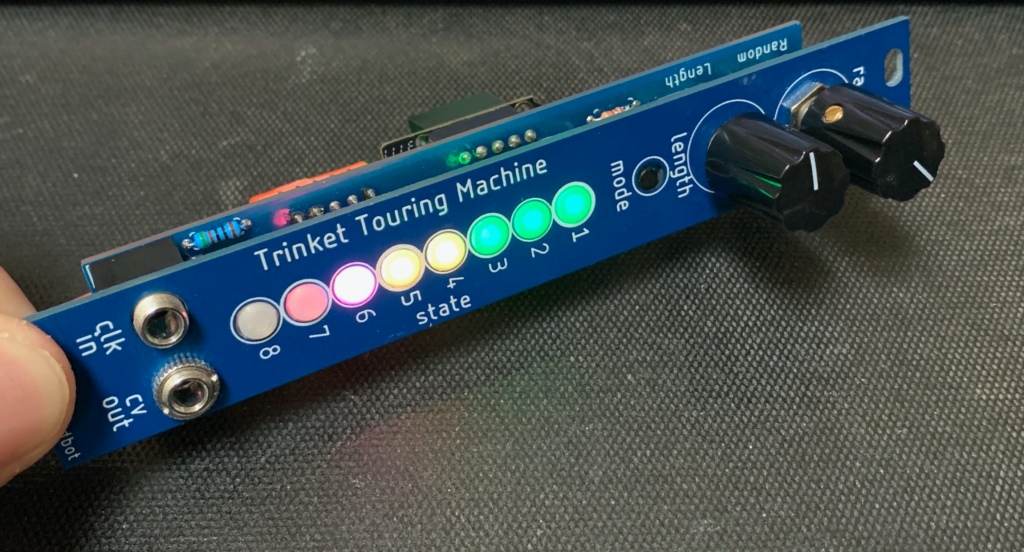 Carlyn
Not much to add this week… I've started the process of looking into making bitters but the food grade ethanol crunch might put a kink in those plans.
| | | | | |
| --- | --- | --- | --- | --- |
| 8/14/2020 | 15:52 | TJ's sencha green tea | Allusionist: Shine Theory, Blood is not Water | rejoin & scarf knitting Rejoined, shorter braid, removed a ply from each yarn |
| 8/15/2020 | 16:03 | Lemon, finger limes, dried persimmons, sage, kefir grains | Allusionist – Survival: Bequest, https://www.theallusionist.org/allusionist/bequest | scarf knitting 2 sections! |
| 8/16/2020 | 16:07 | " | Allusionist – Oot in the Open, https://www.theallusionist.org/scots, Many Ways At Once, https://www.theallusionist.org/allusionist/manywaysatonce | scarf knitting |
| 8/17/2020 | 15:55 | plum water kefir | My Dad Excavated A Porno, https://www.theallusionist.org/allusionist/pornography, East West, https://www.theallusionist.org/allusionist/eastwest | nubbies |
| 8/18/2020 | 16:52 | Orange soda water w/ Angostera Bitters | https://gastropod.com/shatter-proof-how-glass-took-over-the-kitchen-and-ended-child-labor/ | scarf knitting |
| 8/19/2020 | ??? | Plain soda water w/ Celery Bitters | why can't I remember…? | scarf knitting, https://www.ravelry.com/ surfing |
| 8/20/2020 | 16:14 | Barley tea with mixed citrus & junk | Hampton Hawes, https://podcasts.apple.com/us/podcast/jazz-insights-media/id405935692?i=1000334381720 | scarf knitting |
| 8/20/2020 | | " | | |