Matt Pinner, resident Crash Space expert on wearable and soft-circuits, will teach a class on EL wire.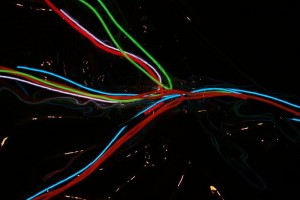 As he says:
EL wire is simple in concept, but any who have tried know those little hairs are a huge pain.
I'll share some tips, tricks, and techniques to create bomber strong connections and wicked safe ends.
I've been playing with EL wire in costumes for 5 years and learned from the best.
Class costs (includes materials):
– $15 for members
– $30 for non-members
If you're interested in coming, let us know on the mailing list by Thurs Aug 12. Payment is cash at the door.
This entry was posted by todbot on Tuesday, August 10th, 2010 at 10:44 pm and is filed under Events. You can follow any responses to this entry through the RSS 2.0 feed. You can leave a response below, or trackback from your own site.
Show/Hide Comments (1)