MakerBot DishWasher Repair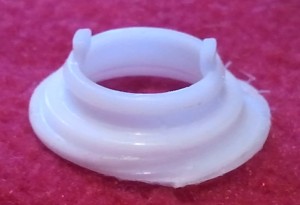 This is a broken piece from my Frigidaire dishwasher. It connects the rotating upper spray arm to the dishwasher. You can see the wear on it by looking at the large ring at the bottom of the image. It should go all the way around, but a portion has broken off. You can also see additional wear on the upper right of the part.
The piece no longer fits properly, and the spray arm fails to spin and rinse the dishes in the upper shelf.
Disassembling the arm was very easy. The problem was getting the replacement part from Frigidaire. We tried several times, got the wrong part once, and ended up with an utter failure. I'm sure a repairman would have been more successful, but given how simple this repair is, why should I have to pay for that? This is where the MakerBot at CrashSpace comes in to the story.