Little Free Library Launch Party + Swap-O-Rama-Rama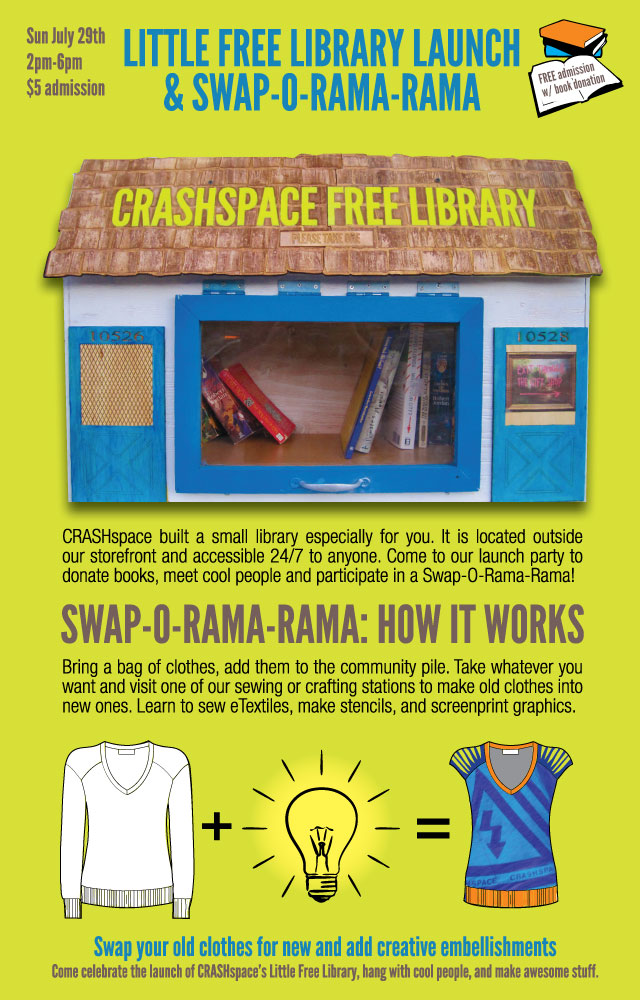 When: Sunday, July 29th – 2pm-6pm
Where: CRASHspace
Cost: $5 donation  or FREE w/ book donation
FB: http://www.facebook.com/events/445441555488792/
CrashSpace is having a party and you're invited! Part celebration, part book drive, part crafternoon-on-steroids. Bring a book for free entry, meet cool people and make awesome things. This is to celebrate the launch of our newly built Little Free Library. And just for fun we're having a Swap-O-Rama-Rama.
About the Little Free Library: 
In case you haven't heard, we have  a little library outside our storefront and the rules are simple: Borrow a book for as long as you like, leave a book if you have one to share; if you can't return a book, please pass it along to another reader. Visit the dedicated  twitter feed for live updates, submit your favorite quotes from a borrowed book on the CrashLibrary tumblr, and donate books that you would like to share with others. The library is free and open 24/7.
About Swap-O-Rama-Rama:
S.O.R.R. is a clothing swap in which the community explores creative reuse through the recycling of used clothing. Here's how it works: bring a bag of clothes and throw them into the community pile,  take as many pieces as you like, visit different craft stations to embellish, repurpose and create old clothes into something new. We will have sewing, stenciling, silkscreening and eTextile stations set up for you to add your own creative embellishments to your newly recycled clothes. We're currently accepting volunteers for workstations and in need of sewing machines/supplies. Please RSVP at analogliving@crashspace.org.
Swap-O-Rama-Rama is part of an international network of events created by Wendy Tremayne and protected under a Creative Commons License. Visit swaporamarama.com for more info.
Update 2012-July-26
We got a sponsor! Copenhagen Pastry, a recently opened Danish bakery, has kindly offered to donate some noms for us to enjoy
Update 2012-July-25
We've had a great responds from our community and have some very exciting (and brilliant) volunteers attempting to help you.
Past Swap-O-Rama-Ramas in LA:
Recent Crashspace Free Library Activity:
 Libraries are cropping up everywhere!

View Little Free Library Index > Scroll Down in a larger map