WSS: Steve Trousdale / F.I.S.C.H.
For this week's Wednesday Speaker Series (May 19th) we have something a little out of the ordinary, you might even say paranormal. Steve Trousdale from the Forensic Investigations of Southern California Hauntings will be talking about the science and technology of "ghost hunting."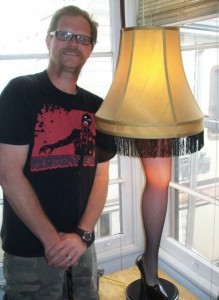 "Seeing my first ghost at my Mom's house at the age of 4, I have always been sensitive to the paranormal. While it seems to skip around a lot in my family, my nephews from my oldest brother are also sensitive. I have also practiced Voodoo for years, and have a knack for, well, not getting rid of ghosts and the like, but rather keeping them quiet, comfortable, and content for a LONG time! Longer than any of us will be around for, anyway. At some point, word got out that we had this "gift", and we started getting requests from people who were concerned about their homes and families.
While my oldest brother, Gary is, in his own words, "As sensitive as a bag of door knobs", he would always go with us for support and objective views…Until one night, when he took a picture of Nathan and I that had a "3rd party" that just was not there. From there, he was hooked, too. It was around that time that the "Ghost Hunter" (although I hate that phrase, as I have no head mounts on my wall, nor have I ever served up a ghost for Thanksgiving dinner) fad became popular. Just for shits and grins, we picked up a cheap digital voice recorder for our next "adventure", and were AMAZED at what we were able to find. From this, F.I.S.C.H. (Forensic Investigations of Southern California Hauntings) was born. F.I.S.C.H. started out as 5 core members, and has grown to 7 core members, along with 200 plus members. So we began to expand our collection of investigation tools.
I have done some larger facilities with larger groups of people who had a desire to experience an investigation, and have been a "host" for a couple of the different big time "ghost hunting-type" shows, my heart still lies in the intimate single family house hauntings, where I can actually do something to help someone. With some of the hard-core views and standards I've heard of currently, I hope to shed some truth, some light, some information, and some fun, damn it, on an otherwise dark, mysterious, and sometimes scary topic."
Talk starts at 8pm, open to the public. Free for members $10 suggested donations for non-members. Q&A to follow.