DFN Happy Hour No. 37: January Finale
Coming up Friday at 5:30 pm PST members Barb Noren (BarbMakesThings) shows off her prep for the ArtShow, Tod Kurt (todbot) reluctantly shows of a test rig and Carlyn Maw (carlynorama) gets a calendar for January in under the wire…
https://www.twitch.tv/deepfriedneurons
Last Week Redux: January 22, 2021
Beverages Consumed
"Thanks for Existing!" Awards
Barb: https://www.skeletaldropkick.com/
Tod: https://www.raspberrypi.org/products/raspberry-pi-pico/
Carlyn: Amanda Gorman!!!!!
Misc Links
This Week Preview
Barb
Another week, another time trying to remember exactly what I got done on the gallery since last Friday. I've been adding more details and working with people to figure out what they'll need for the space. Some smaller elements like new furniture, plinths for artworks, and finishing up small plants happened, plus a new blank side room for additional artworks that won't fit in the main room or the dark room.
In the category of "Feels Like Two Weeks Ago But Apparently Was Last Sunday According To File Creation Dates": I started making photoshop templates that would make it quicker to convert a thumbnail to a gallery-ready frame. Because that's just not something you want to have to do completely manually 5 dozen times. I wound up reverse engineering it from redbubble's templates to make your design look like it's on this oh so casually placed regular person on the street. Hooray hacking the knowledge you need rather than sitting through a boring class!
Oh, also robots. Meet Henry Joe, Tess LaCoil, and Corky the Bottender. They'll be showing you around the place and mixing up KNOWLEDGE.
Carlyn
So LED's are pretty. Even when they aren't lit! This week I finally made our January calendar page as a macro view of the WS2812B. The end result evolved from a joint collaboration with the AxiDraw. The AxiDraw wielded the Pigma Micron 03. I filled in everything else. It was interesting to see how WS2812B striped down unnecessary gestures from from the WS2812.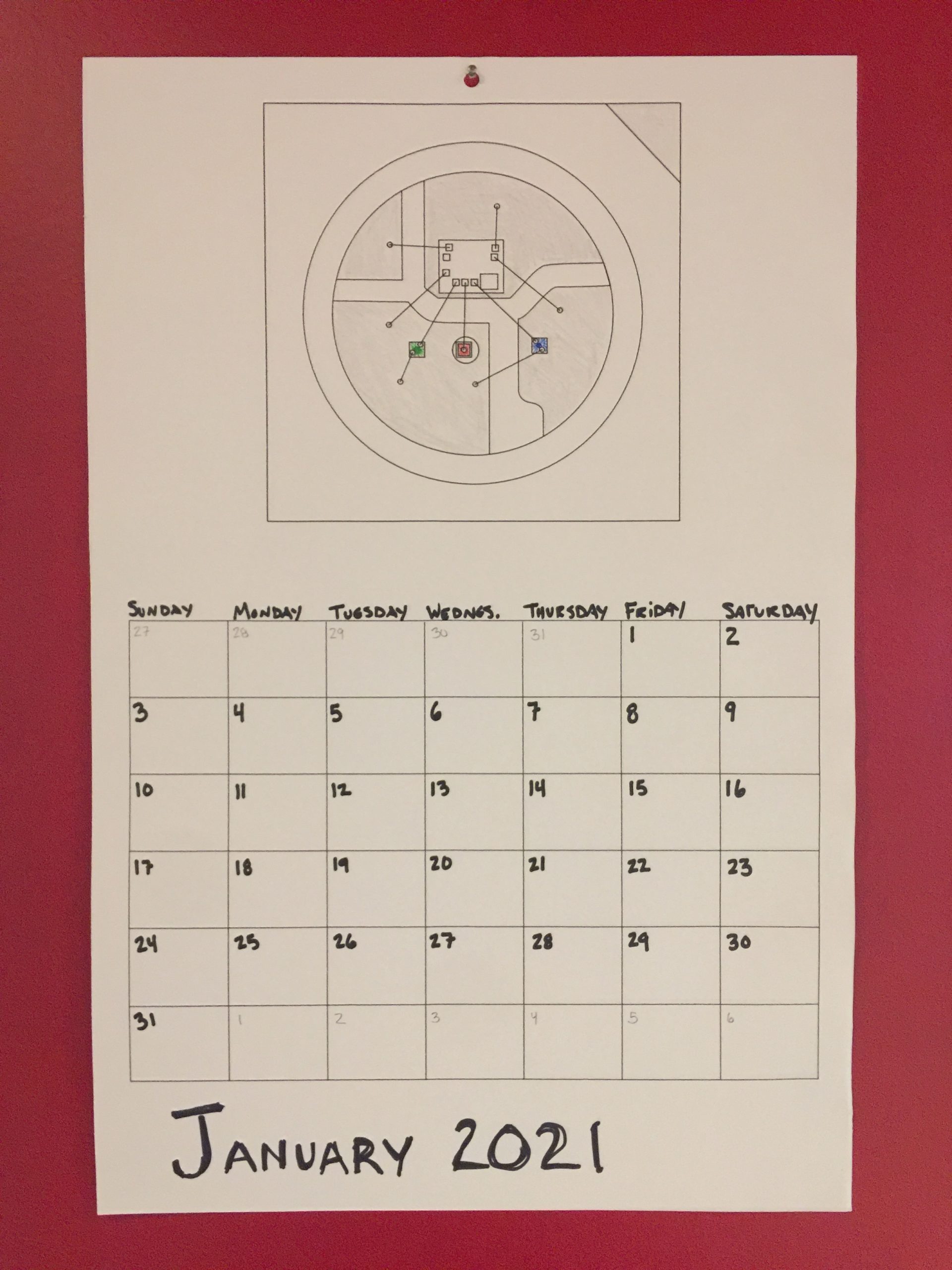 Tod
Text:
I had nothing so Carlyn suggested I feature a thing that's always on my bench. It's a little SAMD21+ WS2812 LED test rig in the form of an Adafruit Trinket M0 and cheapie WS2812 8-LED board. I think I got these off Ray Wu's AliExpress site (https://www.aliexpress.com/store/701799) and I got a bag of 20 for $15 or something. They are useful for testing out FastLED code or just as a multi-dimensional status light. (Carlyn's Note: It's so handy and compact! Kids these days… back in my day we had big floppy strips if we were LUCKY! It goes anywhere.)