CRASH THE PLANET: The First Ever CRASH Space Art Show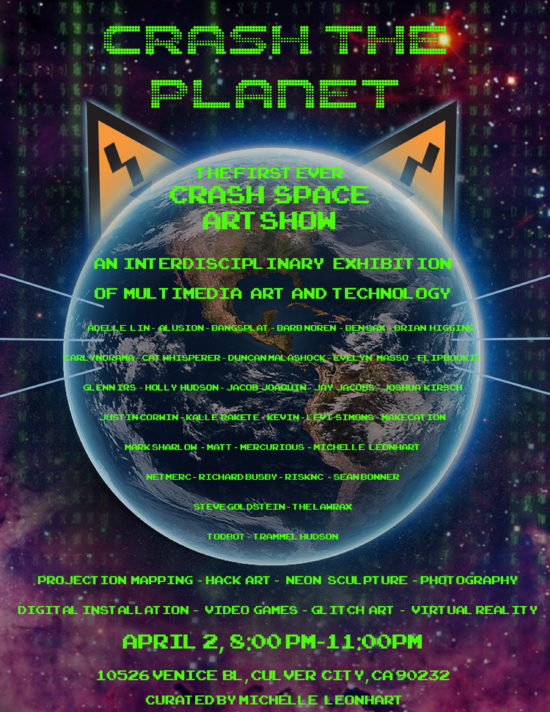 Due to the unique nature of CRASH Space,
this show will ONLY exist in it's entirety on
THIS NIGHT ONLY!
There's only one chance, so don't miss out!

THE SHOW
CRASH THE PLANET
is an interdisciplinary exhibition of multimedia art and technology, featuring 30+ local Los Angeles artists.
THE ART
Projection Mapping – Hack Art – Neon Sculpture – Photography – Digital Installation – Video Games – Glitch Art – Virtual Reality – Traditional Painting – Electronic Art – Sound Installation
THE ARTISTS
Adelle Lin – Alusion – bangsplat – Barb Noren – Ben Sax – Brian Higgins – carlynorama – cat whisperer – Duncan Malashock –
Evelyn Masso – Flipbookit – Glenn IRS – Holly Hudson – Jacob Joaquin – Jay Jacobs – Joshua Kirsch – Justin
Corwin – Kalle Rakete – Kevin – Levi Simons – makecation – Mark Sharlow – Matt Pinner – mercurious – Michelle Leonhart – netmerc – Richard Busby – risknc – Sean Bonner – Steve Goldstein – the lawrax – todbot – Trammel Hudson
THE CURATOR
Michelle Leonhart – VP, CRASH Space