Blender Meet-up and Project night with Metal (Feb 2015)
For those that do not yet know, I've been hosting a monthly Blender meet-up on the first Saturday of each month (12-3:30) at Crashspace.  So February the 7th will be the next one.   I'll be showing my newly created mirror shield for anyone wanting to see the shield and how it was made.  We'll cover some techniques that I've learned over time for using a vector file, to modeling with real world measurements and allowing space for electronics in mind.  Also people will be free to show off their own test cases from the last month.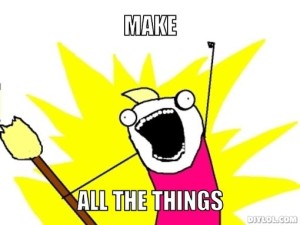 After the Blender meetup will be the Project Night event that I host (7-?).  Rules are simple.  Come to actively make things/ learn/ or help others do one or the other.  Less planning, less talking, more awesome projects.  Come with a goal or willingness to help and listen.  Anyone caught just distracting will be asked to leave.  This event is for those that want to get sh*t done.  Long term I want to keep hosting these events to get people past the apprehension of thought and focused more on small test cases that will inevitably get them towards their goal much faster.
Get people past the "we can't do it because we don't know…" to the "screw it, lets figure it out!" mentality.  Experience is the only way to gain XP you know.
I'll consider bringing the trinkets donated to me by a friend, and my Smooth-on materials box provided there is sufficient need for it.
~Metal