Coding Workshop for Girls 7-13
When: Saturday, Oct 26th 4p-6p
Where: Crashspace 10526 Venice Blvd, Culver City, CA 90232
How Much: Free
RSVP: Here so I know how many to prepare for
Questions: at0mbxmb@gmail.com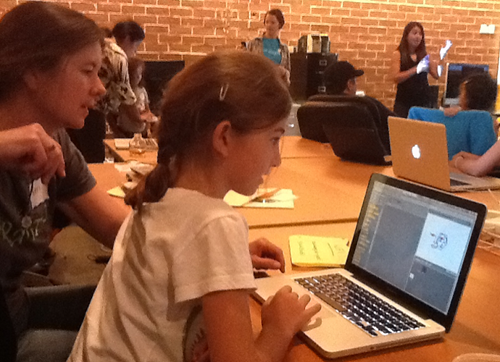 This is an informal, free event to encourage little girls to explore programming. We will be using Processing to make simple animations, and going over resources for families to use to continue exploring programming on their own at home.
Requirements:
-No prior programming exposure required.
-Bring a laptop with Processing installed (https://processing.org/download/) to participate, or email Michelle to find you a spare laptop (at0mbxmb@gmail.com).
-All children must be accompanied by a parent or guardian at all times.
About the Instructor:
Michelle Leonhart is a professional Software Engineer currently working for the company behind the iOS & Android app textPlus. When not coding for work or fun, she works as a Director of the LA Makerspace, and co-runs the hackerspace Crashspace. In the past, she has worked with the MythBusters on the Discovery Channel, coached an all-girls FIRST Robotics FTC team, and designed and taught a number of classes, including DIY LED Lanterns for Kids. She enjoys nerding around, helpings kids be awesome at tech, and encouraging little girls to tell anybody who says engineering isn't cool to go kick rocks.
Questions? Please reach out to at0mbxmb@gmail.com