Posted on April 26th, 2015 by at0mbxmb • Filed under 501(c)3 • No Comments
Today, April 26th 2015, is the day of the CRASH Space Annual Meeting! CRASH Space members are welcome to join us for the meeting and elections at 5:00PM Pacific, and may find more information on the CRASH Members mailing list.
To all CRASH Space members, supporters and friends: please allow me to offer you our sincerest thanks for your participation in and support of our organization and community over this past year. As an organization, we believe that the empowerment of individuals has the power to change our world, and by supporting CRASH Space, you are taking part in a greater global movement to create and provide open, affordable educational resources to our local community and beyond.
Today I'd like to present to you our inaugural Annual Report for 2014, featuring an outline of what our organization has focused on in this past year, what we were able to accomplish, and our plans for the future.
Thank you,
Michelle Leonhart
Vice President and Board Member,
CRASH Space
Download the 2014 Annual Report PDF here.
Posted on April 2nd, 2015 by Barbara Noren • Filed under Events • No Comments
March 22, we hosted a Brown Dog Gadgets Solar Panel event, at which we tested out some of their 5W panels, sent to us by the folks at Instructables. We discovered which of the pins on usb ports are dedicated to power (the outside ones), and hooked up multimeters before standing out on the sidewalk in a no doubt odd-looking circle, staring at equipment and saying little. One person had a Neopixel ring hooked up to a trinket, which ran great off of the solar panels.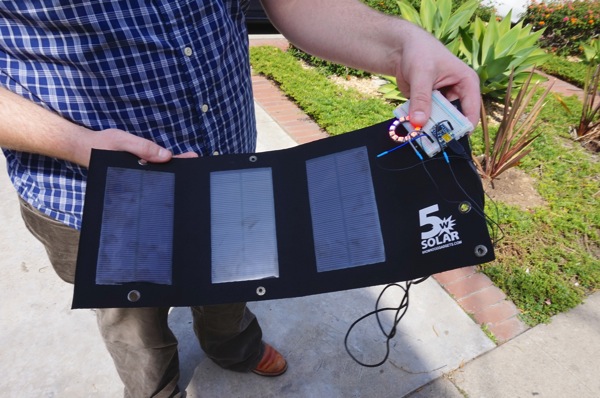 One of our panels was a little quirky, so we began to open it up and discovered a wonky connection on the usb breakout board, which was easily fixed. These panels might let you charge up your phone, slowly. Dante estimated that it would take about six hours to charge his phone from one in bright afternoon sunlight. So, while fun, they aren't entirely prepared to rock our worlds. But, hey, solar! 
Our own Jen Fox and Barb Noren will be writing up project tutorials for the solar panels, so keep an eye out for those. Barb plans to make a solar powered light-seeking robot using these panels and e-waste. Jen's plans are mysterious and spooky.
We will also be hosting Build Nights in April (InstaMorph moldable plastic) and May (Raspberry Pi/Adafruit), so be ready for more fun!
Posted on March 1st, 2015 by at0mbxmb • Filed under Events • No Comments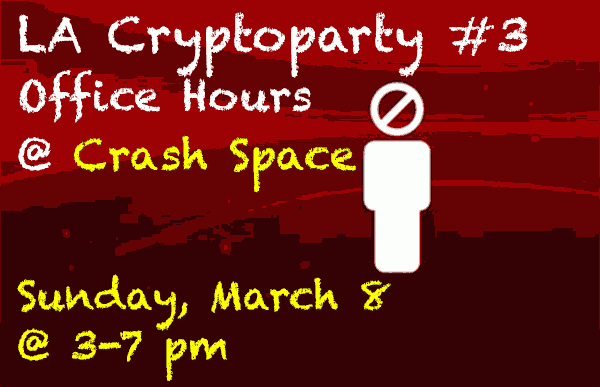 Six crypto/privacy/security "professors" and the Cryptotrailer will be offering security and privacy "office hours" at CRASH Space for four hours. Come learn/talk/experiment with:
Radio Frequency Hacking
Searching the Dark Web
Encrypting Email and Files
Trusting Others and Keyrings
Hacking Consumables
Private Virtual Realities
When: Sunday, March 8th, 3-7pm
Note: This event is OFFICE HOURS, so you DO NOT have to stay for the full four hours! There is no scheduled lecture. You may come or go at any time. HOWEVER, this event is likely to reach capacity and we cannot guarantee you a seat if you arrive late.
Where: CRASH Space, 10526 Venice Blvd, Culver City CA 90232 (DIRECTIONS HERE)
How Much: FREE
What to Bring: Laptop & your brain
Questions: Email mleonhart@gmail.com
Posted on February 25th, 2015 by at0mbxmb • Filed under Events • No Comments
Long-time friends of CRASH Space will remember Qtechknow from the Intro to Arduino class he taught for us back in 2012. As the CEO of his own company, the inventor of numerous useful and fun products, and the teacher of numerous technical classes and events, Quin is now 14 years old.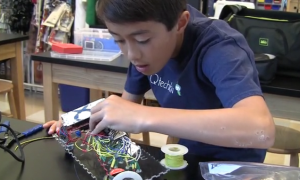 Quin is a brilliant and passionate member of our community who emobodies everything we love about the maker ethos. (I mean, seriously. He had the personal drive and ambition to seek out and learn the basics of electronics and how to build custom circuits on his own… and then used that knowledge to make a fart-gaguing hat.)
So why do we bring up Qtechknow now? Because he has a kickstarter going for his latest and greatest invention: The Qduino Mini!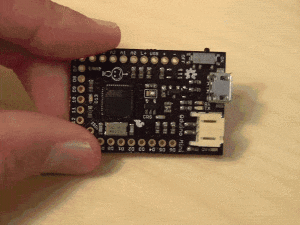 Back it! Back it! Back it! Back it!
The Qduino Mini is the first tiny Arduino compatible that has a built-in battery charger & fuel gauge. It's Arduino-compatible & 100% open source, hardware and software meaning that making and programming your first circuit is a breeze. Hardware is hard, so we decided to make it a little bit easier. The day that the first Qduino Mini ships, all of the design files, including EAGLE board files, schematic, and code will be released under an open source license
Posted on February 17th, 2015 by outlawpoet • Filed under Events • No Comments
We're cleaning house!
Come by and tidy up your projects at crashspace before the 1st. At 11am on the 1st, we'll start a longer than usual Crash Clean event, any lost or abandoned items will be put in a special "lost projects" section of the space, and queued for possible breakdown at the next meeting.
The next day, at 10am, professional cleaners will come in to the space to scrub it down. Any work organizing and clearing beforehand will make their job easier, and the space cleaner overall. So do what you can to help!