Posted on June 22nd, 2014 by at0mbxmb • Filed under Events • No Comments
x-posted from tinwhiskers.net
Back in January, I put together an LED matrix and slapped it on my backpack to test how it would work as a safety light for cycling in the streets of Los Angeles at night. For a functional prototype, it actually looked pretty cool, and fetched me a ton of compliments from passers by.
So I decided to make a bigger version with a bit more polish. (You can learn how to make your own here!)


so shiny
Like the prototype, this version uses an Arduino Pro Mini and the Adafruit NeoMatrix library. But on this one, the RGB LEDs are separated and soldered together with 1.5″ pieces of SparkFun's 3-Conductor Conductive Ribbon.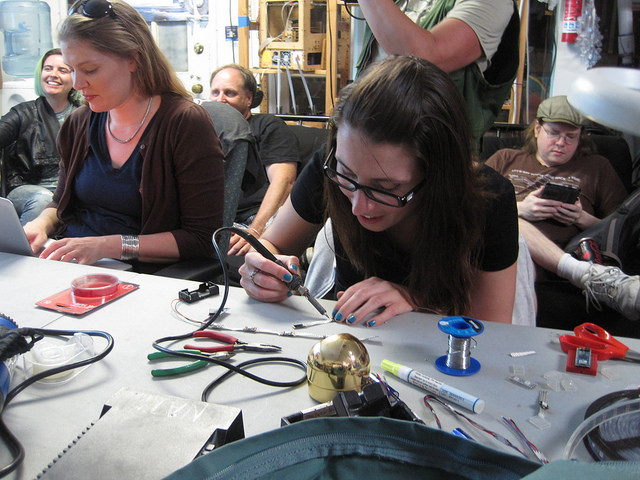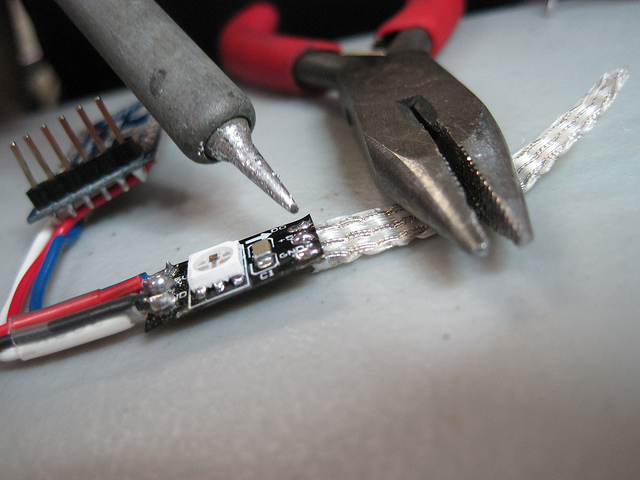 click thumbnails to embiggen photos
The random sparkle pattern is obtained by intentionally screwing up the NeoMatrix configuration, eg. setting the Arudino position as "BOTTOM-RIGHT" when it's actually in the top-left, and setting the arrangement to PROGRESSIVE even though it's soldered as zig-zag. (If that last bit sounds like jibberish to you, check out my tutorial here on Instructables on how to configure your LEDs for the NeoMatrix library.) Oh, and I sewed some orange cloth over the whole thing to make it look pretty. (With a little hole at the top, for easy access to the Arduino, and to allow for minor repairs.)
Here's what it looks like under the covers: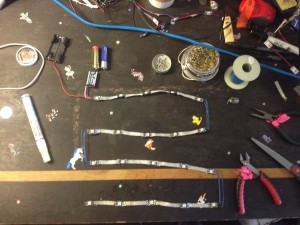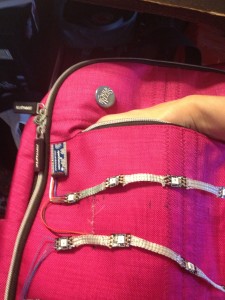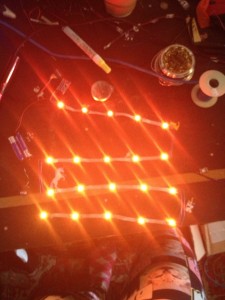 click thumbnails to embiggen photos
Since I built this at Crashspace, Matt Pinner saw my project in-progress, and was inspired to make his own LED Matrix Bag. More for fashion and fun than safety, Matt's bag is hand-crafted from leather and sparkle fabric. Hopefully he'll do a whole post on it, because it looks awesome and is super professionally made. His LEDs are configured very similarly to mine, but with the added feature of being motion-reactive, so the circuit sleeps and saves power when not in use.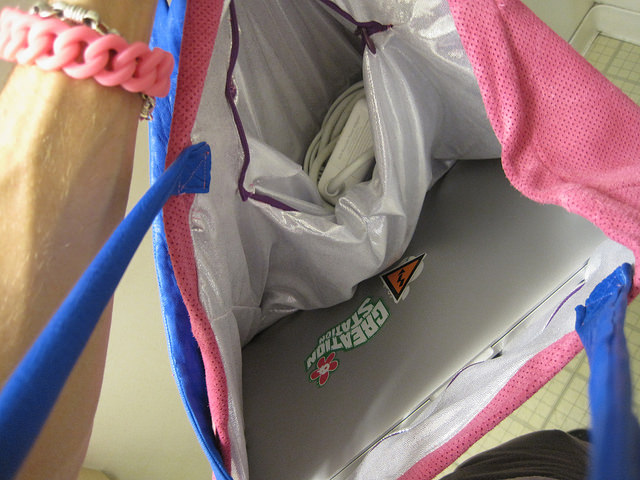 [EDIT]: This project was featured on the front page of Instructables, and in the Technology section!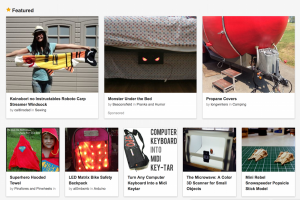 Wearable LED Matrix

by Michelle Leonhart is licensed under a Creative Commons Attribution-ShareAlike 4.0 International License.
Posted on June 21st, 2014 by matt • Filed under Events • No Comments
Minds blow by Friday Network Club. we're learning all about some sweet networking tools and tricks. Thanks Samy!
"so many insecurities. and, so many people haven't thought of. you should think about this." –Samy
next time:
fuzzing
transparent mitm
Posted on June 20th, 2014 by matt • Filed under Events • 1 Comment
BE THERE FRIDAY, June 20th at 8p for what will prove to be a very informative class with Samy Kamkar
FREE and open to the public!
Network/Mobile Sniffing, Protocol Deobfuscation, Reverse Engineering
To go over some of the cross-over, I think what we'll do for this class is go through a real-world and step-by-step walk-through of an encrypted, obfuscated, undocumented protocol on the Android or iOS stack which was NOT open source (source was NOT in Android), yet binaries included in all Android installations (and similarly iOS). From reasons to investigate these funny packets and how I ultimately found Android (and iPhone, and Windows 8 mobile) were sending massive amounts of encrypted, obfuscated GPS/geolocation data and MAC addresses of all networks around you (correlated to GPS) and storing it all, from every single smartphone.
Even when you turned GPS off.
So we'll go over:
top-down approach of trying to examine something undocumented
wireless/network sniffing
mobile sniffing
packet injection
man in the middle attacks (SSL and non-SSL)/decrypting SSL connections
fuzzing
unknown protocol investigation
By the end of the class, not only do I hope you will be able to do this process or use any of these methods yourself in other areas, but you will be able to manipulate Google/Apple Maps' Traffic, meaning you can make Venice Blvd look green for fast or red for slow (for anyone using Google/Apple Maps) to reroute them, and you will be able to find the physical address of anyone by obtaining their router's MAC address (which you can often get by having them visit a page without authorization — more will be discussed in the class). That wasn't my intention, but a side effect of learning about one thing opens up some pretty crazy, unexpected possibilities.
By the end you should have a basic understanding of doing this process yourself, have a pretty good toolchain for this type of research, and also be able to use any of these a la carte for useful reasons in the future.
Posted on June 18th, 2014 by theron • Filed under Events • No Comments
We will be having a patching circle on Sunday 6/22 from noon to 4 pm at CRASH Space.
What is Pure Data (Pd)? Pd is an open source visual programming language used by artists and musicians all around the world. It's creator, Miller Puckette, teaches computer music at UCSD, and was the creator of the original version of Max/MSP.
A patching circle is an informal gathering of anyone who is interested in patching languages (Pure Data, Max/MSP/Jitter, etc.).  Beginners and experienced patchers are welcome.  Open to everyone – work on personal or professional projects, school work, or just patch quietly to yourself, in a room full of other people patching patches and helping other people patch.
Free and open to the public (donations to CRASH Space are welcome, of course).
Posted on June 13th, 2014 by theron • Filed under Events • No Comments
UPDATE – this event has been cancelled. We will be scheduling a Drawdio kit build night at CRASH Space in the near future.
On June 21st at 11 AM, CRASH Space will be running a kit build event at the 1450 Ocean Avenue Camera Obscura building.
We will be building the Adafruit Drawdio kit. It turns a pencil into a musical instrument. It's super easy to build and a great way to learn how to solder (don't worry, we'll teach you. We'll have all the tools you need.
Sign up for the event here. Cost is $38 ($20 to sign up, $18 for the kit).
(Camera Obscura photo by Scott Garner)