Posted on July 10th, 2014 by outlawpoet • Filed under Events • No Comments
It's the final day of our fundraiser to get a new CNC machine, we're already successfully raised 146% of our goal, but every extra pledge is less we need to dig into our savings.
It's also the cheapest you'll ever see our CNC classes, so if you want to learn how to use this sweet 3d machinery, you need to jump on it.
Posted on July 8th, 2014 by Jay Jacobs • Filed under Events • No Comments
It's time to get your ink on! The makerfaire Crafternoon was so much fun. Now there's even more Sunlight, which can only mean one thing: solar printing! It's also a great time to make a crash space tee shirt, so bring your favorite inks and paints. The sun-time fun-time begins at 2PM, Sunday, July 14. If you don't have any images, try checking out the Lumi app site and I'll bring some inkjet transparencies to the Tuesday meeting as well.
Posted on July 2nd, 2014 by at0mbxmb • Filed under Events • 5 Comments
Last weekend, several Crashers headed over to Art Center College of Design to take part in the Extreme Wearables 48-hour Designathon, organized by Syuzi Pakchyan.
One of the goals of the event was to introduce hackers, coders, designers, and artists to one another, to enable interdisciplinary collaboration on a prototype. The event's theme, much like it's name, was EXTREME. Extreme conditions (be they natural, political, etc.), extreme attempts at unplugging from "the grid", or extreme efforts to support safety and security.
4 of the 6 teams at the event had at least one Crashspace member, and we also had our co-founder, Carlyn Maw, involved as an expert on hand for the teams to consult with on their ideas. In the end, Crashspace teams took home 1st, 2nd, and 3rd place from the competition! [Edit: and we were mentioned in Hackaday!] Here's a little bit about our projects:

Emoti (1st place winner!)
(Details coming soon!)
Alia: sharing accountability and bringing back human connection (2nd place winner!)
Matt Pinner | Ella Jeong | M Asynaps | Jon Hsiung | Mary Kim | Divya Gaitnode
Alia adds an intimate human connection to help people improve accountability and improve their behavior. Specifically we decided to discuss this within a world of digital dependency. We aim to help people unplug from their devices by keeping them subtle connected to their most trusted friend via touch.
We built two working prototypes that allows you to monitor your partners progress based on their sensors and settings. Then whenever you with to nudge them, merely tap the device.
You too can make a set with these parts. The source code and designs are available on github. The documentation is here in the header : https://github.com/mpinner/alia/blob/master/Arduino/alia_v0/alia_v0.ino
Compass H2O (Third Place Winner!)
(Details coming soon!)
SignalObscura
Michelle Leonhart | Barb Noren | Ekin Zileli | Qiyuan "Oscar" Li | Dave Hansungkim
The goal of Signal Obscura is a functional concept piece intended to help everyday people retain control over their data and traceability, in response to the seemingly limitless reach of our current surveillance state.
Two Models of Signal Obscura
Signal Obscura is, in short, is a flexible, wearable Faraday cage. It functions by blocking the signal between cell towers and your cell phone. Building one of your own is very simple. (Instructions coming soon.) The model below also features blue LEDs which glow in response to the strength of nearby cell towers, bringing awareness to how exposed the wearer would be to having their data collected, were they not wearing the scarf.
The LED-enhanced model
To activate Signal Obscura, you simply place your cellphone within a special pocket. While it is inside, you are "off the grid". To deactivate, all you have to do is remove your phone from the pocket, and it goes instantly back to normal function.
Signal Obscura is not a replacement for other security measures (end-to-end encryption, Tor, etc.) but simply adds another layer of control to the user over the times and places when others may have access to their data.
And if you're wondering to yourself "Why not just shut down the phone when it's not in use?" Well, two things:
Signal Obscura is meant to be simple. Putting your phone in a pocket is a normal occurrence that requires zero extra steps in your life.
Also, this.
Posted on June 22nd, 2014 by at0mbxmb • Filed under Events • No Comments
x-posted from tinwhiskers.net
Back in January, I put together an LED matrix and slapped it on my backpack to test how it would work as a safety light for cycling in the streets of Los Angeles at night. For a functional prototype, it actually looked pretty cool, and fetched me a ton of compliments from passers by.
So I decided to make a bigger version with a bit more polish. (You can learn how to make your own here!)


so shiny
Like the prototype, this version uses an Arduino Pro Mini and the Adafruit NeoMatrix library. But on this one, the RGB LEDs are separated and soldered together with 1.5″ pieces of SparkFun's 3-Conductor Conductive Ribbon.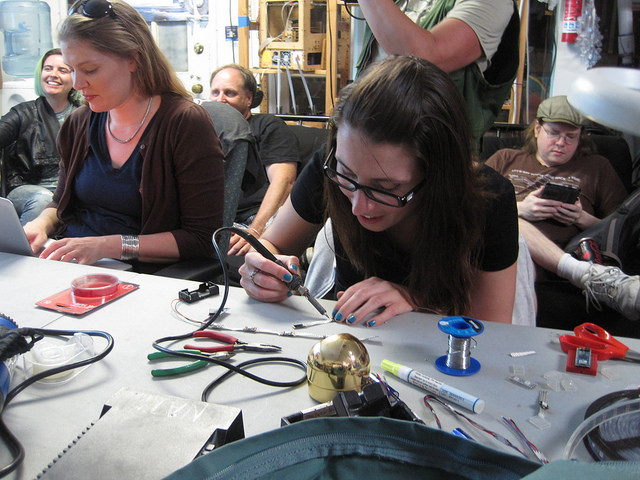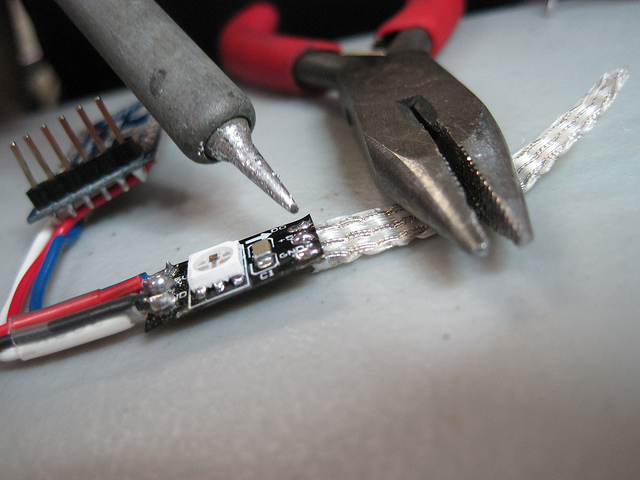 click thumbnails to embiggen photos
The random sparkle pattern is obtained by intentionally screwing up the NeoMatrix configuration, eg. setting the Arudino position as "BOTTOM-RIGHT" when it's actually in the top-left, and setting the arrangement to PROGRESSIVE even though it's soldered as zig-zag. (If that last bit sounds like jibberish to you, check out my tutorial here on Instructables on how to configure your LEDs for the NeoMatrix library.) Oh, and I sewed some orange cloth over the whole thing to make it look pretty. (With a little hole at the top, for easy access to the Arduino, and to allow for minor repairs.)
Here's what it looks like under the covers: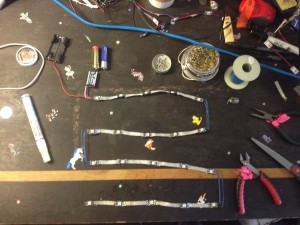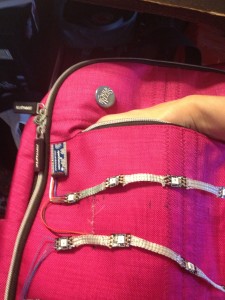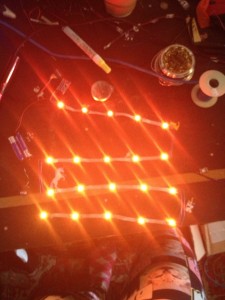 click thumbnails to embiggen photos
Since I built this at Crashspace, Matt Pinner saw my project in-progress, and was inspired to make his own LED Matrix Bag. More for fashion and fun than safety, Matt's bag is hand-crafted from leather and sparkle fabric. Hopefully he'll do a whole post on it, because it looks awesome and is super professionally made. His LEDs are configured very similarly to mine, but with the added feature of being motion-reactive, so the circuit sleeps and saves power when not in use.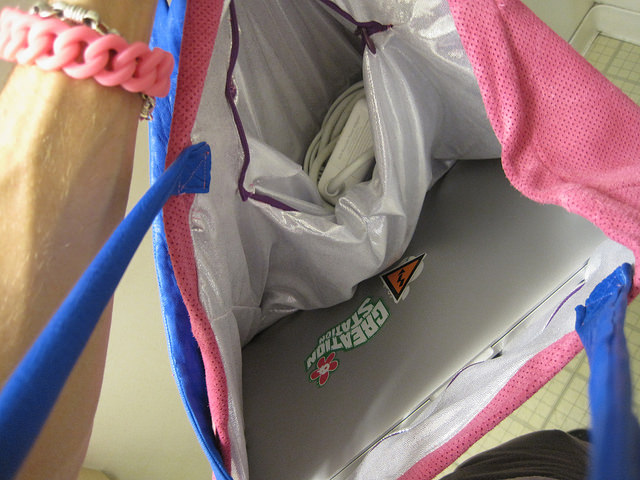 [EDIT]: This project was featured on the front page of Instructables, and in the Technology section!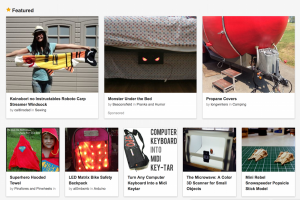 Wearable LED Matrix

by Michelle Leonhart is licensed under a Creative Commons Attribution-ShareAlike 4.0 International License.
Posted on June 21st, 2014 by matt • Filed under Events • No Comments
Minds blow by Friday Network Club. we're learning all about some sweet networking tools and tricks. Thanks Samy!
"so many insecurities. and, so many people haven't thought of. you should think about this." –Samy
next time:
fuzzing
transparent mitm