Posted on May 27th, 2014 by outlawpoet • Filed under Events • No Comments
We've launched our Indiegogo campaign to get a new CNC Mill and provide you with cool classes. Check out the link for more details.
Posted on May 17th, 2014 by outlawpoet • Filed under Events • 1 Comment
See our table at Makerfaire up in San Mateo, and meet the people behind Crashspace, as well as see examples of member projects!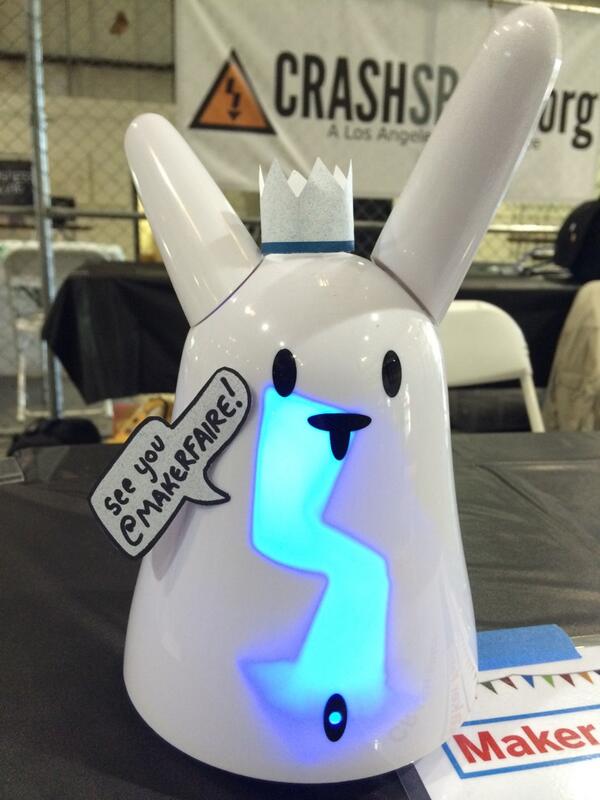 Crashspace goes to Makerfaire every year, and it's always a good time, if you're on the fence, it's not that expensive, and general admission starts tomorrow!
And at Makerfaire we're talking about our first crowdfunding campaign directly for the space, the IndieGoGo CNC Fundraiser. We're raising money to help buy a ShopBot Desktop CNC Mill, and you can help us by buying an early ticket to take a class on how to use this powerful technology, or just selecting one of the cool perks we'll give you for helping us out!
The campaign is still being finalized, but will launch Monday, May 26th! Watch this space for more announcements.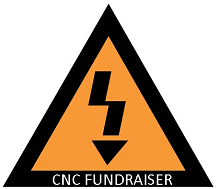 Posted on May 6th, 2014 by matt • Filed under Events • No Comments
This past Saturday we hosted our annual tshirt making crafternoon.
We got a good turnout throughout the day all the way from the cleanup at noon to the late night grilled cheese outing and further wearable hacking with midi controlled 1 watt leds and lasers well into the Sunday morning hours. Thanks, Club Mate!
Penny, our favorite addition from our first Swap-o-rama-rama, made an appearance and huge contribution by running the machine in the office. She inspired some crocheted lilypad fixturing from the donations by SparkFun and she developed a very nice technique for reverse appliques by doubling up the shirts.
On the high tech front we had James playing with led matrices as a wearable necklace piece. There was lots of experiments with inkofilm for transfering images with sunlight through transparencies and even a delaminated polaroid of sparkles
We designed a semi-official crashspace tshirt. you can pre-order one by posting to our mailing list crashspacela: crashspace@googlegroups.com
Silkscreening is always a big easy win. We had plenty of extra shirts for everyone on-hans due to a kind donation from instructables. We lasered some slick pirate designs and used a lot of our crash logos stencils.
Camo is making a comeback. Maybe it never left. Regardless, consider making your own custom camo for your next project.
Bonus!
A very special thanks to all who came out, helped each other, and brought great ideas to make it a fantastic day!
Posted on May 2nd, 2014 by at0mbxmb • Filed under Events • No Comments
Every other Thursday of the month, Michael Biggs is hosting our newest event: Circuits Social!
When: The 2nd and 4th Thursday of each month from 7:30pm-8:30pm (Check the calendar for the exact dates!)
Where: Crashspace
Who: Open to the public
How Much: FREE! Donations to Crashspace support our ability to offer these classes

The format of these events is very relaxed and social. There are no per-requisites to attending, and beginners are welcome. If you have a specific question you'd like to ask, a circuit you'd like to know more about, or a topic you'd like to have explained, this is a great place to come and discuss it.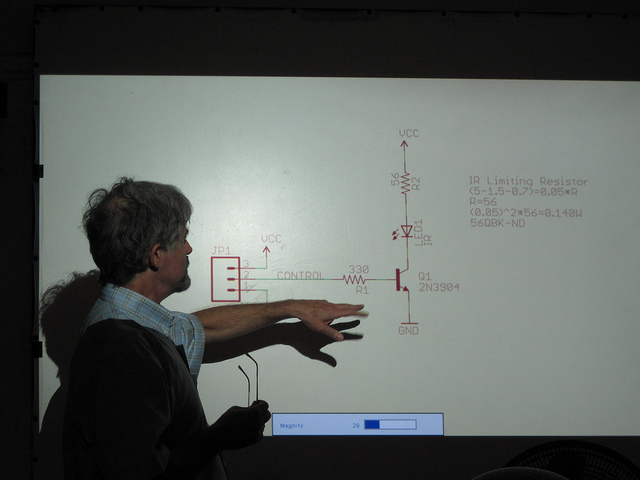 This week, the the topic was transistors. Michael explained the difference between NPN and PNP, went over "garden variety" transistors you'll encounter most often, and the whens/whys/and hows of using them in your own circuits. After that, we opened up the room to questions, and Michael explained some SparkFun schematics that some of the folks in the room are currently working with and needed some help with.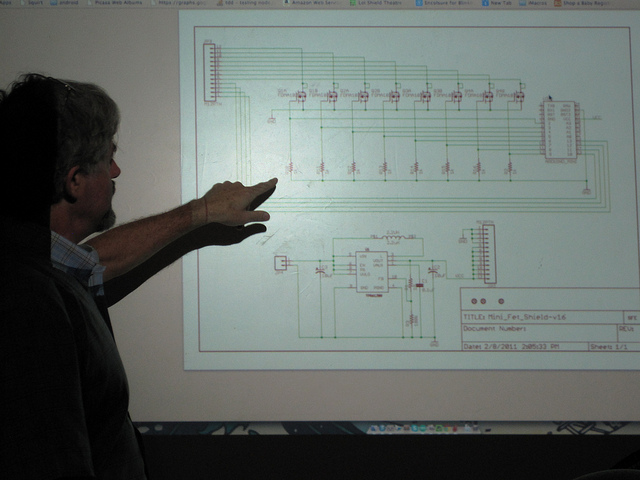 Posted on May 1st, 2014 by matt • Filed under Events • No Comments
SATURDAY : CRAFTERNOON Crash Shirt Building Playing and Sparkling will continue
NOON : we'll start to cleanup and setup.
2PM : we build build build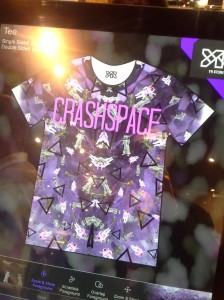 As makerfaire approaches we realize that we're are all lacking in sufficiently nerdy duds to properly represent the CrashSpace with beyond awesome glory.
So, once again we embark on an adventure in TShirt alterations and altercations.
We'll be collaborating on some designs for a new official-ish crash member tshirt that will be printed just in time for the faire.
but there is so very much more…
We'll be building shirts on site and making madness of your existing designs.
BRING your old tired shirts to repurpose, remake, upcycle, and donate.
BRING your ideas and inspirations
BRING someone or something to share
we HAVE, courtesy of SparkFun Dings and Dents bin:
leds, both sewable and solderable
battery holders
old shirts
blank lilypads
also PRESENT will be :
perhaps a very VERY special guest from outstanding crafternoons of the past.
a bunch of inks and dyes (even some neon and glowing powder)
sewing stuffs
spray paints
stencils
lasers
Club Mate for our best design and most helpful volunteers
and most lots of funsie