Posted on October 17th, 2013 by theron • Filed under Events • 6 Comments
***UPDATE*** – The Patching Circle on Sunday will now be taking place at CRASH Space, 10526 Venice Blvd, Culver City from 3-8 PM, following MakerBot Monthly.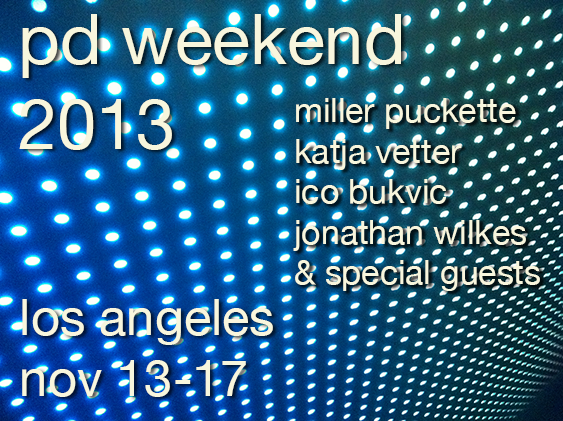 We have a whole weekend (plus) of Pure Data / Raspberry Pi events coming up November 13th – 17th.
What is Pure Data?  Pure Data (Pd) is an open source, visual programming language geared towards musicians and artists, but it can be used for most anything.  It is the free version of Cycling 74′s Max/MSP, but it runs on just about any computer, even the Raspberry Pi.
The Raspberry Pi is a $35 computer that runs Linux and connects to your television.  Combined with Pd, it can be used as an embedded noise toy, a guitar effects pedal, or just as a cheap portable way to play with Pure Data.
Wednesday 11/13, we are crashing Learn To Code With Us and talking about Pure Data, and can help anyone install and start to learn.
Thursday 11/14, we will be having a "Get Started With Pure Data And Raspberry Pi" night where we can help people install and test Pd on their laptop and/or Raspberry Pi – to get ready for the weekend's workshops, or just because.
Friday 11/15, there are activities in San Diego – a discussion with Miller Puckette, and a family night at the Clairmont Boys & Girls Club.
Saturday 11/16, we have FOUR workshops with special guest instructors.
Miller Puckette, creator of Pure Data (Pd) will be showing the latest tips and tricks for using Pure Data on the Raspberry Pi.
Katja Vetter will show how to build a quality unidirectional DIY microphone suitable for live recording, and how to use it with Slice//Jockey, a live sampling Pure Data patch.
Ico Bukvic will teach a workshop appropriate for ages 10 and up covering an introduction to Pd-L2ork interactive visual programming environment and its K12 eduction module.
Unlocking Computer Creativity for musicians and creative types using the Pure Data programming language for a minimum of cryptic code and other off-putting digital peculiarities.
Each workshop is three hours long and costs $75 (except for the microphone workshop, which has a $5 materials fee).  CRASH Space members receive discounts on workshop fees (see members list for details).
Saturday night (5:30 – 9:30 PM), we will be having Handmade Music 4.0, with performances by our guest instructors and local musicians.  FREE!
Sunday (Noon – 8 PM) will be our special patching circle with our special guests, featuring performances and demonstrations, as well as the usual patching.  FREE!
Tickets for the workshops, and RSVP for Handmade Music and the patching circle are available at our Eventbrite page.
Posted on October 14th, 2013 by levisimons • Filed under Events • No Comments
When: Sunday 10 November 2-5pm
Where: Crashspace 10526 Venice Blvd, Culver City, CA 90232
How Much: Free
RSVP: Here for the proverbial heads up
Questions: levisimons@gmail.com
Don't have a national lab?  Government shutdown getting you down?
Well to all you budding Bohrs and up-and-coming Curies cheer up because citizen science is here.
FAQs:
Q. What is citizen science?
A. It is scientific research which can be carried out by people outside of the professional scientific community, though often in partnership with establish members of academia.
Q. What kind of projects can I get involved with?
A. There are hundreds of different citizen science projects out there now, although most of the ones we'll be discussing are posted here.
Q. How can I get involved?
A. Stay conscious and personable between the hours of 2 and 5pm on Sunday the 10th of November, then make your way to CRASH Space for our meeting.
Posted on October 10th, 2013 by at0mbxmb • Filed under Events • No Comments
When: Saturday, Oct 26th 4p-6p
Where: Crashspace 10526 Venice Blvd, Culver City, CA 90232
How Much: Free
RSVP: Here so I know how many to prepare for
Questions: at0mbxmb@gmail.com
This is an informal, free event to encourage little girls to explore programming. We will be using Processing to make simple animations, and going over resources for families to use to continue exploring programming on their own at home.
Requirements:
-No prior programming exposure required.
-Bring a laptop with Processing installed (https://processing.org/download/) to participate, or email Michelle to find you a spare laptop (at0mbxmb@gmail.com).
-All children must be accompanied by a parent or guardian at all times.
About the Instructor:
Michelle Leonhart is a professional Software Engineer currently working for the company behind the iOS & Android app textPlus. When not coding for work or fun, she works as a Director of the LA Makerspace, and co-runs the hackerspace Crashspace. In the past, she has worked with the MythBusters on the Discovery Channel, coached an all-girls FIRST Robotics FTC team, and designed and taught a number of classes, including DIY LED Lanterns for Kids. She enjoys nerding around, helpings kids be awesome at tech, and encouraging little girls to tell anybody who says engineering isn't cool to go kick rocks.
Questions? Please reach out to at0mbxmb@gmail.com
Posted on September 26th, 2013 by matt • Filed under Events • 1 Comment
What is that new red box in the back?
Steve cleaning rust off a part.
I LOVE this thing. Imagine you are lasering an entire sheet of something. the cutting is generally pretty quick compared to the etching time. A full 12″x24″ sheet can take up to an hour to etch. Cutting a stencil can be very quick. and sandblasting your pattern in is a snap.
Safety!!
- The compressor is loud. Wear ear protection if you are in a room with it.
- Avoid sandblasting the gloves or the viewing window.
- Be smart.
Steps:
- 0 plan your project. get help. ask.
- 1 turn on the compressor
- 2 put your project in the sandblasting box
- 3 ensure the sand feeding hose is down in the sand… duh.
- 4 close the box
- 5 pull the trigger
Things you can do:
- remove rust
- give nice surface treatments to metal, glass, wood, plastic
- etch things for edge lighting
- stencil
- make two-way mirrors from one-way mirrored acrylic
Check it out
And, yes. The lathe works.
Posted on September 11th, 2013 by matt • Filed under Events • No Comments
We helped build the Disorient LED Pyramid with NYCResistor. THEY DID A GREAT WRITEUP
"The project was a bi-coastal one — the large panels were soldered and wired in California and much of the low level software was developed in New York. The boards were designed by Naim and available under an OSHW license. On site a crew of volunteers assembled the panels onto the pyramid structure built by the rest of the Disorient camp."