Posted on June 18th, 2014 by theron • Filed under Events • No Comments
We will be having a patching circle on Sunday 6/22 from noon to 4 pm at CRASH Space.
What is Pure Data (Pd)? Pd is an open source visual programming language used by artists and musicians all around the world. It's creator, Miller Puckette, teaches computer music at UCSD, and was the creator of the original version of Max/MSP.
A patching circle is an informal gathering of anyone who is interested in patching languages (Pure Data, Max/MSP/Jitter, etc.).  Beginners and experienced patchers are welcome.  Open to everyone – work on personal or professional projects, school work, or just patch quietly to yourself, in a room full of other people patching patches and helping other people patch.
Free and open to the public (donations to CRASH Space are welcome, of course).
Posted on June 13th, 2014 by theron • Filed under Events • No Comments
UPDATE – this event has been cancelled. We will be scheduling a Drawdio kit build night at CRASH Space in the near future.
On June 21st at 11 AM, CRASH Space will be running a kit build event at the 1450 Ocean Avenue Camera Obscura building.
We will be building the Adafruit Drawdio kit. It turns a pencil into a musical instrument. It's super easy to build and a great way to learn how to solder (don't worry, we'll teach you. We'll have all the tools you need.
Sign up for the event here. Cost is $38 ($20 to sign up, $18 for the kit).
(Camera Obscura photo by Scott Garner)
Posted on June 13th, 2014 by rkoukal • Filed under Events • No Comments
Our friends over DIYgirls continue to trailblaze the future for our young girl hackers. They are holding a 5 week STEM summer camp for girls entering 6th, 7th and 8th grade with some truly amazing programming. Check out the schedule below and be totally jelly if you're not a young woman because it's going to be fantastic.
You can still participate by sponsoring a cool kid to attend. Click below for more info or email summer@diygirls.org if you have any questions.
Posted on May 27th, 2014 by outlawpoet • Filed under Events • No Comments
We've launched our Indiegogo campaign to get a new CNC Mill and provide you with cool classes. Check out the link for more details.
Posted on May 17th, 2014 by outlawpoet • Filed under Events • 1 Comment
See our table at Makerfaire up in San Mateo, and meet the people behind Crashspace, as well as see examples of member projects!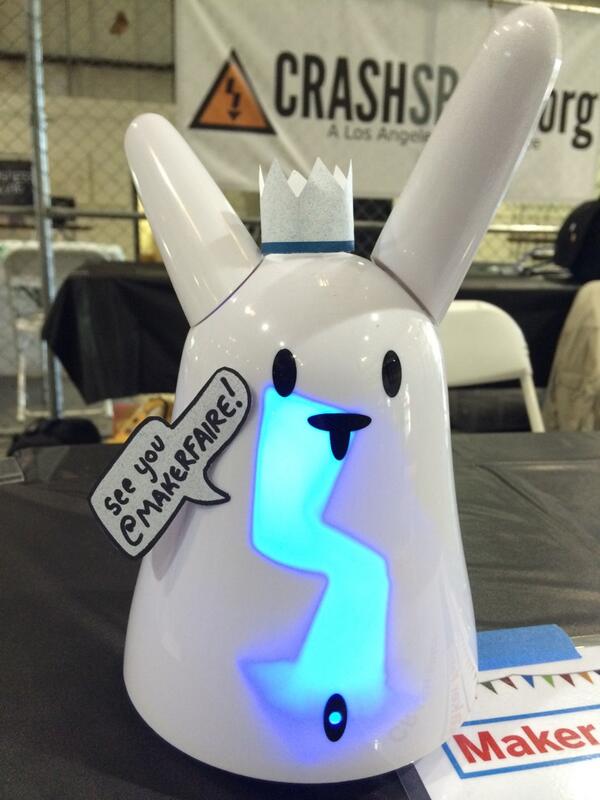 Crashspace goes to Makerfaire every year, and it's always a good time, if you're on the fence, it's not that expensive, and general admission starts tomorrow!
And at Makerfaire we're talking about our first crowdfunding campaign directly for the space, the IndieGoGo CNC Fundraiser. We're raising money to help buy a ShopBot Desktop CNC Mill, and you can help us by buying an early ticket to take a class on how to use this powerful technology, or just selecting one of the cool perks we'll give you for helping us out!
The campaign is still being finalized, but will launch Monday, May 26th! Watch this space for more announcements.