Posted on April 6th, 2014 by matt • Filed under Events • No Comments
Guess who is sitting at SparkFun these days? I AM!
I've been serving as SparkFun's latest Hacker In Resident. It entails working on my latest interactive garment among the minds behind much of the hardware i'll incorporate.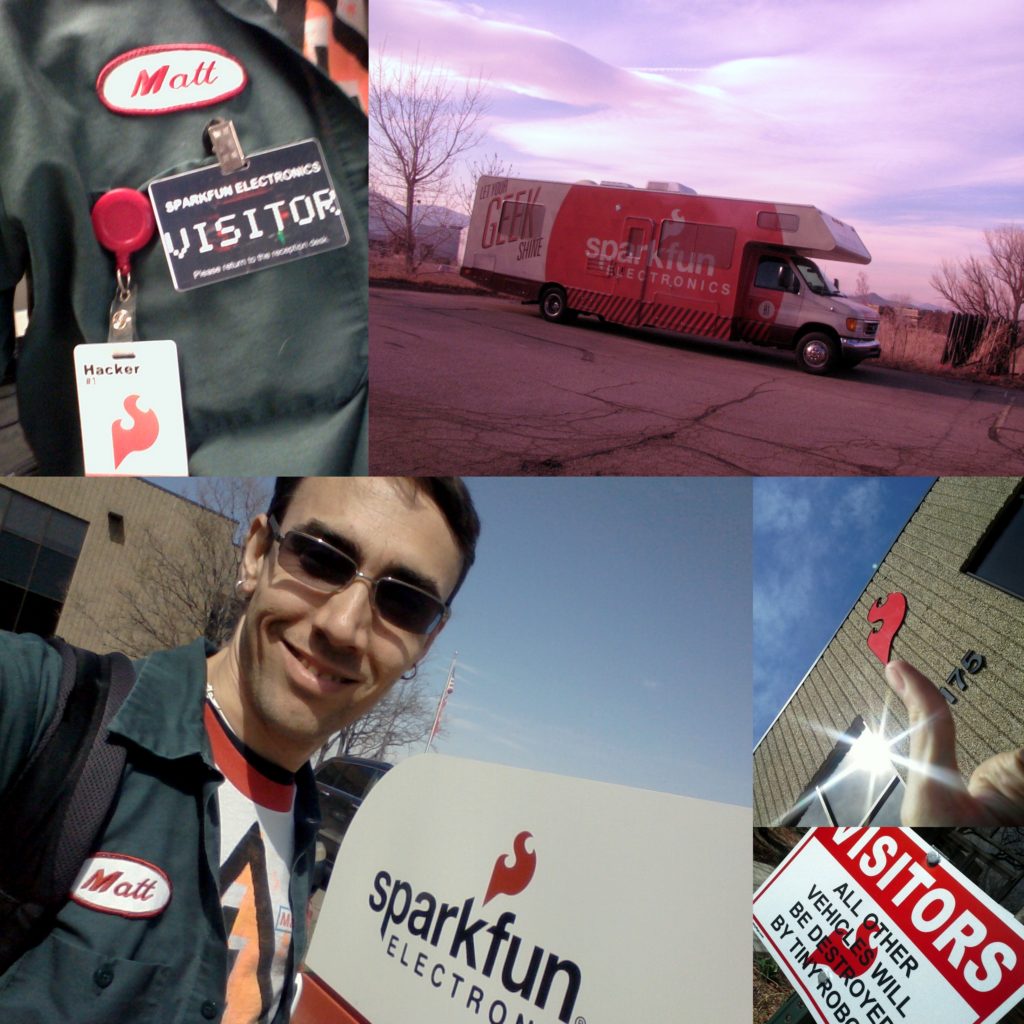 Time flies here in Boulder while goggling at the awesome mountainous skyline. The crew here and welcome feels a bit like my crashspace family: smart, different, and very helpful. It made for a spectacularly comfortable April Fools Day where I got to "fix" their sign and many Hakkos all the while pulling together an instructables.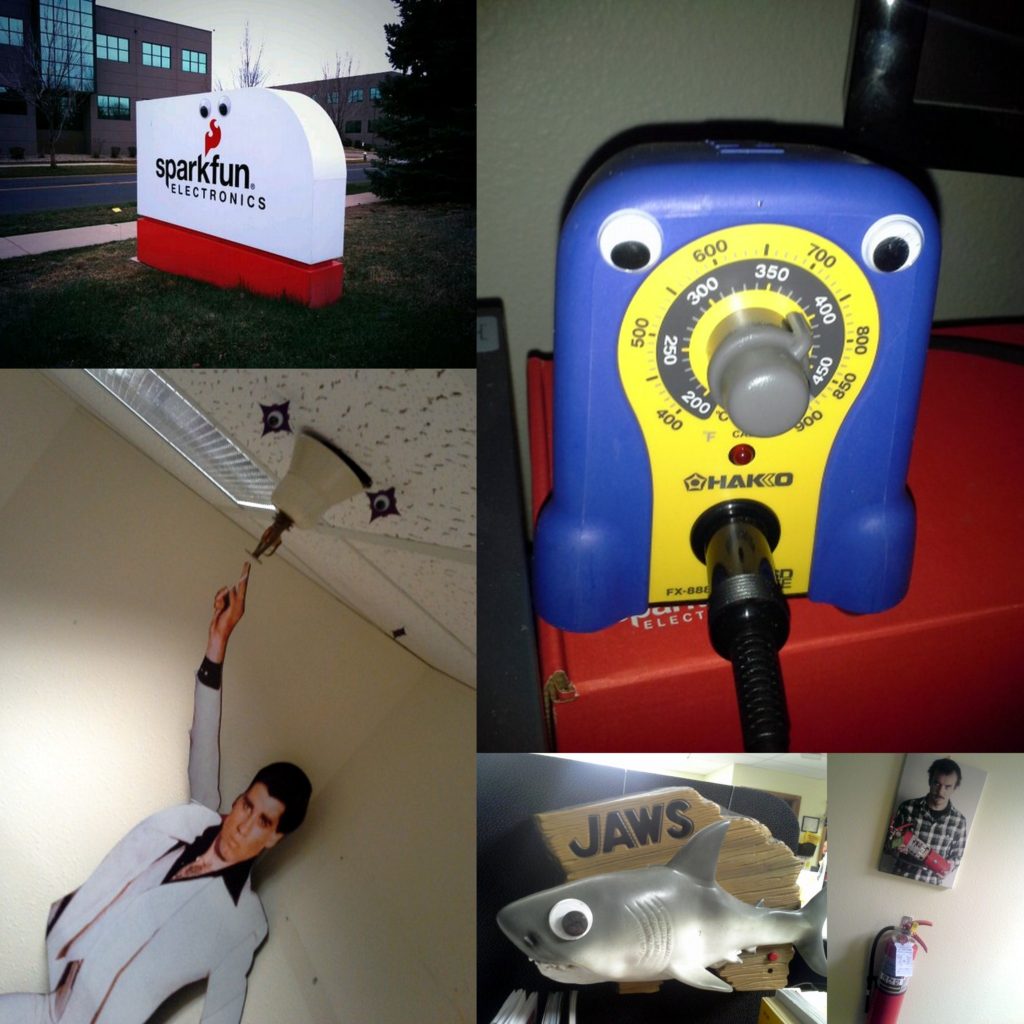 Each Friday, they host a slew of tours and many of the employees gather in their central classroom to tool around on their own projects. It is great to see the maker spirt alive within each employee. They're basically a hackerspace atop a HUGE warehouse.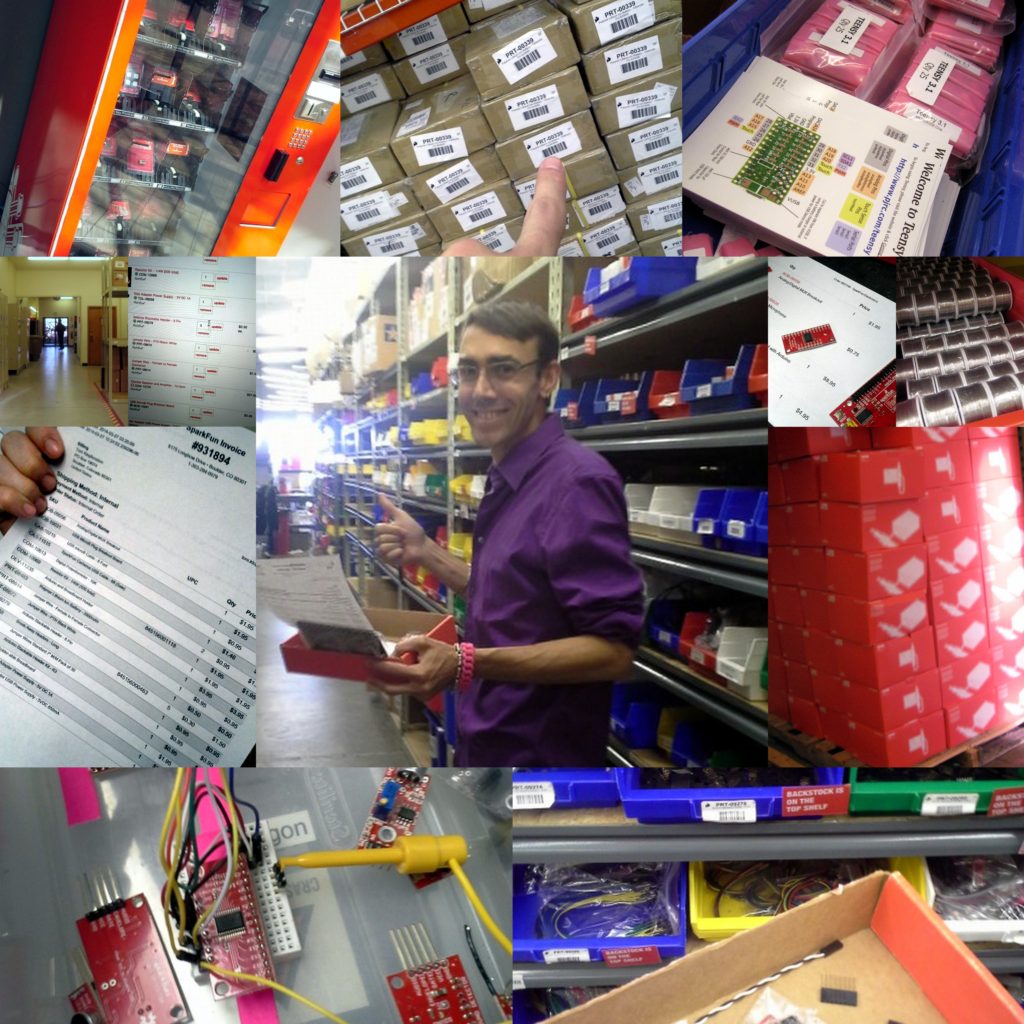 I've only a week left and about million more ideas to implement than when i started. I've mostly been busy analyzing their sound based offerings and learning all the things about their sensors for use in my next garment.
I look forward to completing my project and sharing it with you at the next crashspace meeting!
-matt
Posted on March 22nd, 2014 by theron • Filed under Events • 1 Comment
We will be having our next patching circle on Sunday April 6th starting at Noon. This event is free and open to everyone.
There will be a special guest: Chris McCormick, musician and creator of PdDroidParty and WebPd, will be joining us (all the way from Australia) and showing us what he has been working on lately.
Chris visited a few years ago and taught a workshop on using Pure Data as an audio engine with other languages.
What is Pure Data (Pd)? Pd is an open source visual programming language used by artists and musicians all around the world. It's creator, Miller Puckette, teaches computer music at UCSD, and was the creator of the original version of Max/MSP.
A patching circle is an informal gathering of anyone who is interested in patching languages (Pure Data, Max/MSP/Jitter, etc.). Beginners and experienced patchers are welcome. Open to everyone – work on personal or professional projects, school work, or just patch quietly to yourself, in a room full of other people patching patches and helping other people patch.
Posted on February 26th, 2014 by matt • Filed under Events • No Comments

Join us during Girls in Tech LA Presents: A Night of Inspiration and Innovation!
Where: Red Bull Headquarters, 1740 Stewart St. Santa Monica, CA 90404
When: Thursday, February 27, 2014 from 7:00 PM to 10:00 PM (PST)
RSVP HERE
Of the event, they say:
Join us at Red Bull Headquarters in Santa Monica for a night filled with inspiration, innovation and brilliant woman executives sharing their stories of success in the tech world. Each speaker will take the stage and give us an intimate look into their career and how they've risen to the top of industries, such as gaming, electronics and media. Come with your thinking caps on and business cards handy. Before and after our presentations, we'll be opening up the floor for mixing and mingling throughout the night. All proceeds from the night will go towards Girls in Tech LA's mentorship programs including GITLA Mentorship 360*
Posted on February 26th, 2014 by matt • Filed under Events • 1 Comment
CrashSpace had a booth at the Southern California Linux Expo Scale12x. We had a ton of crashers show up and and help out. Thanks for that it made it a fun time and I think everyone got to attend the talks they were interested in.

via @SeanLeftBelow
The booth was non-stop activity. See the video below of Saturday's attendees:
We erred on the side of showing small blinking interactive member projects. This made the booth more or less take care of itself while we just hung out to answer questions.
Posted on February 24th, 2014 by at0mbxmb • Filed under projects • No Comments
I spent this last Sunday with Phillip Stearns at Machine Project, learning how to circuit bend 1990s-era digital cameras for the sake of making glitch art.
This is my camera in it's current state: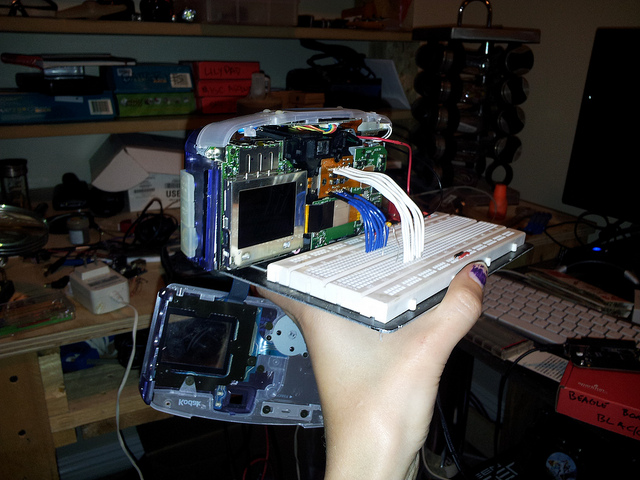 There's a battery pack for mobile use, but for experimentation I wired the camera to my breadboard and hooked it up to a spare 5V power supply (thanks, eWaste!) to keep it running long-term. (These things kill batteries fast.)
It seems that much of circuit bending for the sake of art is guess and check, as you're never quite sure what will produce a desirable result. I started out with shorting the board manually as I walked around taking pictures, but found that it was difficult to remember what exactly I had done and how to reproduce it when I went to go look at my pictures later. The addition of the breadboard has helped with this quite a bit (since my wiring stays in place while I move around), and I've been gathering data on what connection combinations lead to what effect under what circumstances.
So far, this is my favourite glitchPic I've gotten out of this setup: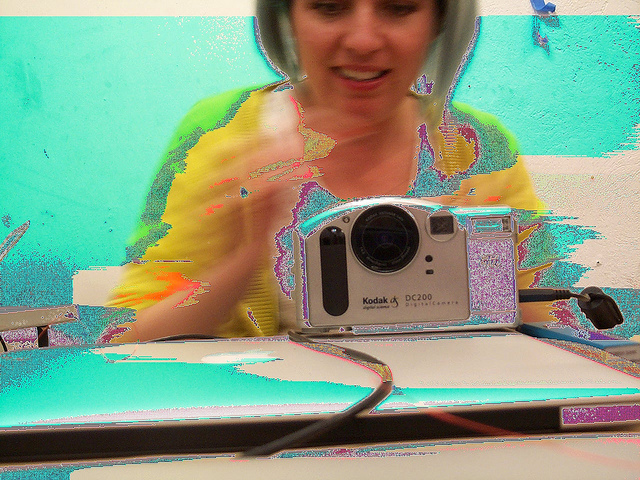 Model: Rachel Koukal. Eat your heart out, Lisa Frank.
I think it would be fun to hook this up to an arduino and automate the system of stepping through the different short-circuit configurations. This might be less interesting to look at, though, as I'm noticing that weak connections and poor solder joints often produce the most beautiful results. (This is glitch, after all.)
Anyway, you can find the rest of my glitchy photos here on flickr. Once I get a more stable mobile setup, I'm gonna take this outside and see what I can get with some natural light!
[Edit] I got a mention in Year of the Glitch!