Posted on January 18th, 2013 by outlawpoet • Filed under Events • No Comments
Just a friendly reminder, we are fast running out of seats at the College of Lockpicking classes next week, and you MUST have a ticket to attend as we have limited space. There are only 3 tickets left on Saturday, and we are going on Wednesday as well.
Wednesday, Jan. 23rd class: http://www.eventbrite.com/event/5022143366/eorg
Saturday, Jan. 26th class: http://www.eventbrite.com/event/5022550584/eorg
Join us on Wednesday, January 23rd, from 7-9pm, and Saturday, January 26th from 4-6pm, at Crash Space! Together we'll embark on an ancient mechanical adventure to explore the inner workings of a modern lock, first developed by the Mesopotamians and Egyptians over 4000 years ago. Led by lockpicker Eric Michaud, this workshop will cover – soup to nuts – everything you need to know about how common locks work… and how to pick them open.
Posted on January 16th, 2013 by outlawpoet • Filed under Events • No Comments
A Reminder that tomorrow is the monthly Neuroscience Group meeting. As always we'll review the month in neuroscience news, the recent holidays means a lot on happiness, motivation, family, and related topics has come out.
Also come if you've got questions on a neuroscience or cognitive science related project, or would just like to meet some brainy interested people.
See you there! Open to the public, starts at 8pm
Posted on January 14th, 2013 by KyleC • Filed under Events • 2 Comments
IT'S AMAZING! Member Emily B. Made it IN A CAVE, FROM A BOX OF SCRAPs (WOOD)!  So now we suddenly have a place to put bench top tools in the back shed. Get on it Crashers!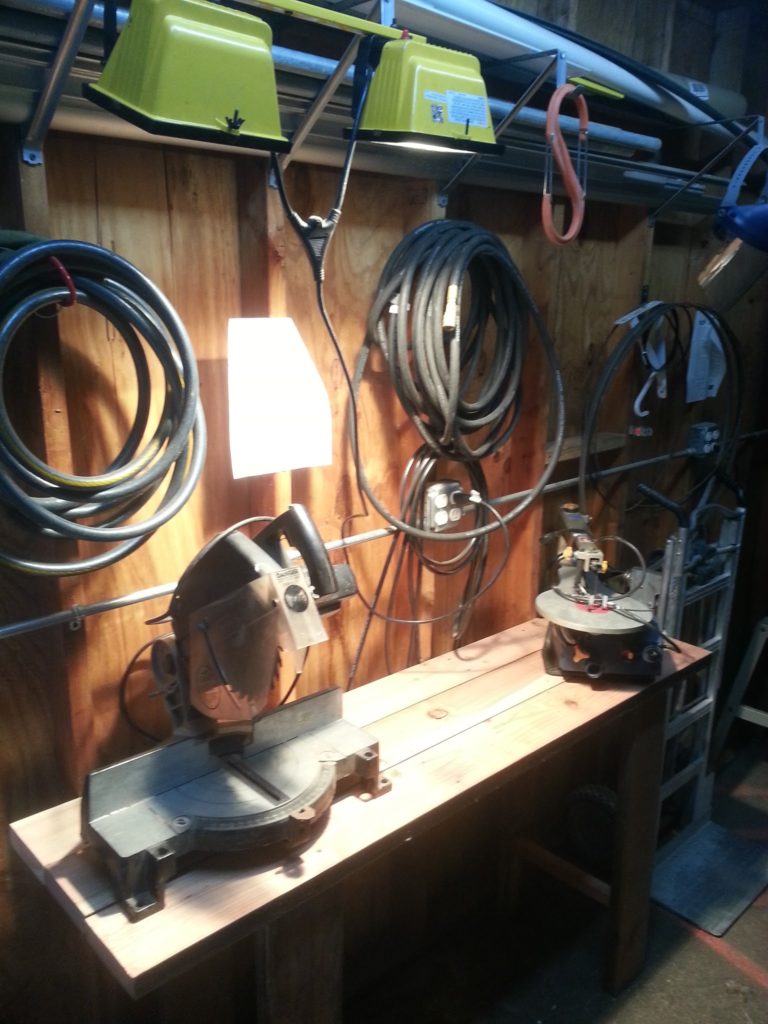 Posted on January 10th, 2013 by outlawpoet • Filed under Events • No Comments
It is once again the hallowed time! This Saturday we will accept any and all donations of materials, equipment, broken electronics, old bits and bobs.
Remember, most electronics cannot simply be thrown away, they contain heavy metals, toxins, and mixed plastics, and must be dealt with by people with the tools and technology to do so, so our landfills don't leak awful things into the groundwater.
The city of LA has an eWaste program, you can drive your stuff to locations you can find on their website. But failing that, you can bring it to crashspace!
On MegaTakeApart days, we accept donations of anything and everything. Tools and materials we can use, broken or old things we can repair, those items worse off still can be a source of spare parts, components, and materials. What left over we transport to recyclers and/or dispose of safely.
MegaTakeApart has also become a social time, since there's always people there, and there's a crew of members and visitors all through the afternoon with no particular focus other than screwdrivering the incoming donations, so if you've wanted to check out crashspace in a relaxed setting, you should stop by. And bring an old printer/crt/unused soldering iron/dead robot/vacuum chamber/broken rc plane/leaky batteries. We can use/fix/disassemble/recycle it!
(and yes we've gotten all those things and more as donations, you wouldn't believe how much unused stuff is sitting out there in garages and closets. Bring it out! Donate it and see it used in our next crashspace project!)
Posted on December 31st, 2012 by matt • Filed under Events • 1 Comment
The LA Robotics Club has been wanting to get folks together for a gathering about wearable electronics.
We're doing it IRL at the CRASHSpace at 2p-5p January 19th (2012-01-19 14:00 PST).
Here's the link to the meetup and discussion: http://www.meetup.com/LARoboticsClub/events/97087292/
We'll have a pretty open format…
1. Bring something to share: ideas, projects, toys, problems, snacks, friends?
2. We'll discuss next steps for where we want to take the group and the discussions.
3. I'll give a quick demo of EL Wire soldering… for those that want it.
Hint: This is taking place on the anniversary of this wonderful wearable electronics roundup from last year: http://blog.makezine.com/2012/01/19/epic-soft-circuit-roundup/ . The photos above came from this post.
CRASHSpace is entirely membership/donation funded and relies on your support to keep the doors open. Donations are welcomed, helpful, and necessary. thx!