Posted on February 25th, 2015 by at0mbxmb • Filed under Events • No Comments
Long-time friends of CRASH Space will remember Qtechknow from the Intro to Arduino class he taught for us back in 2012. As the CEO of his own company, the inventor of numerous useful and fun products, and the teacher of numerous technical classes and events, Quin is now 14 years old.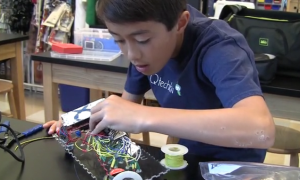 Quin is a brilliant and passionate member of our community who emobodies everything we love about the maker ethos. (I mean, seriously. He had the personal drive and ambition to seek out and learn the basics of electronics and how to build custom circuits on his own… and then used that knowledge to make a fart-gaguing hat.)
So why do we bring up Qtechknow now? Because he has a kickstarter going for his latest and greatest invention: The Qduino Mini!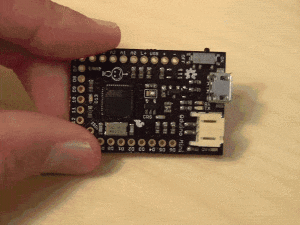 Back it! Back it! Back it! Back it!
The Qduino Mini is the first tiny Arduino compatible that has a built-in battery charger & fuel gauge. It's Arduino-compatible & 100% open source, hardware and software meaning that making and programming your first circuit is a breeze. Hardware is hard, so we decided to make it a little bit easier. The day that the first Qduino Mini ships, all of the design files, including EAGLE board files, schematic, and code will be released under an open source license
Posted on February 17th, 2015 by outlawpoet • Filed under Events • No Comments
We're cleaning house!
Come by and tidy up your projects at crashspace before the 1st. At 11am on the 1st, we'll start a longer than usual Crash Clean event, any lost or abandoned items will be put in a special "lost projects" section of the space, and queued for possible breakdown at the next meeting.
The next day, at 10am, professional cleaners will come in to the space to scrub it down. Any work organizing and clearing beforehand will make their job easier, and the space cleaner overall. So do what you can to help!
Posted on February 3rd, 2015 by Metalnat • Filed under Blender, Events, Project Night • No Comments
For those that do not yet know, I've been hosting a monthly Blender meet-up on the first Saturday of each month (12-3:30) at Crashspace.  So February the 7th will be the next one.   I'll be showing my newly created mirror shield for anyone wanting to see the shield and how it was made.  We'll cover some techniques that I've learned over time for using a vector file, to modeling with real world measurements and allowing space for electronics in mind.  Also people will be free to show off their own test cases from the last month.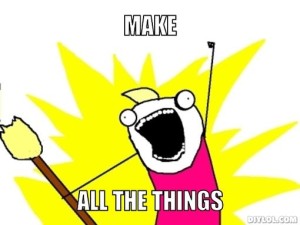 After the Blender meetup will be the Project Night event that I host (7-?).  Rules are simple.  Come to actively make things/ learn/ or help others do one or the other.  Less planning, less talking, more awesome projects.  Come with a goal or willingness to help and listen.  Anyone caught just distracting will be asked to leave.  This event is for those that want to get sh*t done.  Long term I want to keep hosting these events to get people past the apprehension of thought and focused more on small test cases that will inevitably get them towards their goal much faster.
Get people past the "we can't do it because we don't know…" to the "screw it, lets figure it out!" mentality.  Experience is the only way to gain XP you know.
I'll consider bringing the trinkets donated to me by a friend, and my Smooth-on materials box provided there is sufficient need for it.
~Metal
Posted on December 10th, 2014 by Barbara Noren • Filed under Events • No Comments


Join us this Thursday, December 11th from 7:30-10pm, for the Chibitronics circuit stickers Build Night. This is a free event, and we'll have the basic materials you'll need, but feel free to bring any electronics you'd like to incorporate, or projects that could use sticker circuits. We have LEDs, effects packs, sensors, and even microcontroller stickers that you can reprogram (they use an ATtiny85).
If you want to get ahead of the game, check out the Chibitronics website for tutorial videos.
See you Thursday!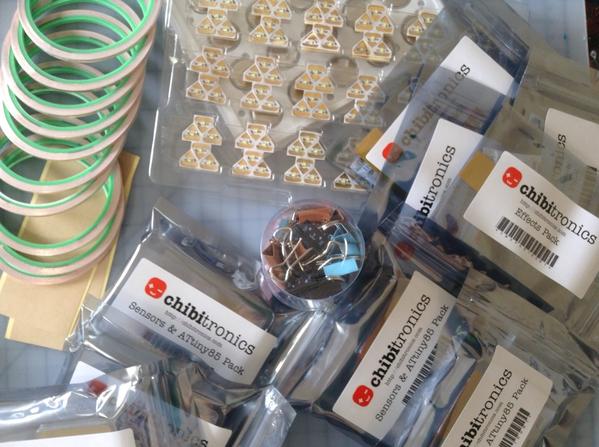 Posted on December 4th, 2014 by Dante Blando • Filed under Events, How To • No Comments
We had a really good turnout and raised $190. Matt led the charge, Metal kept things lively (and taught me how to deal with a broken strand in a Bukito), and I took it way too seriously for a while. Nevertheless we learned a lot about the Spark Core device and how to get them working.
By the way, I can't thank Barb enough for designing the two kinds of covers for the Cores with Internet Button shields: flat topped, and domed. Pimptastic!
Each of us found different ways to break the Cores, rarely trying to do so:
Chris found that certain library functions are not quite supported by the firmware. He could nearly brick a Spark Core and it took a while to recover. Chris, would you mind sending me the commands that did this (or at least a link to the code, since it was one of the examples)?
There are at least a couple sketches on the Spark web site that do not compile in the web IDE, let alone run on a Spark Core — the code is out of date.
Of the 12 Spark Cores we received, 3 needed special attention before they could download and run a sketch. This hints at a serious quality control problem. This definitely does not bode well for what is supposed to be a plug-and-play tool, Arduino killer, or MCU board with as much space and power built into it (ARM Cortex M3 72 MHz, 128 kB flash, 20 kB RAM; an extra 2 MB storage off-die; and a TI CC3300 WiFi chip).
The default instructions for getting a Spark Core running often fail. They cannot be used at all in an environment with more than one person trying to sync a new Core: the phone app will just grab any broadcasting Core it finds.
We worked through several syncs, so we now have a clearer set of steps for getting someone up and running without the vekakte phone app. I need to finish typing them, as there are different steps for Windows, Mac, and Linux.
Having to flash a sketch by typing it into a web site and sending it via WiFi is inefficient. The device's WiFi features are more interesting during runtime, and we just scratched that surface. Flashing the sketch via USB.
On the positive side:
We had a visitor that got his Core to text him every time he did something (see the pic at the top of this post);
Daniel got a working Big Button like there wasn't anything to it (because he rocks);
Many eyes, hands, and minds made it easy to detect and workaround problems. That was a lot of fun!
We could use the existing Neopixel library with the Internet Button shields and get that happy RGB glow.
I will submit docs to Instructables once I have everything in steps-and-pics order.