Posted on December 6th, 2015 by at0mbxmb • Filed under projects • No Comments
This past summer, I read online that the breed of hamsters I own runs more than any other breed: "an equivalent of four human marathons each night on average." With hopes of figuring out what exactly the "hamster equivalent" of a marathon is, I did a study on my hamster's gait. And finally, with hopes of discovering whether or not there was any truth behind The Internet's claims, I built a small Raspberry Pi-powered pedometer and stuck it on my hamsters' wheel.
This month, the lucky portion of you who can read German can check out a 5-page spread on my DIY hamster experiment in the latest issue of Raspberry Pi Geek!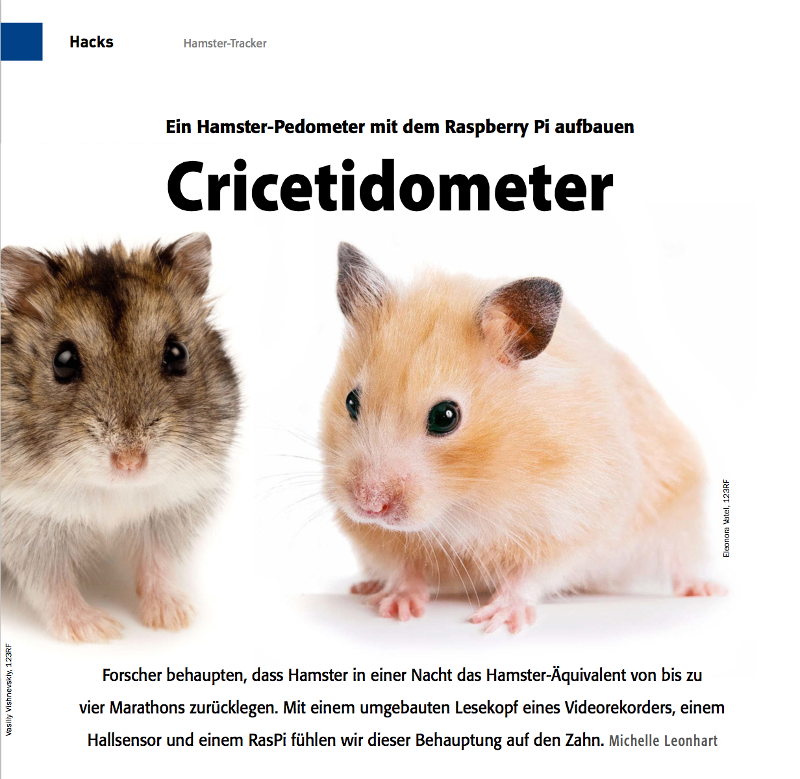 HOW AWESOME.
Before coming to CRASH Space, I lived and worked in Berlin, which makes having my work in a German magazine all the more personal and exciting for me. (Not to mention, many of our CRASH members are native German speakers!)
If you want, you can buy the latest issue here. You can also see the (less cool 'cause it's not in a real paper magazine) version of the article here.
Buy it buy it buy it buy it
Also, check out this sweet German translation of my bio they made:

Posted on November 22nd, 2015 by at0mbxmb • Filed under projects • No Comments
CRASHer Barb (@yes_you_am | PaperStatic.com) is starting a new maker-themed YouTube channel: Barb Makes Things!
Check out this amazing trailer she made:
Barb will be releasing a new video every Tuesday, so make sure to subscribe to her channel!
Posted on November 12th, 2015 by at0mbxmb • Filed under Events • No Comments
Sunday, November 22nd from 2:00 – 4:00PM, CRASH Space will be hosting Feedbag, a local Los Angeles event focused on the intersection of art, design, and electronics.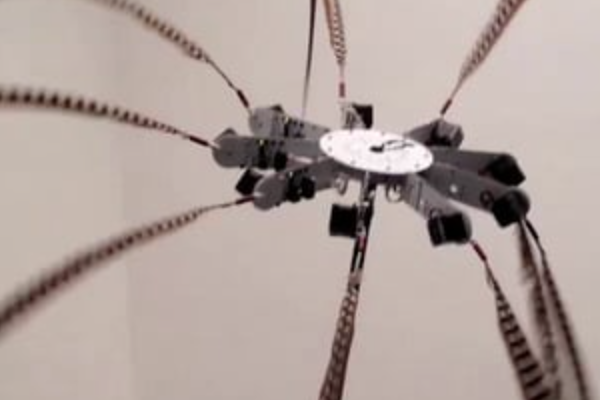 image credit: Alan Rath
Feedbag is a casual meetup where people of all experience levels are welcome to come and hack, create, or just socialize about art, design, and electronics. To participate, come to CRASH Space with a project to work on and share, or just come to meet fellow makers and chat.
Organizers:
Evelyn Masso is an interaction designer based in LA. She designs experiences across scales, from wearables to web sites to immersive installations.
Pete Hawkes is Director of Interaction Design at Oblong Industries in LA. He works on the client solutions team, leading the design of immersive, spatial experiences.
Posted on October 9th, 2015 by Chris Ellerby • Filed under Events • No Comments
Join us at CRASH Space Saturday October 17th at 12:00pm for an amazing Halloween prop workshop.  Seats are limited, so get your tickets ASAP.
In this hands-on skull corpsing workshop, you'll learn how to take an ordinary plastic prop skull, some liquid latex, and a bit of movie magic and turn it into a film-quality Halloween decoration!
About your instructor for the day:
Chris Ellerby is a Technology Director by day and Special Effects Artist by night. When not slinging code and developing technology solutions for companies like Disney, you can find him busily crafting creatures for his special effects company Vex FX.  Chris is also a proud member of the Stan Winston School for Character Arts team and loves sharing the world of special effects through education.
Posted on October 1st, 2015 by at0mbxmb • Filed under Events • No Comments
Once again, CRASH Space will be participating in the annual STEAM Nation event, which is an opportunity for children (1st-8th grade) to get a taste for Science, Technology, Engineering, Arts, and Math (STEAM). We will have a booth where they can take apart old electronics, which has been a ton of fun in the past.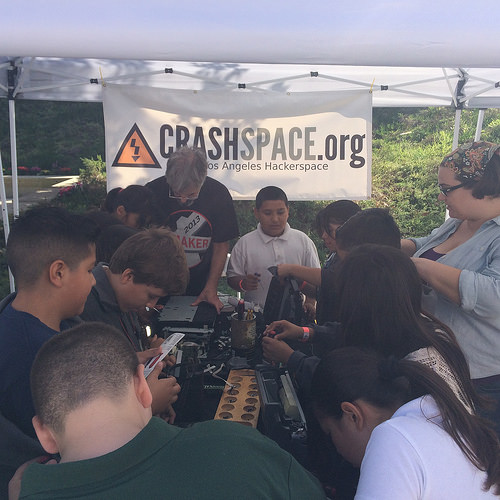 STEAM Nation 2014!
WHEN: 8am – 12pm, October 10th
WHERE: West Los Angeles College
QUESTIONS: Talk to Barb! (barb at paperstatic dot com)
Barb!
We're also looking for old electronics for us to tear apart!
Please let Barb know if you have/know of any old ewaste we can use. You can drop things off at CRASH Space whenever someone is there (please leave a note that it's for Barb/the event to simplify things). If you have things to donate, but can't make it, shoot Barb an email and she may be able to pick it up.