Posted on October 21st, 2014 by theron • Filed under Events • No Comments
CRASH Space was at STEAM Nation this past Saturday
STEAM Nation is put on by our friends at Star Education, and they invite students from LAUSD to participate in different education activities.
We helped the kids take apart printers, scanners, VCRs, CD players, and a XBox.
And the organizers gave us a nice certificate: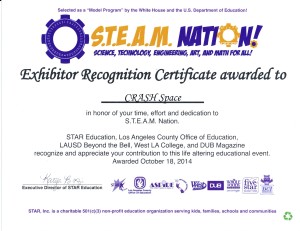 Posted on October 6th, 2014 by outlawpoet • Filed under Events • No Comments
Trent Newsom will be running another meetup event on Saturday October 18th, from 2pm-4pm, on the subject of Education Bubbles.
The summary:
Bubbles show the best and worst of human optimism. In theory bubbles are not very unique or complicated but they always seem to prevail in the end. Throughout history we have seen this in the rise and sudden crash of different prices. In Holland from 1634 -1638 the rise of tulip prices rose considerably before a lack of consumer confidence crashed the market. The dot-com bubble of 1997 – 2000 resulted from over investment in internet companies. And most recently the housing market in 2006 -2007 crashed after the banks lent too much money to the public to purchase homes. These and many other examples usually grow out of control because many people believe they are on the verge of great wealth but in reality they are at the tail end of a sinking ship. Is this the same picture we see in higher education today? Currently students have accumulated over $1,000,000,000,000 of debt with little hope of repayment. With employment levels decreasing and wages stagnant can we expect the investments in higher education are going to pay off for the class of 2015? Assuming the worst or best depending how you look at it, what will the remains look like if a bubble does burst?
Attendance is free, and open to the public.
Posted on October 3rd, 2014 by matt • Filed under Events • No Comments
x-posted summary from learn.sparkfun.com
A Dance of Sound, Light and Motion
At SparkFun, I wanted a smarter jacket: a color changing jacket that would react to my surroundings. The concept seemed simple enough. Using sound and motion sensing as an interface I'm able to change colors to merge with the environment. This elevates the need for buttons or switches that might otherwise take our user out of the present moment.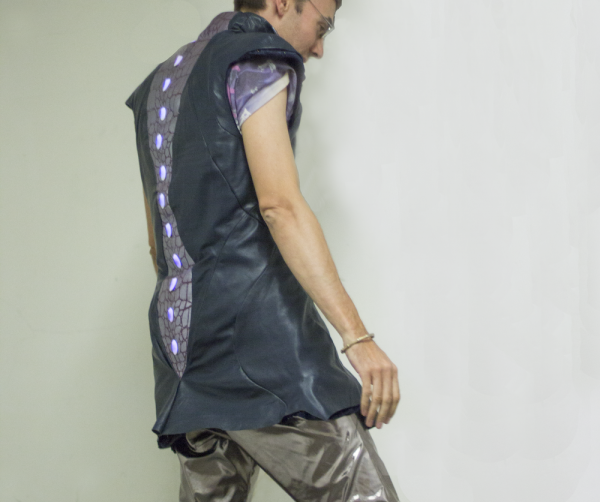 The finished product. (photo by evan miller)
There are a number of challenges, mainly comfort and control. I find one of the keys to comfort in wearing a lit up garment is having symbiosis with the surrounding environment. However, I needed to distinguish between the high energy atmosphere of a frenetic art opening and otherwise subdued activities like sharing a meal or waiting in line. We often don't take into account how bright our garments may be to in the eyes of others, and the aim of this project was to tackle this problem. One way to accomplish this synergy with one's environment is to listen before emoting, or, this this case, sense before lighting too brightly or deploying patterns too quickly.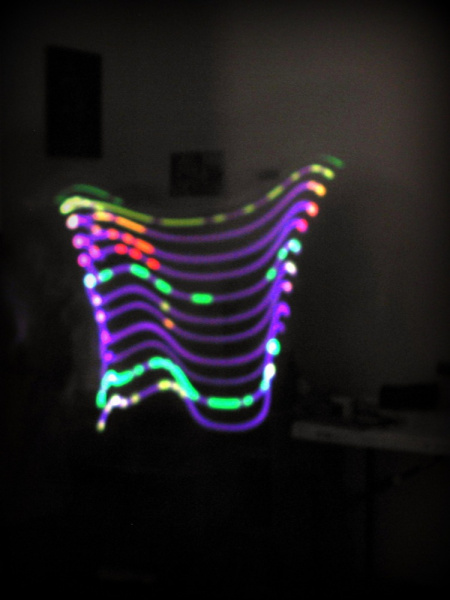 A long exposure photo displaying how sounds can be viewed across various frequencies.
I used an accelerometer and microphone to sense the environment and wearers energy level. Rapid changes in acceleration and specifically rotations of the wearer are interpreted as being in an environment where lighting may be a bit brighter and patterns cycle faster.
I used a microphone to sense the ranges and volume of various frequencies. Fairly normal frequencies of human voices and minimal volumes would be interpreted to give a fairly consistent color without much movement. If there were low frequencies and louder volumes, the design assumes music is being played and introduces more colors.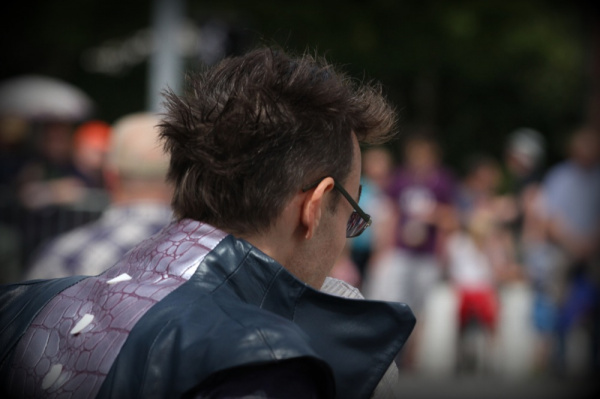 With little motion or sound, the colored spine appears to reflect the given color rather than emit. (photo by @risknc)
A specific color pallet was chosen to also merge the wearer into their surrounding. A pinkish mid range is in harmony with the rest of the design to blend in during times of inactivity while blues and turquoises become present during repeated audio with more low end. These blues are in direct contrast to the rest of the design and thereby become quite apparent.
Building it Out
GOTO : LEARN.SPARKFUN.COM for the full tutorial on the electronics used and why
Many, many special thanks to my SparkFun family for the amazing learning opportunity and hosting me for the all too short residency.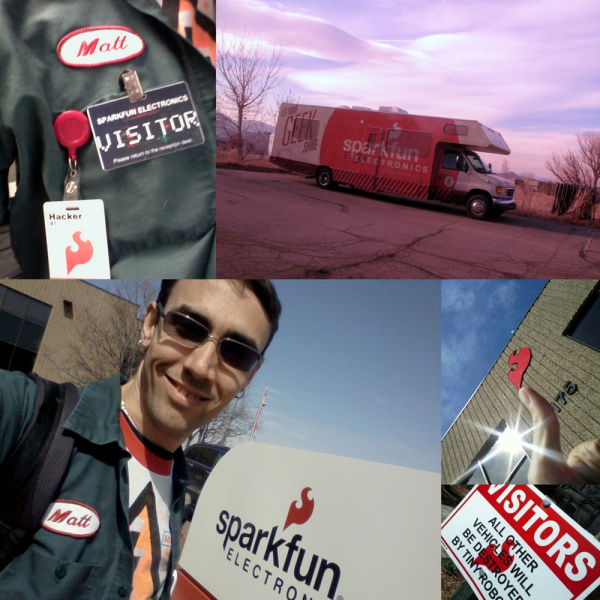 Posted on September 19th, 2014 by theron • Filed under Events • No Comments
This Sunday from 3-8 PM, we will be having a Pure Data patching circle.
Pure Data is a visual "patching" programming language that is used by musicians, visual artists, and others to create programs without writing any code.
A patching circle is an informal gathering of anyone who is interested in patching languages (Pure Data, Max/MSP/Jitter, etc.).  Beginners and experienced patchers are welcome.  Open to everyone – work on personal or professional projects, school work, or just patch quietly to yourself, in a room full of other people patching patches and helping other people patch.
We will be presenting the new features of Pd 0.46, and New Blankets Artist-In-Transit Katja Vetter will be showing her Pd patches Pico//Jockey and Instant Decomposer on the Raspberry Pi. We will also be showing Pd (Vanilla and Extended) running on the new Raspberry Pi B+.
Posted on August 21st, 2014 by Barbara Noren • Filed under Events, How To • No Comments
On July 6th, Crashspace hosted a Dremel July Build Night.  Much fun was had by all while experimenting with Dremel 4000 rotary tools and oscillating Multi-Maxes.  There were carvings on recycled wood and a rock; there was metal cutting (and fun sparks!); one person used a sanding attachment to smooth irregularities on a piece originally made on a CNC router.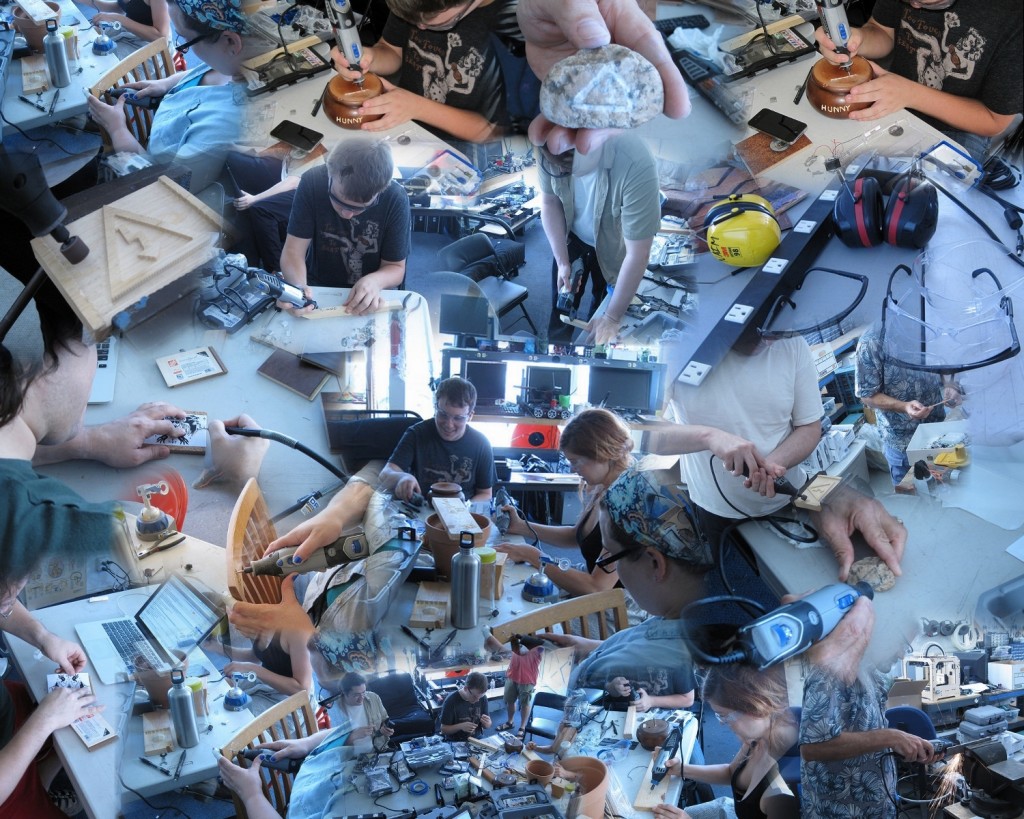 See more photos from the Dremel July Build Night.
In response to the event, Barb created two featured instructables using the tools we were sent – Wooden Rag Doll and Upcycled Sofa Foot Box: