Posted on September 19th, 2014 by theron • Filed under Events • No Comments
This Sunday from 3-8 PM, we will be having a Pure Data patching circle.
Pure Data is a visual "patching" programming language that is used by musicians, visual artists, and others to create programs without writing any code.
A patching circle is an informal gathering of anyone who is interested in patching languages (Pure Data, Max/MSP/Jitter, etc.).  Beginners and experienced patchers are welcome.  Open to everyone – work on personal or professional projects, school work, or just patch quietly to yourself, in a room full of other people patching patches and helping other people patch.
We will be presenting the new features of Pd 0.46, and New Blankets Artist-In-Transit Katja Vetter will be showing her Pd patches Pico//Jockey and Instant Decomposer on the Raspberry Pi. We will also be showing Pd (Vanilla and Extended) running on the new Raspberry Pi B+.
Posted on August 21st, 2014 by Barbara Noren • Filed under Events, How To • No Comments
On July 6th, Crashspace hosted a Dremel July Build Night.  Much fun was had by all while experimenting with Dremel 4000 rotary tools and oscillating Multi-Maxes.  There were carvings on recycled wood and a rock; there was metal cutting (and fun sparks!); one person used a sanding attachment to smooth irregularities on a piece originally made on a CNC router.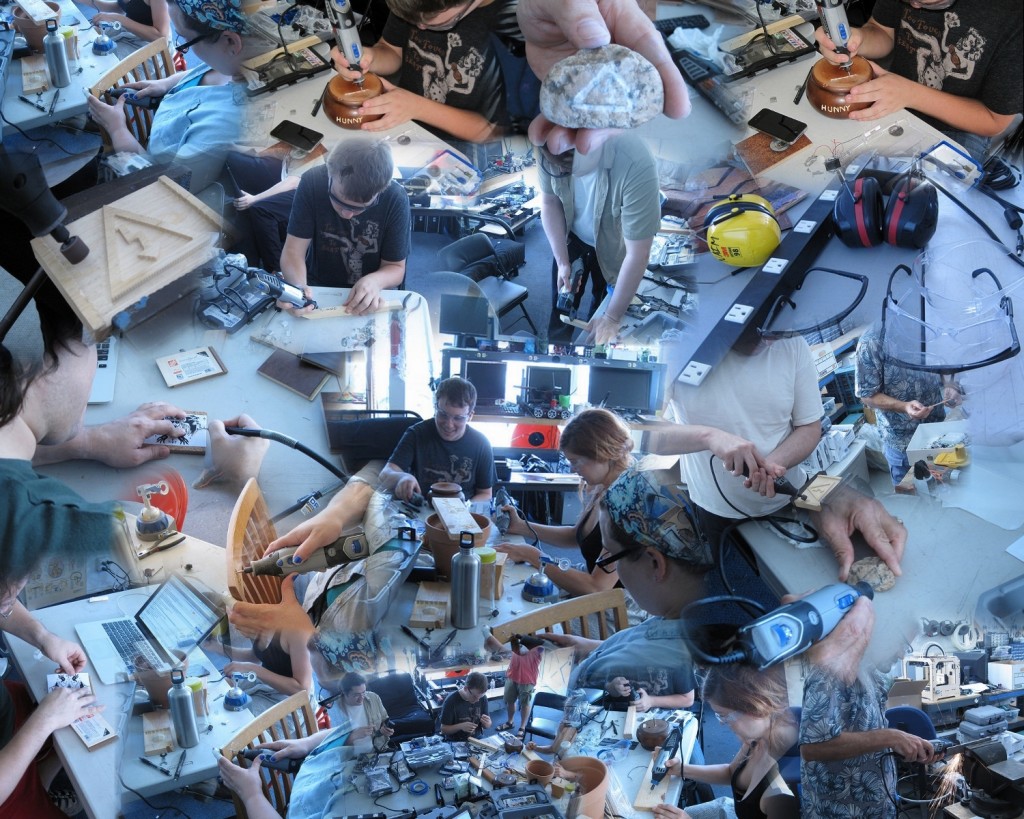 See more photos from the Dremel July Build Night.
In response to the event, Barb created two featured instructables using the tools we were sent – Wooden Rag Doll and Upcycled Sofa Foot Box:
Posted on August 11th, 2014 by outlawpoet • Filed under Events • No Comments
Thank you everyone, we successfully raised 150% of our funding goal! As previous mentioned, this means we're getting the 4th-axis attachment and industrial spindle for the ShopBot Desktop. Since the campaign closed, we've been busy getting all the equipment and components.
The ShopBot Desktop and parts arrived this last week, and has been assembled at Crashspace:

In order to support the ShopBot Desktop, and hold the dust-collection system and odds and ends, we built a wooden frame and table-top:
We're still working on the physical object perks, and getting those out to people, we appreciate your patience. All class coupons should have gone out, if you believe you should have received one and did not, please let us know via indiegogo, or on the crashspace discussion-list.
Class schedules will be up as soon as possible, we will update when those are available for reservation.
Thank you so much for your support and help.
Posted on August 4th, 2014 by at0mbxmb • Filed under Events • No Comments
Crashspace members Carlyn Maw, Michelle Leonhart, and Levi Simons are leading a multi-week family-friendly workshop at LACMA this August as a part of LACMA's Andell Art+Technology Family Sundays program. Families are welcome to come explore the intersection of art and technology by learning how to build DoodleBots: fun, creative robots that produce their own unique works of art.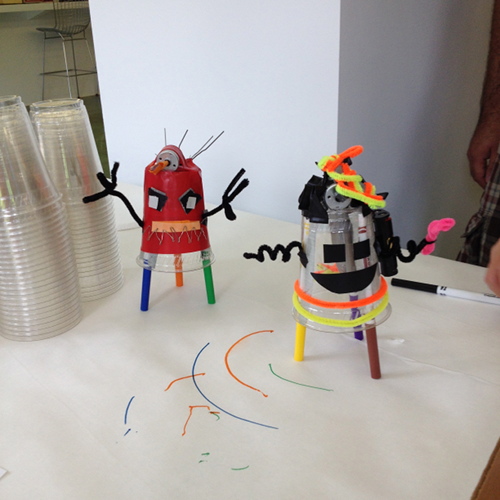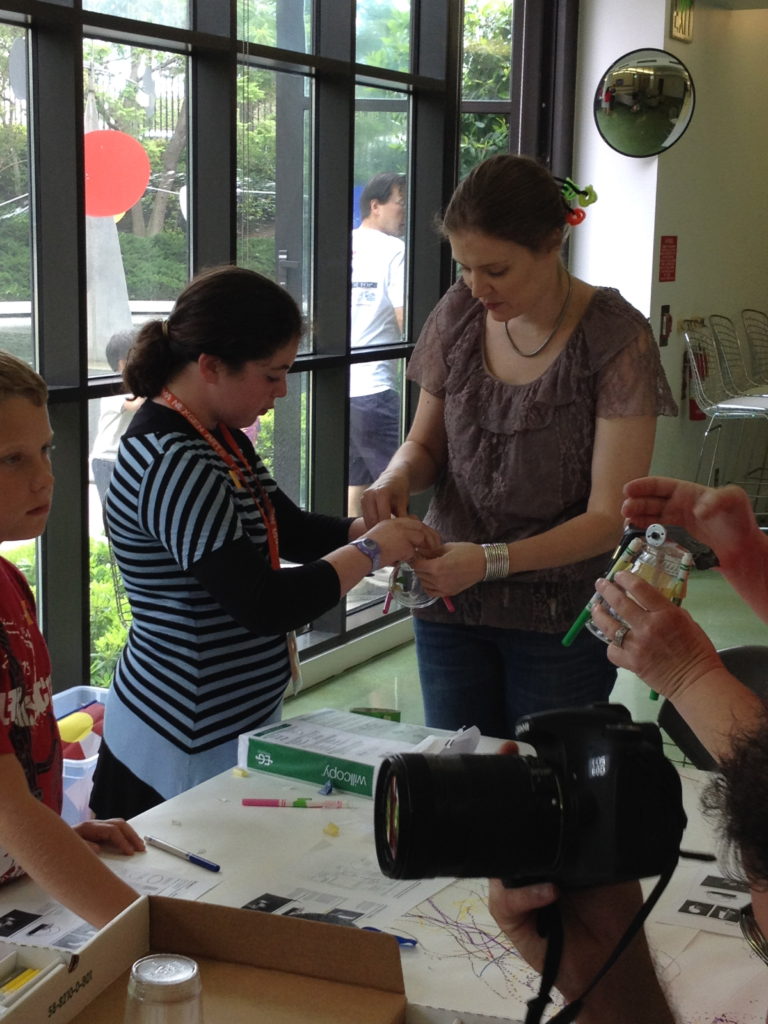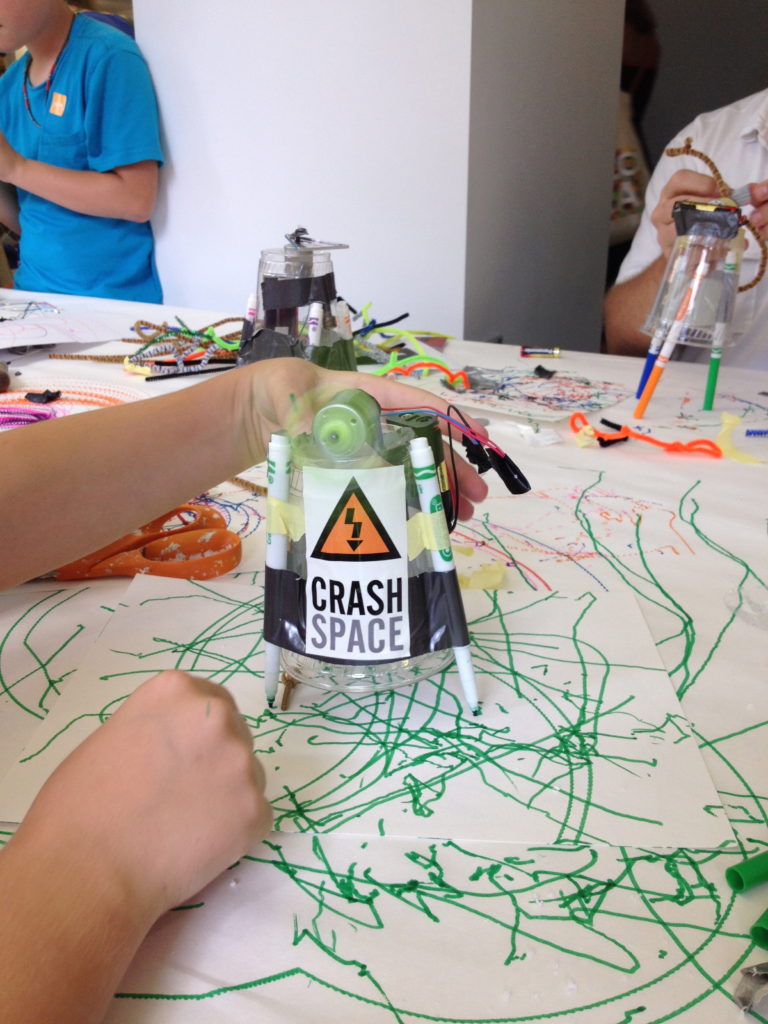 The workshop is free, and is open from 12:30p-3:30p on Sundays, Aug 3, 10th, and 17th at LACMA. Find us in the Director's Garden, on the south-east side of the museum, near the Spaulding entrance. (Look to the right of the long staircase, to the direct east of Urban Light. (If you see the Alexander Calder fountain, you're going the right way.)
Want to see pictures from the Aug 3rd workshop? Click here!
Posted on July 28th, 2014 by outlawpoet • Filed under Events • No Comments
SketchUp 3d drawing class.  Have a 3d printer you want to design stuff for?  Building a table, deck, or kitchen and need measurements?  Want to do an art project, but your hand gestures and excited eye expressions fail to inspire assistance?  Want to draw space ships? robots? space ship robots?  Want to figure out if your shade structure will make shade at 2pm in Nevada?  We'll cover these topics barely and other topics about SketchUp overly much!   This will be a general overview of the program.   What it is good at, what it is not good at.  It will contain tips for beginners with intermediate content from some fool who draws with it at his job.
Please  come with laptop loaded with SketchUp Make, or other versions.   Seating and power is limited.   Or just watch and absorb without digital distractions.
Open to everyone and free (though donations to CRASHspace are welcome).
When     
Saturday, August 16, 1pm to 2:30pm
Where    
CRASHspace 10526 Venice Blvd, Culver City CA 90232 (map)