Posted on October 9th, 2015 by Chris Ellerby • Filed under Events • No Comments
Join us at CRASH Space Saturday October 17th at 12:00pm for an amazing Halloween prop workshop.  Seats are limited, so get your tickets ASAP.
In this hands-on skull corpsing workshop, you'll learn how to take an ordinary plastic prop skull, some liquid latex, and a bit of movie magic and turn it into a film-quality Halloween decoration!
About your instructor for the day:
Chris Ellerby is a Technology Director by day and Special Effects Artist by night. When not slinging code and developing technology solutions for companies like Disney, you can find him busily crafting creatures for his special effects company Vex FX.  Chris is also a proud member of the Stan Winston School for Character Arts team and loves sharing the world of special effects through education.
Posted on October 1st, 2015 by at0mbxmb • Filed under Events • No Comments
Once again, CRASH Space will be participating in the annual STEAM Nation event, which is an opportunity for children (1st-8th grade) to get a taste for Science, Technology, Engineering, Arts, and Math (STEAM). We will have a booth where they can take apart old electronics, which has been a ton of fun in the past.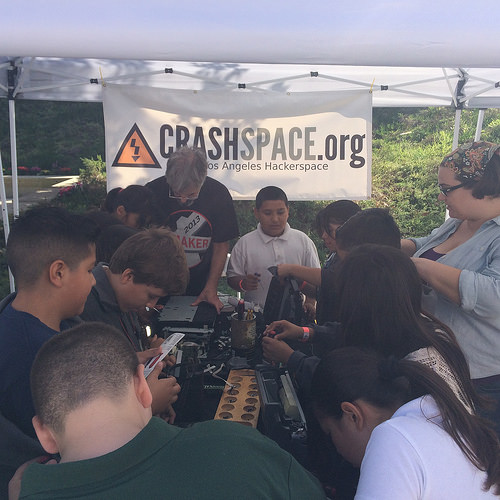 STEAM Nation 2014!
WHEN: 8am – 12pm, October 10th
WHERE: West Los Angeles College
QUESTIONS: Talk to Barb! (barb at paperstatic dot com)
Barb!
We're also looking for old electronics for us to tear apart!
Please let Barb know if you have/know of any old ewaste we can use. You can drop things off at CRASH Space whenever someone is there (please leave a note that it's for Barb/the event to simplify things). If you have things to donate, but can't make it, shoot Barb an email and she may be able to pick it up.
Posted on September 28th, 2015 by matt • Filed under Events • No Comments
The first BYOBots Day happen this past weekend. We had about 20 people through the space over the course of the afternoon/evening. many bots were brought, shared, planned, and discussed. i learned a lot and i hope you will too.
stay tuned for the next installment featuring @risknc's carbon fiber plans.
We talked about 3d printed robots a lot! this one, being printed by a guest, is particularly baddass and open source.    
Posted on September 23rd, 2015 by at0mbxmb • Filed under projects • No Comments
Laura Lopez, who has been running the monthly Intro to Bitcoin classes at CRASH Space (as well as a number of other bitcoin-related classes all over LA) recently went on a trip to SF to see how common the popular cryptocurrency is in the nerd capital of the US.
She made this awesome and hilarious video to show us all how it went. And if you like it, you can buy it with bitcoin!
Posted on September 14th, 2015 by at0mbxmb • Filed under projects • No Comments
Our donation box just got a serious upgrade:
Want to know how it's made? Check out the detailed walk-through here!