Posted on July 27th, 2013 by outlawpoet • Filed under Events • No Comments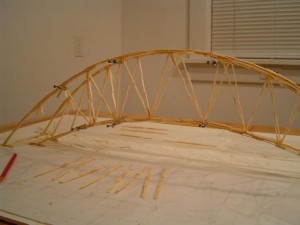 Come to Crashspace and battle for Architectural Supremacy!
A competition between bridges, alike in teeniness. Two feet in span, made of toothpicks and glue. Whosoever bridge holds the most weight wins the grand prize.
Bring yourself, an idea, and a few dollars to chip in for all the toothpicks and glue you'll use.
Starts at 1pm, runs for three hours, at which point we'll adjourn for some snacks and to let the glue dry for an hour. Then we return for the weigh-in, where we mercilessly pour weight on your bridge until it fails, and record the load. Highest load takes the mysterious prize.
August 4th @ 1PM – 6PM       Open to the public, free event, donations welcome.
Posted on July 23rd, 2013 by carlyn • Filed under How To • No Comments
We get a lot of cell phones donated to us. We don't use them. They get taken to Good Will. We do not check to see if you have removed your information correctly.  They might end up separated from their charger before we hustle them out of here,  which makes them useless for anything but scrap. And please note, the options for old phones are poor.
So what to do?
Here are some ideas for your old phone:
•    Keep it charged and use it as emergency 911 phone, since carriers are required by law to allow 911 phone calls (or donate it to a local homeless shelter for the same purpose. )
•    Make a robot controller
•    Type your model into a search engine along with the word hack or make or project(s) or clever and see what comes up.
•    You can give a shot to learning how to send a text from your Arduino. (I would probably not demote my current phone for this, but choose the GSM/GPS shield because I like to make projects that others can more easily reproduce)
If you are just going to strip your old phone for parts or give it away, there are some organizations who could really use your phone as a phone.  For example the National Coalition Against Domestic Violence.
Many other charities that I looked into actually sell the phones to get money from them being scrapped.  You can sell your phone too to someone one like EcoATM. If the phone has "zero value" those services may not keep it out of a third world incinerator.   If the EcoATM says your phone has zero value, better to hold on to it and try to find a e-Steward certified disposal option like Call2Recycle.  I'm going to look into becoming a participating site with them, but we aren't there yet.
Posted on July 21st, 2013 by matt • Filed under Events • No Comments
EL Wire Soldering Class and Costuming Playshop
There will be an elwire class at crashspace on the 14th of August.
i'll sell kit for those last minute projects and teach folks how to solder the stuff with durability and ease.
When:  Wednesday August 14h, 2014 gcal  8:00PM-10:00PM 
Where: CRASHSpace : 10526 Venice Blvd, Culver City CA 90232 GMaps
EL wire is simple in concept, but any who have tried know those little hairs are a huge pain. I'll share some tips, tricks, and techniques to create the strong connections and wicked safe ends.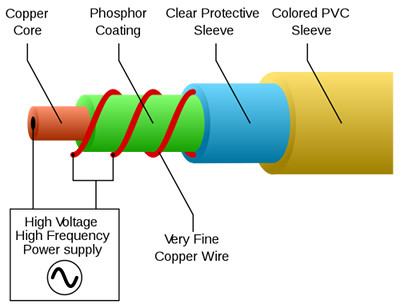 I've been playing with EL wire in costumes for 5 years and learned from the best. I have several pieces that have latest the entire time.
Costs:
If you need some EL Wire, we'll have some $20 kits on hand for the class.
 Donate please!!! CRASHSpace is entirely membership/donation funded and relies on your support to keep the doors open. Donations are welcomed, helpful, and necessary. thx!
About the Instructor
Our instructor Matt Pinner is a professional Software Engineer, an ingenious DIY maker, and has been playing with EL-Wire in costumes for 7 years and learned from the best. (Many of his earliest pieces are still functional to this day!) He's one of the founding members of Crashspace, and a pillar of the maker movement. Matt specializes in wearable electronics and experiments with light. Checkout his LED Dinosaur Jacket, ELWire Unicorn, and Light-Up FlipBooKIT.
Posted on July 19th, 2013 by at0mbxmb • Filed under Events • No Comments
Hey, nerds! Yeah, you there. Do you like free beer & food, good talks, and smart people? Are you perhaps interested in getting to know the inner workings of the mobile industry? Well, have we got a deal for YOU!
RSVP Please: Here!
When: Aug 1st, 6:30pm
Where: 13160 Mindanao Way, Marina Del Rey, CA 90292
How Much: Free!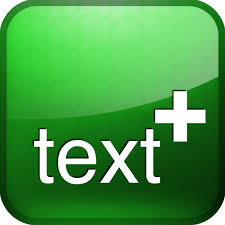 The team behind the mobile communication app textPlus–home to many a Crasher–welcomes the LA community to come join us for an evening of presentations on our insights from our experiences in the mobile world, followed by the opportunity to socialize with the textPlus team over refreshments and video games!
This is a great opportunity for developers looking for the inside scoop on working in mobile to ask questions and network!
Presentations:
App Design 101
Learn the tools of the trade to create app designs for iOS and Android
William Faler, textPlus Director of Design
Value
Bring it to your users and they will use it. This talk will discuss how to avoid the type of thinking that dooms many companies from the giddyup. Build empathy for the needs of your users and serve them first, with your needs second. A convenient path to success may come at the cost of VALUE.
Zack Norman, textPlus Chief Creative Officer and Founder
Charles
Why are Birds so Angry? What is happening between the App and the Server? How many services does it take to make birds fly? We will be using network analysis tools like Charles to get under the hood of some popular apps and see what is really going on.
Steve Rasmussen, textPlus Client Engineer
Refreshments:
textPlus will provide drinks (both alcoholic and non) and food for the evening.
Parking is free in the lot after 6pm. Please enter the building through the front entrance and use the elevators to reach the 3rd floor. Stairwell doors will be locked. Suite 350 will be down the hall to the right.
Posted on July 16th, 2013 by carlyn • Filed under How To • No Comments
This heavy duty metal something was found in our scraped-of-the-floor bucket. Steve G says it's a staple. It also sort of looks like a shim. If you know or have a guess, please speak up. The folks at McMaster – Carr couldn't say.
Here is what I know about it:
It weighs 22 grams
It is 2 inches (presumable that is why there is a 2 on it) x 1 1/8 inches
It is 1/8 in. thick tapering down to 1/16 in.
I did not do the spark test because I didn't want to mar it
It is magnetic.
I did not test hardness or use acids on it.
It resonates beautifully at 4716 Hz or about a D (Thanks Tod!)
It is a good conductor but the actual resistance readings were noisy bouncing around but it settled for a little while on 2.8 Ohms from prong to prong. (likely the surface oxidation at in play)
What struck me the most about it for my purposes was the beautiful tone it makes so I decided to turn it into a chime.  So the big take away from this project: nothing is one thing.