Posted on May 26th, 2015 by Barbara Noren • Filed under Events • No Comments
Thanks for a great time, Maker Faire! Take a look at some of our photos! (And let us know if you have more to add to the list)
Barb's Maker Faire Album / Kyle's Maker Faire Photos / Theron's Maker Faire Album
Posted on May 16th, 2015 by theron • Filed under Events • No Comments
Joan Horvath and Rich "Whosawhatis" Cameron wrote a book about becoming a Maker called The New Shop Class.
Joan and Rich will be at the CRASH Space booth (Expo Hall 2758, South West corner in the Hackerspace area) at Maker Faire Bay Area at 11 AM on both Saturday and Sunday to say hi and talk about their book which features CRASH Space members Carlyn Maw, Tod Kurt, and Metalnat Hayes.
Posted on May 15th, 2015 by Barbara Noren • Filed under Events • No Comments
Crashspace has officially landed at the Bay Area Maker Faire! We have a full and fun booth, including Steve's "Jacob's Splatter" (a combination Jacob's ladder and levitating fountain), Nate's zoetrope, Theron's Bukito and 8-bit ukulele, both of Barb's Hexachords, and of course Sparkles. If you're going to Maker Faire this weekend, make sure to stop by our booth! We're at the southwest end of the Expo Hall, right across from the doors, between the restrooms and Game of Drones.

Also, check out some other presentations by Crashers: Rachel and Josh's SparkleMasters in the Expo Hall right by the Make: Live stage, Tod's blink(1) and BlinkM in the Maker Shed, and FlipBooKit, also in the Maker Shed, who will be doing assembly demos in the afternoons.
Posted on April 26th, 2015 by at0mbxmb • Filed under 501(c)3 • No Comments
Today, April 26th 2015, is the day of the CRASH Space Annual Meeting! CRASH Space members are welcome to join us for the meeting and elections at 5:00PM Pacific, and may find more information on the CRASH Members mailing list.
To all CRASH Space members, supporters and friends: please allow me to offer you our sincerest thanks for your participation in and support of our organization and community over this past year. As an organization, we believe that the empowerment of individuals has the power to change our world, and by supporting CRASH Space, you are taking part in a greater global movement to create and provide open, affordable educational resources to our local community and beyond.
Today I'd like to present to you our inaugural Annual Report for 2014, featuring an outline of what our organization has focused on in this past year, what we were able to accomplish, and our plans for the future.
Thank you,
Michelle Leonhart
Vice President and Board Member,
CRASH Space
Download the 2014 Annual Report PDF here.
Posted on April 2nd, 2015 by Barbara Noren • Filed under Events • No Comments
March 22, we hosted a Brown Dog Gadgets Solar Panel event, at which we tested out some of their 5W panels, sent to us by the folks at Instructables. We discovered which of the pins on usb ports are dedicated to power (the outside ones), and hooked up multimeters before standing out on the sidewalk in a no doubt odd-looking circle, staring at equipment and saying little. One person had a Neopixel ring hooked up to a trinket, which ran great off of the solar panels.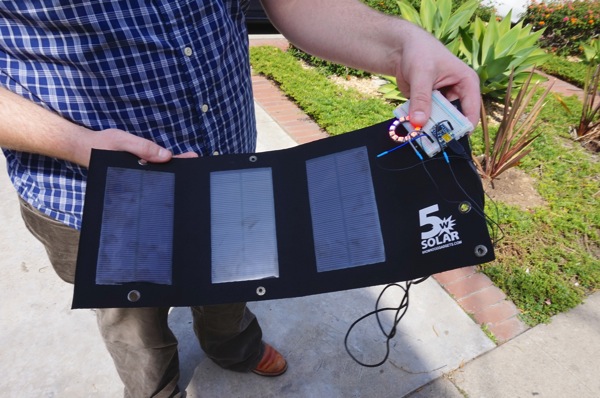 One of our panels was a little quirky, so we began to open it up and discovered a wonky connection on the usb breakout board, which was easily fixed. These panels might let you charge up your phone, slowly. Dante estimated that it would take about six hours to charge his phone from one in bright afternoon sunlight. So, while fun, they aren't entirely prepared to rock our worlds. But, hey, solar! 
Our own Jen Fox and Barb Noren will be writing up project tutorials for the solar panels, so keep an eye out for those. Barb plans to make a solar powered light-seeking robot using these panels and e-waste. Jen's plans are mysterious and spooky.
We will also be hosting Build Nights in April (InstaMorph moldable plastic) and May (Raspberry Pi/Adafruit), so be ready for more fun!