Posted on January 20th, 2014 by at0mbxmb • Filed under projects • 1 Comment
I commute roughly 10 miles round-trip through Los Angeles each day for work. This is awesome (fun! exercise! no traffic!) and terrible (cars! nobody watches where they're going! my body is made of soft meats and cars are made of terrible metal! oh god cars!). With the short winter days upon us, all of my evening rides are through the darkness… and I really don't feel all that safe out there.
I have front and back bike lights, but they just don't cut it. When I pass other bikers, I'm always startled to realize how small their bike lights look from a distance, and how long it takes me to notice them.
So, I grabbed an LED matrix I soldered together a while back from when AdaFruit first came out with (what was then the alpha version of) their NeoMatrix library, soldered it to an Arduino Pro Mini, uploaded the code, and sewed it all to my backpack.
The song in the background is Robert DeLong's remix of Cigarette Barbies' The Beauty Myth, if you're curious
I think it came out pretty nice! It's painfully bright in person, and the LEDs aren't even turned all the way up. (The text scrolling across it just says "*****". It was really tempting to write "Hey! Don't hit me!" or "CAUTION" or something, but I really don't want to needlessly distract any drivers that are that close to my back.)
Here's what it looks like in the light: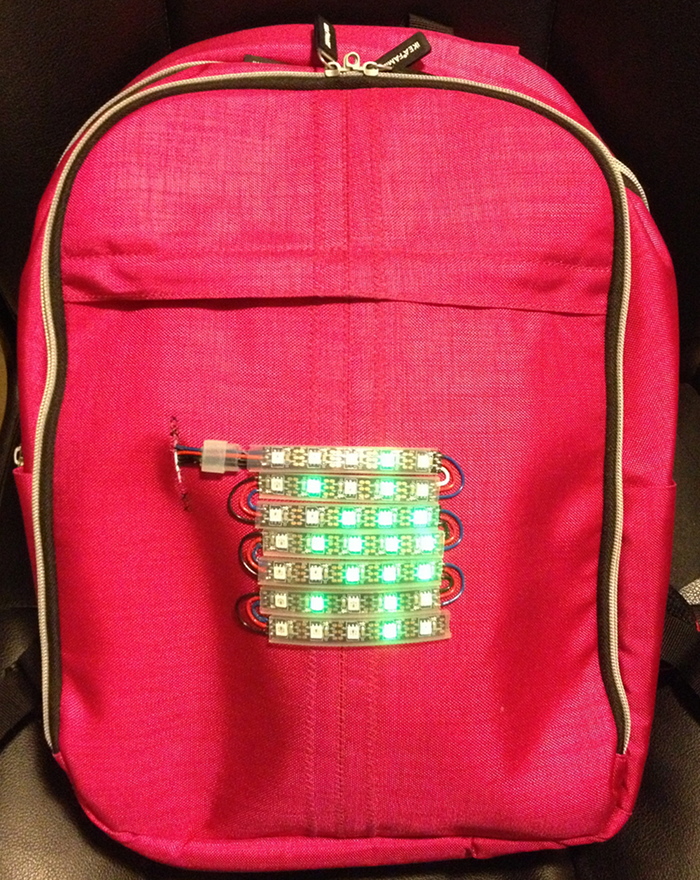 For future projects, I have my eyes on the Night Bike 2.0, and the Spoke POV.
Posted on January 10th, 2014 by Jay Jacobs • Filed under News & Updates • No Comments
I've been experimenting with Aruduino since September, starting with the flora for LED project, but most of the LED projects don't require a lot of pins.
The Gemma is my favorite board to play with so far.
This week I finished up my first project at Crash Space. Many thanks to Michelle and Paul for helping me get started with the laser cutter. If you interested the tutorial to build one for yourself, head on over to Adafruit
Here is the Theron is about to use:
–Jay
Posted on December 30th, 2013 by carlyn • Filed under News & Updates • No Comments
Dear CRASH Space,
Late on Friday, in the middle of the dark Tejon pass, Tod quietly announced, "CRASH Space got its 501(c)3."  I hadn't looked at my phone in hours (you know, driving) and immediately started bouncing up and down in my seat. It was the perfect apex of the holiday season for me. Santa couldn't have done any better.
We first started moving the ball in this direction in October of 2010, finally submitting our application at the end of last year. We owe a special thanks to Noisebridge who posted all of their documents online and to our lawyer Tom Wrobel of the Non-Profit Legal Center who listened to me drone on and on about our concerns.
CRASH Space is a special community. You, CRASH Space community, you are curious and keep the doors open for all who want to share in The Pleasure of Finding Things Out. You are generous, taking time out of busy schedules to help strangers learn to code, fellow members learn how to use the laser cutter, teach school children to take things apart, to bring LEDs to the darkness of a winter night.
You are my tribe and it makes me proud.
With our status firmly in hand we'll be able to apply for grants, reach out to local companies for donations and finally be able to improve some of our infrastructure – both physical and organizational.
That is all in support of you CRASH Space community – from key-holders to list-lurkers to those who don't even know we are waiting for them yet. The zany crazy projects that no one else could think of or pull off. The warmth of a found family directed at all of LA County.
Fail. Fail. Fail. Win.
Sincerely,
Carlyn
Posted on December 27th, 2013 by matt • Filed under Events • 1 Comment
Getting a Product to Market : from idea to store shelf
8p 17-Jan-2013
RSVP
Steve Goldstein recently landed his patented led skateboard on the shelves of Big 5 and Walmart. This product was prototyped at CrashSpace.
You'll hear the real world trials and tribulations of getting this product from concept reality.
http://www.big5sportinggoods.com/show_product/478242-310849
Posted on December 14th, 2013 by theron • Filed under How To • No Comments
If you want to learn to code, Processing is a great place to start.  You can download the Processing editor for free, or you can do a quick intro tutorial without downloading anything right in your web browser.
It's part of the Hour Of Code project, and in addition to the tutorial video with Daniel Shiffman, it has a fully functional Processing editor right there.  You can change the examples, or you can make your own programs.