Posted on January 13th, 2016 by theron • Filed under Events • No Comments
On January 27th, from 8-10 PM, CRASH Space will host a soldering workshop with Moldover!
In this basic soldering workshop, Moldover will take you through the steps to build your own Light-Theremin CD case.  Even if you've never soldered before, this workshop will give you the confidence in two hours.  If you do have experience you'll learn how to solder better, and walk away with a fun and unique instrument, plus a copy of Moldover's album.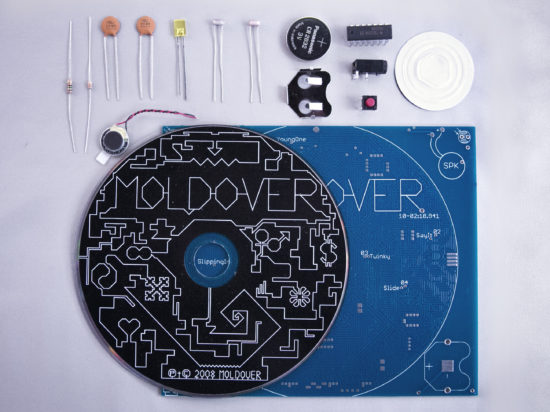 No experience required
No equipment required: soldering stations & Light Theremin kits provided
This is an all ages, hands-on workshop
Cost: $45, includes kit/materials
Can't afford a kit, but seriously dedicated to learning? Talk to us!
Space is limited, please register early
After the workshop Moldover will give a presentation on the design of The Light-Theremin CD Case, and his other circuit-board artworks.
About The Artist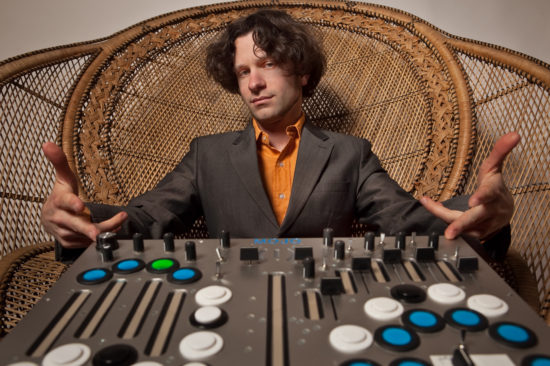 "A musician at heart, inventor born of curiosity, and innovator by necessity, I believe the world calls him the 'Godfather of Controllerism' for damned good reasons". -John Tackett, Crowd Wire
Historically there are only a handful of artists who have pushed the limits both with their music and with the instruments of its creation.  What Bach was to the keyboard, what Hendrix was to the guitar, this is what Moldover is to the controller.  Disillusioned with "press play DJs", fans from all walks are drawn to Moldover shows, eager to witness electronic music's return to virtuosity, improvisation, and emotional authenticity.  Dig deeper into Moldover's work and you'll uncover a subversive cultural icon who has redefined physical media with his Instrument-Albums, revolutionized musical collaboration with his custom Jamboxes, and is inspiring an entire generation of forward thinking music-makers by openly sharing his methods and madness.
Posted on January 11th, 2016 by matt • Filed under Events • No Comments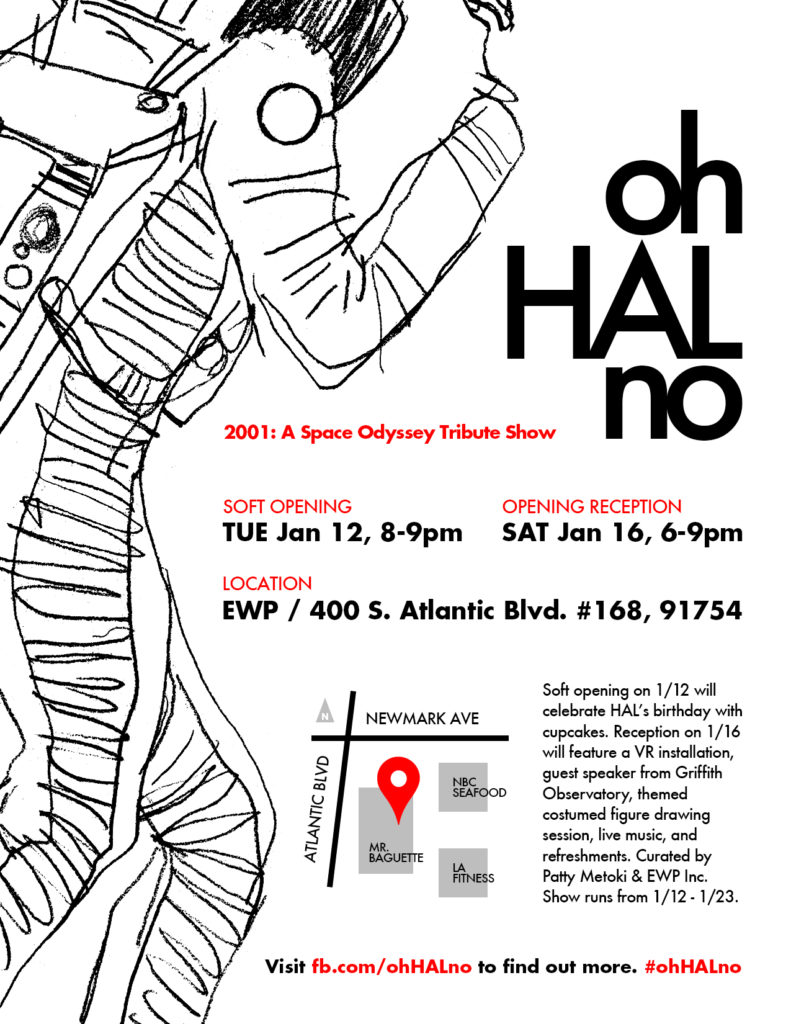 Oh HAL No: A 2001: Space Odyssey Tribute Show is an art show celebrating Stanley Kubrick's 2001: A Space Odyssey. It features a diverse range of artists of different concentrations from ink drawings to lenticular installation to traditional paintings.
The opening reception will feature a Virtual Reality installation, a guest speaker from the Griffith Observatory, 2001 themed costumed model drawing sessions, live music, and refreshments.
SOFT OPENING / Tuesday Jan. 12th, 2016 / 8 – 9:30PM
We'll celebrate HAL's birthday with cupcakes!
SPEAKER INFO
Griffith Observatory Artist Estevan Guzman! He will be having a brief talk on the fascination with outer space and the evolution of space as a genre.
RECEPTION / Saturday Jan. 16th, 2016 / 6 – 9PM
Reception night will feature a VR installation, a guest speaker from Griffith Observatory, artist print raffle, a brief figure drawing session with themed costumes, live music and refreshments!
ARTISTS
Ahn Tran, Andy Busc, Angela Abeyti, Anne Lee, Arminda Arroyo, Camille Villanueva, Camily Tsai, Catherine Ho, Catherine Yi, Clarisa Valdez, Corrie Walton, Davey Ramirez, Dekker Dreyer, Esteban Guzman, Eugene Huang, Gustavo Alberto Garcia Vaca, Ian Williams, Javier Beltran, JQHammer, Jacob Hanover, James Brooks, Jeff Chang, John Ciulik, Joy Saavedra, Joyce Tsang, Katrina Kunstmann, Kevin Lee McBee, Kentaro Ikudome, Matt Pinner, Mia Renee Johnson, Natalie Rosen, Nick Diaz, Nicole Goux, Patty Metoki, Remo Bang, Riyoko Iwamoto, Robert Ramirez, Saul Blanco, Stephan Whatley, Steven Pillai, Tricia Mendoza, Vince Aparo, Yvonne Phan
oh HAL no
2001: A Space Odyssey Tribute Show
Jan. 12 – Jan. 23
Curated by Patty Metoki & EWP Inc.
EWP Gallery
400 S. Atlantic Blvd #168, Monterey Park, CA, 91754
Posted on January 5th, 2016 by at0mbxmb • Filed under Events • No Comments
Saturday, January 30th from 2:00 – 4:00PM, CRASH Space will again be hosting Feedbag, a local Los Angeles event focused on the intersection of art, design, and electronics.
Feedbag is a casual meetup where people of all experience levels are welcome to come and hack, create, or just socialize about art, design, and electronics. To participate, come to CRASH Space with a project to work on and share, or just come to meet fellow makers and chat.
Organizers:
Evelyn Masso is an interaction designer based in LA. She designs experiences across scales, from wearables to web sites to immersive installations.
Pete Hawkes is Director of Interaction Design at Oblong Industries in LA. He works on the client solutions team, leading the design of immersive, spatial experiences.
Posted on December 7th, 2015 by at0mbxmb • Filed under Events • No Comments
This Wednesday from 8PM-10PM is Wearables Wednesday with Barb and Michelle! Come join us and work on your wearables projects!
WHEN: Wednesday, Dec 9, 2015 8:00PM-10:00PM
WHERE: CRASH Space
HOW MUCH: OMG FREE (BYO Stuff)
Michelle and Barb work professionally in engineering and education and would love nothing more than to hang out with you and help you out with your wearables projects. CRASH Space will have soldering supplies on hand, as well as some basic electronic components (resistors and the like). Bring your own fabrics, clothing, LEDs/gizmos, arduinos, and ideas!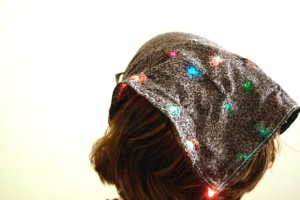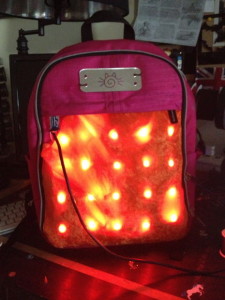 Posted on December 6th, 2015 by at0mbxmb • Filed under projects • No Comments
This past summer, I read online that the breed of hamsters I own runs more than any other breed: "an equivalent of four human marathons each night on average." With hopes of figuring out what exactly the "hamster equivalent" of a marathon is, I did a study on my hamster's gait. And finally, with hopes of discovering whether or not there was any truth behind The Internet's claims, I built a small Raspberry Pi-powered pedometer and stuck it on my hamsters' wheel.
This month, the lucky portion of you who can read German can check out a 5-page spread on my DIY hamster experiment in the latest issue of Raspberry Pi Geek!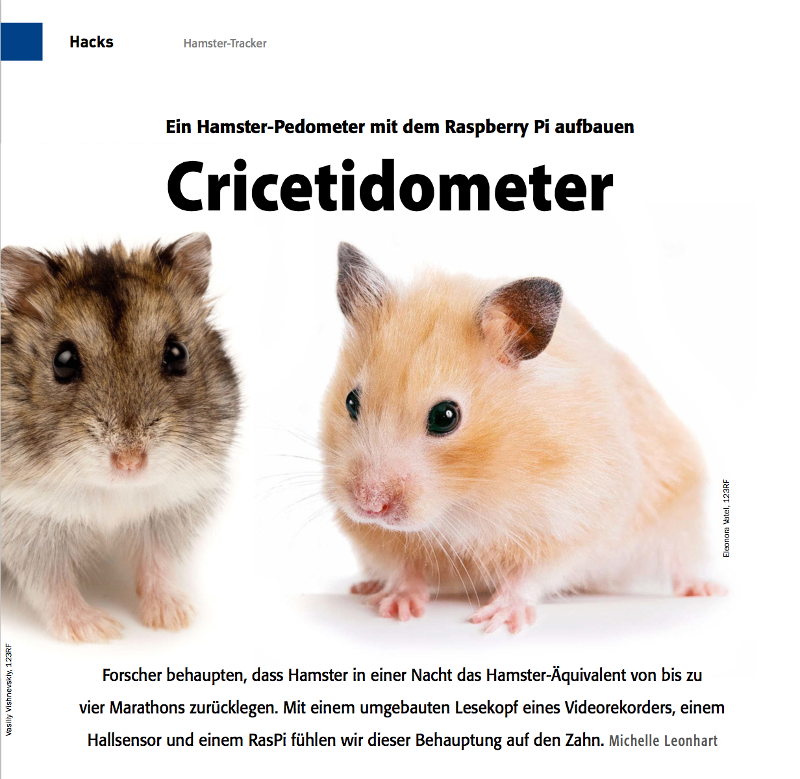 HOW AWESOME.
Before coming to CRASH Space, I lived and worked in Berlin, which makes having my work in a German magazine all the more personal and exciting for me. (Not to mention, many of our CRASH members are native German speakers!)
If you want, you can buy the latest issue here. You can also see the (less cool 'cause it's not in a real paper magazine) version of the article here.
Buy it buy it buy it buy it
Also, check out this sweet German translation of my bio they made: