Posted on March 7th, 2013 by outlawpoet • Filed under Events, Housekeeping • No Comments
Hi folks,
Things have been piling up a bit at the space, thanks to a higher than normal set of generic donations (your printers and old useless computers) in between MTAs, and a missed Crash Clean last weekend.
So the coming MEGATAKEAPART is going to have to be a brutal one. I'll also ask you to hold your donations of more generic items this month (we'll accept them, but we're in a winnowing mode atm, so if you donate later it's more likely they'll get used).
For those of you with inactive projects in the space, please be sure you've labeled your stuff clearly. Don't assume I know it's still alive and waiting for your next free time. If you can't get into the space before Saturday, you can comment here or email me privately to ensure I don't throw anything you love away without cause.
For non-members, a reminder that Mega Take Apart is a public event, you can come and help us sit in the front room screwdrivering things and watching MST3K, and we also have lots of shiny electronics that might need a new project to be a part of.
If you've got something unique moldering in the attic you'd like to see used, we accept donations of all tools, project materials, and electronics, just take it easy on the broken cell phones, old computers, and dead printers this month.
Unlabeled unknown materials, tools, and objects will get an unsympathetic eye this time folks. Get them handled, or tell me in advance what to knoll or pack for you.
Open to the Public, 12-4:30pm Saturday March 9th. Be there or be a regular polygon.
Posted on February 14th, 2013 by matt • Filed under Events • No Comments
This fun upgrade to the already amazing Flipbookit made for a simple project.
The full tutorial can be found on Instructables

With a few simple materials from crashspace
 - addressable RGB LED strip : I used a new variety of three conductor WS2811 strips.
- an Arduino : I used a Arduino Leonardo. Any 5vdc Arduino should be adequate.
- 4 AA batteries and a battery holder are a nice touch to make it more portable.
- prototyping board or prototyping Arduino Shield
- potentiometer for brightness control
- maybe some connectors for the power and motor could come in handie
- headers to secure hardware to Arduino
- misc wire for LED strip and potentiometer
- 3M Double Sided Foam Tape for sticking Arduino and LEDs in place
- Flipbookit MOTO-FLIP from
flipbookit.net
:  <– this thing is super easy to build
A little bit of care
And some Arduino code from our github
https://github.com/CRASHSpace/LEDs
A LED Flipbookit is born 
Posted on February 14th, 2013 by theron • Filed under Events • 1 Comment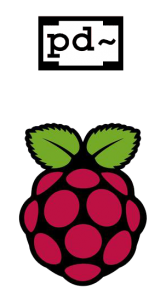 You wouldn't necessarily think that a $35 computer was a good choice for running the audio-focused visual programming language Pure Data, but it turns out to work really well. We got a great demonstration of that on Sunday 2/10 at the Pd Patching Circle.
Miller Puckette, creator of Pd, showed us his PdPi powered guitar effects unit.
Note the clever prototyping enclosure. He tie wraps all the devices to the top and the power supplies (Raspberry Pi and powered USB hub) to the underside, so there's just one power cord. He uses an iMic USB audio interface (others will work as well) to hook up his guitar and output audio. Since one of the USB ports is taken, he uses a bluetooth keyboard and mouse from Logitech. The iMic has a line/mic input selector switch. The Raspberry Pi case was 3D printed at CRASH Space.
Posted on February 10th, 2013 by at0mbxmb • Filed under Events • No Comments
Who: Everyone!
Where: Crashspace
How Much: $60
RSVP:
8-10pm,  OR
6-8pm
These events are by RSVP ONLY and always sell out. Click to reserve your seat!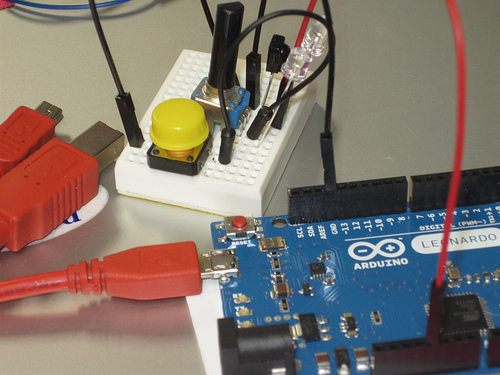 Intro to Arduino is a single two hour course to learn all the basics of how to set up, program, and wire up your arduino to anything. The Feb 28 and Mar 2 classes are identical, so feel free to choose the day that works for you!
A laptop and Arduino is all you need to interface with the real world.
Arduino comes with libraries to interface with hundreds of different electronic devices and gadgets. You can use it to connect physical things to everything from simple sensors to internet feeds, leave it running standalone or hook up to computers, other arduinos, custom radios, and much more.
What you need to bring
a laptop, along with a little imagination
The Arduino development kit installed on your laptop, which you can find here: http://arduino.cc
What you'll get
Arduino
Cables
BreadBoard
Necessary Electronics components to get you started.
(These materials alone are a $50 dollar retail value!)
About the instructor
Justin Corwin is a co-founder of Crashspace, and a AI researcher. In his spare time he works on custom radio robot helicopter projects and boat designs He teaches biweekly classes in radio and electronics.
This class is being run twice, once on Thursday, February 28th and again on Saturday March 2nd. Pick whichever is better for you, but don't wait too long, the last time we ran this class, we ran out of seats quickly!
This event is by RSVP ONLY and always sells out. Click here to reserve your seat!
Posted on February 6th, 2013 by KyleC • Filed under Events • No Comments
Work in progress, myself and Matt whipped this beast up last night. Thanks for the awesome LED strips Michelle!