Posted on February 26th, 2014 by matt • Filed under Events • 1 Comment
CrashSpace had a booth at the Southern California Linux Expo Scale12x. We had a ton of crashers show up and and help out. Thanks for that it made it a fun time and I think everyone got to attend the talks they were interested in.

via @SeanLeftBelow
The booth was non-stop activity. See the video below of Saturday's attendees:
We erred on the side of showing small blinking interactive member projects. This made the booth more or less take care of itself while we just hung out to answer questions.
Posted on February 24th, 2014 by at0mbxmb • Filed under projects • No Comments
I spent this last Sunday with Phillip Stearns at Machine Project, learning how to circuit bend 1990s-era digital cameras for the sake of making glitch art.
This is my camera in it's current state: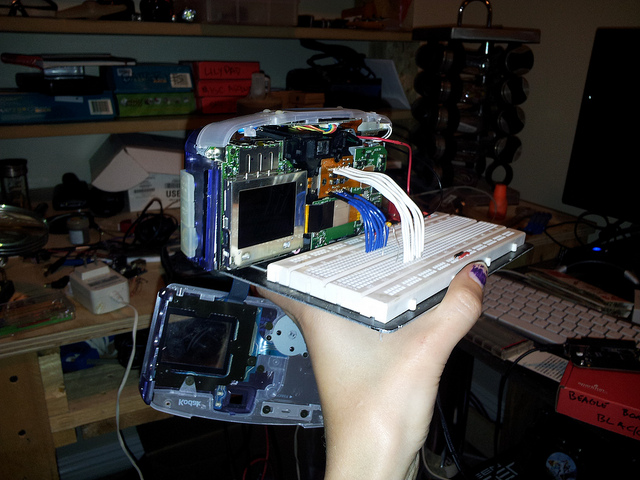 There's a battery pack for mobile use, but for experimentation I wired the camera to my breadboard and hooked it up to a spare 5V power supply (thanks, eWaste!) to keep it running long-term. (These things kill batteries fast.)
It seems that much of circuit bending for the sake of art is guess and check, as you're never quite sure what will produce a desirable result. I started out with shorting the board manually as I walked around taking pictures, but found that it was difficult to remember what exactly I had done and how to reproduce it when I went to go look at my pictures later. The addition of the breadboard has helped with this quite a bit (since my wiring stays in place while I move around), and I've been gathering data on what connection combinations lead to what effect under what circumstances.
So far, this is my favourite glitchPic I've gotten out of this setup: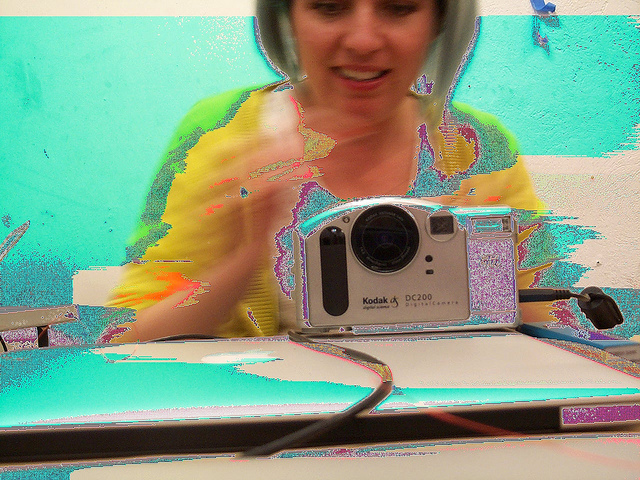 Model: Rachel Koukal. Eat your heart out, Lisa Frank.
I think it would be fun to hook this up to an arduino and automate the system of stepping through the different short-circuit configurations. This might be less interesting to look at, though, as I'm noticing that weak connections and poor solder joints often produce the most beautiful results. (This is glitch, after all.)
Anyway, you can find the rest of my glitchy photos here on flickr. Once I get a more stable mobile setup, I'm gonna take this outside and see what I can get with some natural light!
[Edit] I got a mention in Year of the Glitch!
Posted on February 17th, 2014 by matt • Filed under Events • 2 Comments
In January 2014 when Crashspace officially became a 501C-3 we had a party at Crashspace one Saturday evening and a great time was had by all! SO MUCH FUN was had, that we have decided to do it again! SO, come join us! Bring something tasty to nosh and/or pick a poison :). Wear SPARKLES if you so please, bring your projects and show them off! 
****SATURDAY, FEB 22nd @ 6PM****
For the uninitiated – at CRASHSPACE we make stuff. We have fun. We learn. We mentor.
THings you can expect:
Champagnes opened using a sword!
Chocolate fountains!
Robots!
Cat videos!
Sparkles!
LOLs
Fellowship!
This is a wonderful opportunity to meet more of the members, learn more about Crashspace, build fellowship, and get to know each other better.
Posted on February 16th, 2014 by matt • Filed under Events • No Comments

CrashSpace is showcasing at The Southern California Linux Expo .  
SCaLE 12X – the 12th annual Southern California Linux Expo – takes place on Feb. 21-23, 2014, at the Hilton Los Angeles Airport hotel. As the first-of-the-year Linux/Open Source software expo in North America, SCaLE 12X expects to host more than 100 exhibitors this year, along with nearly 80 sessions, tutorials and special events
We have table #72 to show off what we do best, making all the things!
The expo hall will be open from 10a-5p Saturday and Sunday. Please stop by and help take a turn talking to the fine people that stop by.

Do you have a project you'd like to showcase at the event?
Fill out this form (hint: if selected, you'll get in for free)
Posted on February 15th, 2014 by at0mbxmb • Filed under Events • 1 Comment
On Thursday, I went to Matt's Learn PCB Layouts with Eagle class here at Crashspace.
For our first boards, Matt gave us a schematic for a Bare-Minimum ATmega328 circuit, and we copied it into Eagle's schematic view (the white side on the left). After that, we switched over to the board view (the black side on the right), arranged our components, drew our traces, and labeled our components. (Since the number of components on this board is small and obvious, I chose to give mine all Pokemon names.)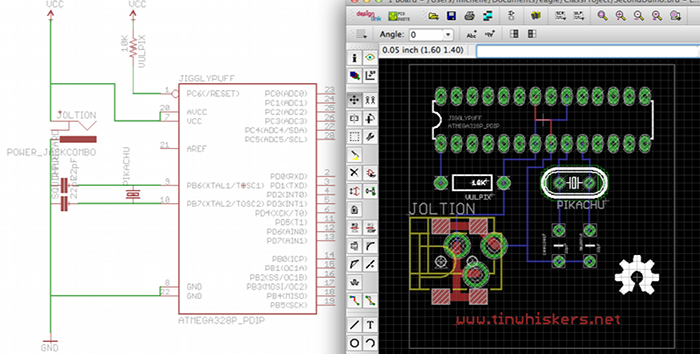 After that, we went to OSH Park to submit our boards to be fabricated. OSH Park is super cheap, and three copies of my board (the minimum they'll make) ended up being about $16 + $0 shipping!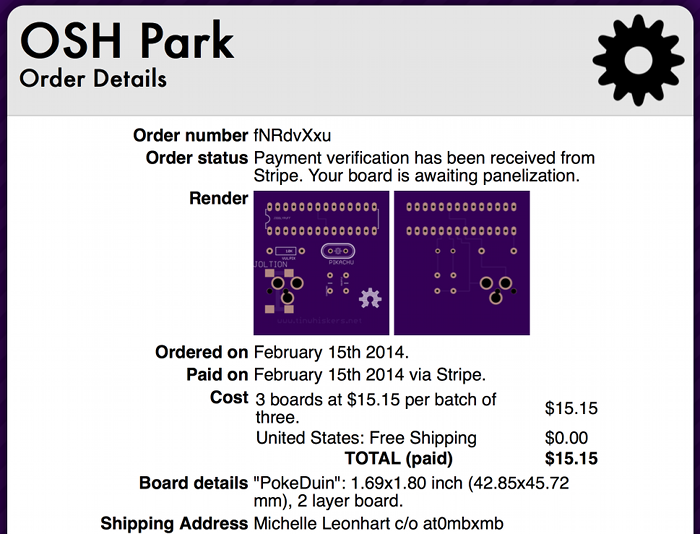 This board will be a bit difficult to work with, being that we didn't take any time to add USB terminals or holes for header pins, but I think keeping the board design simple the first time around was a good choice. OSH Park estimates it will be between 1 and 2 weeks before I'll get my boards in the mail. When they arrive, I'll post them here!