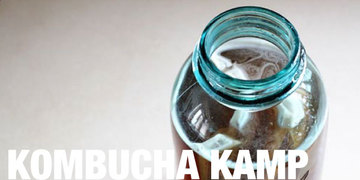 Kombucha Kamp is coming! Enjoy sipping on Hannah's Homebrew Kombucha while learning about the history, health benefits and how-to's in this fun and informative workshop. Master Brewer Hannah Crum shares the history of fermented foods as well as their health benefits with a specific focus on Kombucha, the fermented tea with a funny name. Part presentation, part demonstration with plenty of time for questions, this workshop will leave you armed with the knowledge and skills to make a lifetime supply of your own healthy, home-brewed Kombucha. Attendees will get to try samples and take home their own SCOBY to start brewing at home.
Saturday April 28th @ 1:00pm
A 50% discount has been extended to Crashspace members and friends. Enter CRASHKAMP at checkout. Buy Tix here
This entry was posted by rkoukal on Saturday, April 14th, 2012 at 4:45 pm and is filed under Events. You can follow any responses to this entry through the RSS 2.0 feed. You can leave a response below, or trackback from your own site.
Show/Hide Comments (0)