Working Effectively with Social Justice Movements by Hannah Howard: Watch Online
This event was a part of the Civic Engagement Survival Guide: a series of free talks and workshops focused on creating a community that is informed, organized, and engaged.
In December, we met Hannah Howard, an engineer with a long history of activism. With over a decade of experience working both as the developer and the client in the non-profit space, Hannah delivers a unique and informed perspective on how technical people can best utilize their skills to assist social justice efforts. Her talk, Working Effectively with Social Justice Movements: A Primer for Techies, provides a beginner-friendly onboarding for technical people, complete with tips, tricks, and common pitfalls to avoid.
Learn more about Hannah by following her on twitter. Watch past videos or view upcoming events on the Civic Engagement Survival Guide.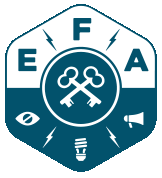 CRASH Space is a 501(c)3 non-profit organization which works to promote education through individual projects and social collaboration. CRASH Space is also a member of the EFF Electronic Frontier Alliance: a grassroots network of community and campus organizations across the United States working to educate our neighbors about the importance of digital rights.
Leading an event in this series is a paid opportunity. We are interested in events which encourage community action and education, on topics such as: civic engagement, social justice, support for marginalized groups, environmental protection, and more. Please send proposals to [info at crashspace dot org]. To support our work, you can donate here.