Civic Hacking 101: Building Trust within a Broken System by Vyki Englert: Watch Online
This event was a part of the Civic Engagement Survival Guide: a series of free talks and workshops focused on creating a community that is informed, organized, and engaged.
Vyki Englert is a software engineer and co-founder of Compiler LA: a civic tech consultancy dedicated to building a better Los Angeles. She is also the local Brigade Captain of Los Angeles' Code for America brigade: Hack for LA. In January, we invited her to speak at CRASH Space on her experience working in Civic Tech, as well as to provide an intro session and Q&A on what resources she knows about and how others can get involved.

Unfortunately, due to technical difficulties, the last 10 mins of the Q&A after the talk are not available online. 🙁
If you're interested in Civic Tech, Vyki also provided us with a useful list of links to the initiatives and organizations that she mentions in her talk:
Learn more about Vyki by following her on twitter. Watch past videos or view upcoming events on the Civic Engagement Survival Guide.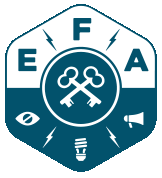 CRASH Space is a 501(c)3 non-profit organization which works to promote education through individual projects and social collaboration. CRASH Space is also a member of the EFF Electronic Frontier Alliance: a grassroots network of community and campus organizations across the United States working to educate our neighbors about the importance of digital rights.
Leading an event in this series is a paid opportunity. We are interested in events which encourage community action and education, on topics such as: civic engagement, social justice, support for marginalized groups, environmental protection, and more. Please send proposals to [info at crashspace dot org]. To support our work, you can donate here.