***UPDATE*** – The Patching Circle on Sunday will now be taking place at CRASH Space, 10526 Venice Blvd, Culver City from 3-8 PM, following MakerBot Monthly.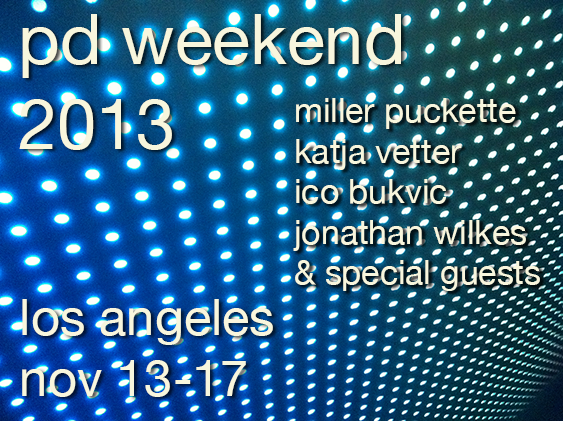 We have a whole weekend (plus) of Pure Data / Raspberry Pi events coming up November 13th – 17th.
What is Pure Data?  Pure Data (Pd) is an open source, visual programming language geared towards musicians and artists, but it can be used for most anything.  It is the free version of Cycling 74's Max/MSP, but it runs on just about any computer, even the Raspberry Pi.
The Raspberry Pi is a $35 computer that runs Linux and connects to your television.  Combined with Pd, it can be used as an embedded noise toy, a guitar effects pedal, or just as a cheap portable way to play with Pure Data.
Wednesday 11/13, we are crashing Learn To Code With Us and talking about Pure Data, and can help anyone install and start to learn.
Thursday 11/14, we will be having a "Get Started With Pure Data And Raspberry Pi" night where we can help people install and test Pd on their laptop and/or Raspberry Pi – to get ready for the weekend's workshops, or just because.
Friday 11/15, there are activities in San Diego – a discussion with Miller Puckette, and a family night at the Clairmont Boys & Girls Club.
Saturday 11/16, we have FOUR workshops with special guest instructors.
Miller Puckette, creator of Pure Data (Pd) will be showing the latest tips and tricks for using Pure Data on the Raspberry Pi.
Katja Vetter will show how to build a quality unidirectional DIY microphone suitable for live recording, and how to use it with Slice//Jockey, a live sampling Pure Data patch.
Ico Bukvic will teach a workshop appropriate for ages 10 and up covering an introduction to Pd-L2ork interactive visual programming environment and its K12 eduction module.
Unlocking Computer Creativity for musicians and creative types using the Pure Data programming language for a minimum of cryptic code and other off-putting digital peculiarities.
Each workshop is three hours long and costs $75 (except for the microphone workshop, which has a $5 materials fee).  CRASH Space members receive discounts on workshop fees (see members list for details).
Saturday night (5:30 – 9:30 PM), we will be having Handmade Music 4.0, with performances by our guest instructors and local musicians.  FREE!
Sunday (Noon – 8 PM) will be our special patching circle with our special guests, featuring performances and demonstrations, as well as the usual patching.  FREE!
Tickets for the workshops, and RSVP for Handmade Music and the patching circle are available at our Eventbrite page.