Found @ CRASH Space No. 1: Apple – Arduino Power Supply
I'm not sure how many of you remember the Take Apart Tuesday series, but with my crash-space-meta-duties lightened I want to get back to highlighting the interesting and weird flotsam and jetsam that washes up on our door step. This time I wanted to focus on neat things to do with the items instead of just the orgy of dismantlement with the carcasses hauled to APEX in the end.
This week: Making a 12.5V (ish) power supply to use with an Arduino from parts I found during the monthly clean up in the pile under the bench in the front room. None of these items are particularly weird, but I've just seen a lot of these forlorn white bricks lately. I want them to feel loved again.   It turns out to be a 12.8V supply according to the multimeter I used. That will actually make an Arduino run a little hot, but it'll work.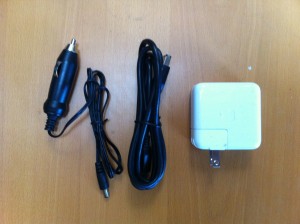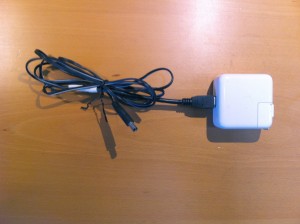 Parts Used
Car charger with appropriate plug on the end(Found in donations pile, 2.1mm center positive)
Firewire 400 cable (Found in donations pile… there were many)
Apple Firewire charger (missing cable, Found in donations pile)
Heatshrink (Found in drawer in back corner left of the door)
Tools:
Wire stripper ("Sharp" drawer in metal cabinet on top of benched in Lab One)
Heat gun (Hanging from shelves above same bench)
Helping Hands and Soldering Iron (same bench)
Multimeter (actually mine – from All Electronics bought it purely to fit in my purse.)
Other Options for these Items
Could have kept the car charger intact and used it for a data logger in my car so I don't have to remember to write down mileage when I use my car for a gig.
Could have made a crochet chain bracelet with the cables (I tried to with the left over Firewire cable but didn't quite have enough to make it work)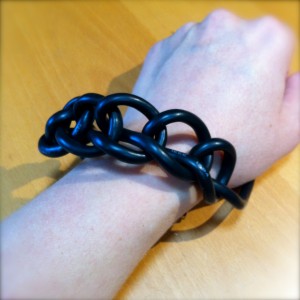 I took more pictures of the process of making the adapter and put more notes on them.  I only had my terrible phone camera fully charged and ready to go this morning. Next time I'll be ready.
Other Ideas?