intro to Arduino: the modern duct tape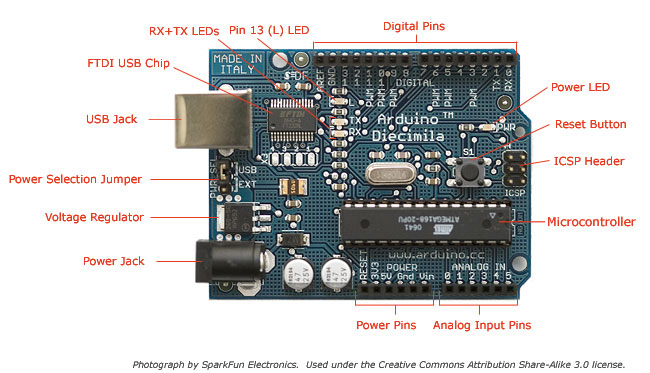 Learn how to program Arduino on January 31st at 8p for $60
A laptop and Arduino is all you need to interface with the real world.
Bring the a laptop along with a little imagination.
We'll provide an Arduino, Cables, BreadBoard, and Electronics components to get you started. The materials alone are a $50 dollar value ! Thanks to our SparkFun  group discount we are able to pass the savings on to you.
We'll dream what is possible and teach you how to get started into the world of microcontrollers.
What is this Arduino thing?
and why can I not find a phonetic spelling?
Arduino is a programming language. yes! we'll be writing the code…
Arduino is a open hardware standard. yes! this part is important.
Arduino is a development kit. please download and install the latest Arduino IDE before class:
– http://arduino.cc
Arduino can DO things:
– Sequence LEDs
– Talk to your TV
Arduino can LISTEN too:
– Buttons
– Bananas
– anything on your laptop. yes. even the internet.
– farts? (srsly. go talk to @qtechknow)
– …
Bring your fresh ideas;)
RESERVE YOUR SPOT AT EVENTBRITE