Feb 3: eTextiles: intro presentation with show and tell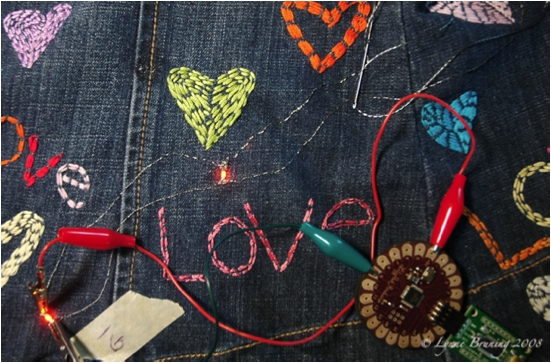 We're excited to host a introduction to the world of electronic textiles and wearable computers. Every designer can learn the state of art in textiles. Join the discussion with this all ages lecture and hands on show and tell of conductive threads, fabrics and eTextile hardware with Lynne Bruning, award winning textile artist, eTextile innovator and producer of the Maker Faire eTextile fashion shows. She will share her knowledge of integrating computer hardware with textiles, sewing and weaving. Please bring your projects, ideas and questions for this intimate discussion opportunity.
Come to CRASH Space at 8p (ical). Admission is free but donations of $5 are strongly encouraged as CRASH Space is entirely membership/donation funded and relies on the support of visitors to keep the doors open.

Lynne Bruning : twitter : facebook
Textile enchantress, weaver of gossamer threads, Lynne Bruning is the creatrix of exclusive wearable art, eTextiles and decorative fabrics. Fusing together her education in neurophysiology at Smith College, a Masters degree in architecture and a lifetime of sewing Lynne jets thru the universe creatively cross-pollinating the worlds of science, textiles and fashion with her innovative award winning designs. The rest of the time, she can be found lounging on black sand beaches in a tangerine bikini surfing the Internet. Lynne Bruning has driven the collaborative nature of eTextile projects by sharing on Instructables and publishing numerous tutorials on everything from weaving conductive clothing to a wearable 'cane' for the blind. In 2010 she produced Wearable Computing Fashion Shows in San Francisco, New York, and Black Rock City.
[Update 2011-01-06]
Please RSVP in comments, email, or here: http://www.facebook.com/event.php?eid=142598472461312
[Update 2011-01-09]  keynote speaker added!

I'm excited to introduce another out of town guess who has agreed to speak. It is Anouk Wipprecht of V2_Lab in NL where they've been making waves in haute-tech with several proximity sensing garments.  In a recent interview with Anouk she exclaims
Technology should become more fragile and second-skin like than bulky and robotic. I like to think in ways of embryonic, organic and symbiosis.
This plays wonderfully into the eTextile knowledge bombs Lynne is arming to drop and their confluence in LA is nothing short of serendipity.
[Update 2011-01-30] keynote speaker added!
Too busy? Too far away? LISTEN OR WATCH LIVE!
We'll be streaming this live on ustream : http://www.ustream.tv/channel/crash-space-live