Impromptu EAGLE Workshop!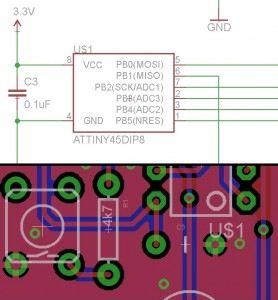 Update! Note the new time!
This Saturday at 4:30pm, after Carlyn drops some serious knowledge in the Introduction to Arduino course, I'll be hosting an informal, impromptu workshop focused on the EAGLE CAD package.
If you're new to EAGLE and/or planning to check out the EAGLE class at NullSpace next Friday, this is a good opportunity to get your feet wet and learn a few things. Depending on the audience, I'll provide a basic walkthrough or get into some more intermediate topics. The goal is to actually finish a board and send it off to be made this weekend.
The workshop is free to members, and open to the public with a suggested $10 donation for the space.
And the reason it's happening hastily? I caught wind of a great service provided by one of the DorkbotPDX folks named Laen. It is a remarkably inexpensive way to prototype a few boards, and he's sending off a board next week, with a submission deadline of October 25 at 8am PST.
So, if you've been wanting to get that board made, but haven't quite finished it, or want to learn a new skill, swing by on Saturday afternoon!