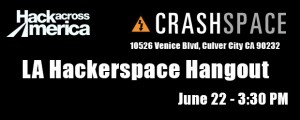 Darren Kitchen, the host of Hak5 on Revision3 Network, is coming by Crash Space Saturday June 22nd at 3:30. He's going to tour the space, give a talk on internet freedom, and generally hang out.
This is all part of his Hack Across America tour. He's going to be at the science center in the morning, and having a meet up at Rush Street in the evening.
If you'd like to attend please grab a ticket at EventBrite. That way we'll have some idea how many people to expect.
This entry was posted by Daryll on Wednesday, June 12th, 2013 at 2:18 pm and is filed under Events. You can follow any responses to this entry through the RSS 2.0 feed. You can leave a response below, or trackback from your own site.
Show/Hide Comments (0)