Pandemic Project: Monkey Business Playing Cards
Good Ideas are often born of other, perhaps less good, ideas. I have a whole magic-related project I'm working on that I won't go into here, but as part of that, I thought to myself, "You know what would be great for this? Sock Monkey playing cards!"
Why don't you search on Amazon, monkey boy, and buy one? Well, they're all ugly. And they're probably horrible cards. The right deck of sock monkey playing cards just didn't exist. So I had to make them.
My art skills are roughly equivalent to that of a howler monkey on amphetamines, so I needed help. I asked Crash Space Vice President Barb Noren if she was interested, and she said yes. We collaborated on the design based on my goofy ideas and primitive sketches, and she created the art. Which turned out great. The goal was to have a deck that looked like a normal deck of playing cards, but… wasn't. By "normal," I mean "looks superficially like a deck of Bicycle Playing Cards." Because if you have a deck of cards at home, the chances are it's a Bicycle 808 Rider Back deck so that's what people know. And by making it not the standard Bicycle design, we wouldn't run afoul of copyright and trademark laws and could do whatever we wanted. The Bicycle people are very protective of their trademarks and get quite litigious.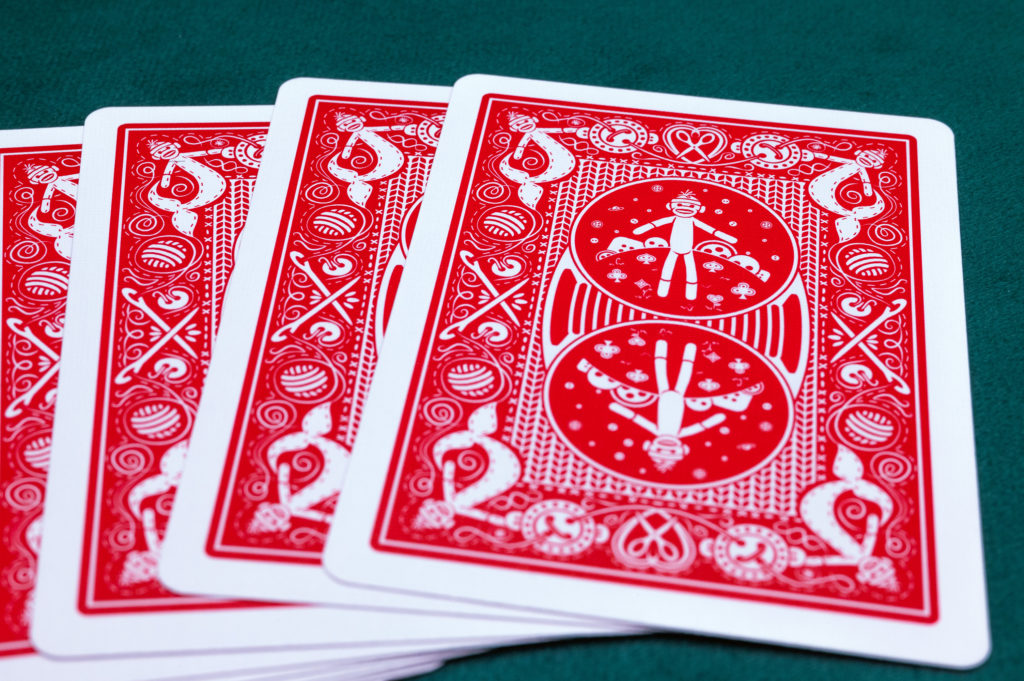 There are so many great details in the cards, with knitting and sewing motifs. Not to mention the freaking sock monkeys. The monkey (named Groucho) in the middle is standing on a tiny planet covered in plants shaped like card suits. The mountains on the horizon are buttons, as are the stars in the sky. Because the back design needs four-fold reflective symmetry despite the portrait mode aspect ratio, one of the biggest design challenges is the horizontal gutter across the middle of the card. Bicycle cards cover it with bicycle wheels, but I suggested we try using a spool of thread, which I think works rather nicely, being not only appropriate to the sewing motif, but also abstract enough to just look like it's part of the design. I'm extremely happy with the artwork that Barb created for the backs.
(Have you ever really looked at the Bicycle Rider Back artwork? Introduced over 130 years go, it's such a ubiquitous thing that no one pays any attention to the details. But it's a supremely weird design. There are naked baby angels that for some reason have nipples. The ones in the corner are either body surfing or are supposed to be winged mermaids – which inspired the mermonkeys in Barb's back design. And the ones in the center are supposed to be riding bicycles, but the depiction of the then-brand-spanking-new safety bicycle is just a bit… off, giving the whole thing a very oddly phallic appearance. USPCC has produced some lovely designs for the Bicycle brand since their founding in 1885, but for some reason the only one still in use is the bonkers crazy 808 Rider Back.)
For the faces, I went with standard Arrco artwork, redrawn and cleaned up by German card designer Daniel Schneider (used with permission). Arrco was a popular brand of playing cards in the 1940's and 50's, and eventually became a subsidiary of United States Playing Card Company (which eventually stopped producing the brand). The Arrco face artwork is legendary in the playing card world, being slightly more elegant than the leading brand Bicycle Playing Cards.
Barb created a custom Ace of Spades and the Monkey Business logo to go on it, and two Jokers (color and black-and-white) with a sock monkey riding a tricycle. Because why wouldn't you want that? Barb put the tricycle on a small button planet with a ring, and added James Webb Space Telescope stars to the background.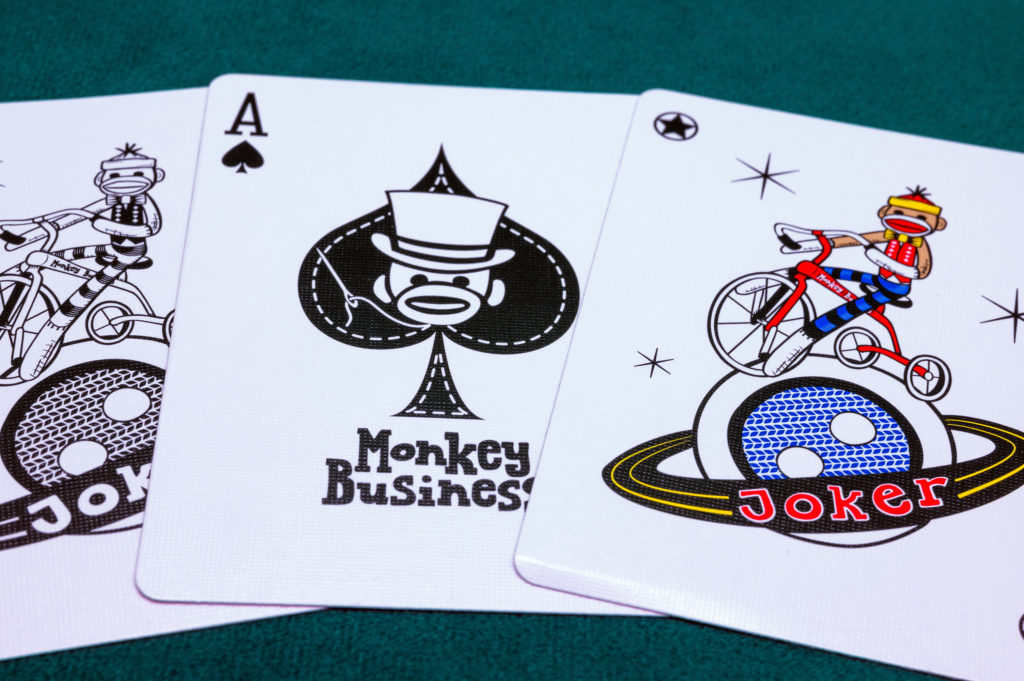 Another nerdy detail is the side flaps of the tuck case. These are often used for reveals in magic tricks (oh, did you mean the Three of Clubs? It's printed right here on the tuck case!) but I wanted to add "52" on the left one and "!" on the right one, representing 52 factorial, the number of possible permutations of a standard deck of 52 cards. I'm kind of obsessed with just how unfathomably large this number is, as amusingly explained by Stephen Fry on the show Qi.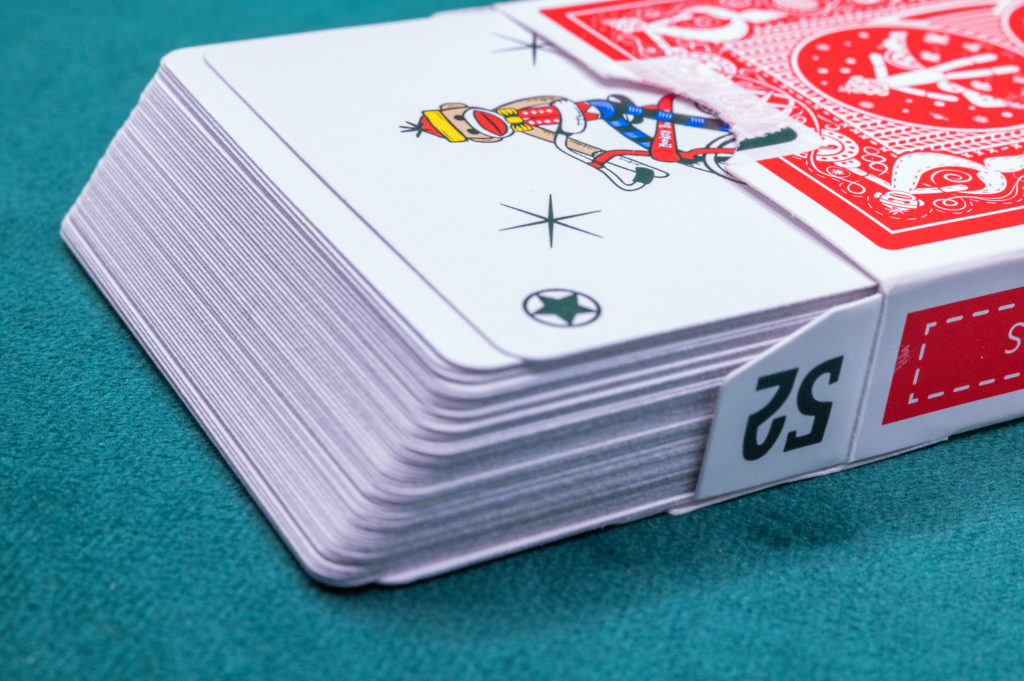 Designing a custom deck of playing cards is a lot of work. There are 56 cards, each of which needs two pieces of art (front and back), plus the tuck case. (56? Yes, there are 52 regular cards, two Jokers, and two advertising cards, and you have to create each of them.) All the work was done in Adobe Illustrator as CMYK color vector artwork, which is the format most custom card printers prefer.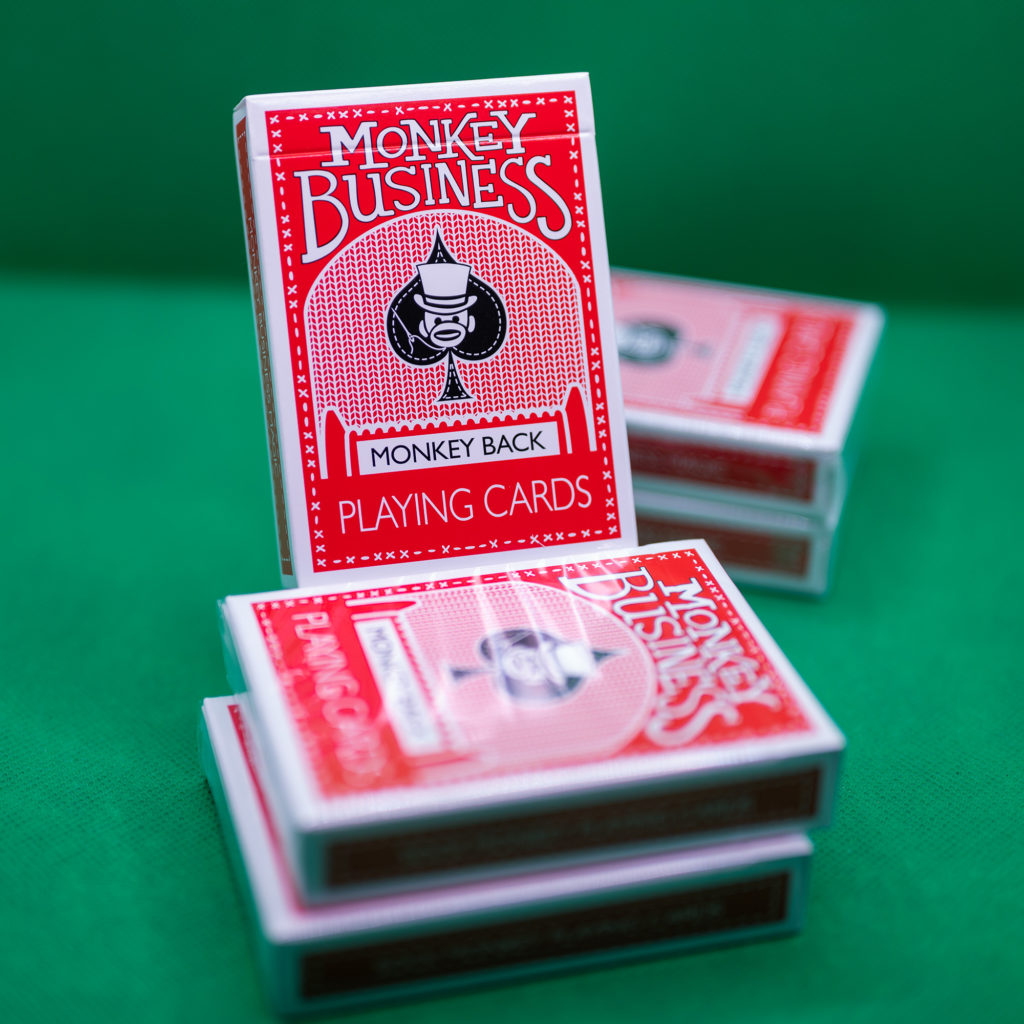 Once you have the design, you have to figure out how to get them made. There are a lot of options, but most of them are pretty bad. You wouldn't believe how many custom card printers there are in the world. And most of them are based in China and make really crappy playing cards.
I've had good luck making short run cards with a company called Make Playing Cards (MPC) – they do their production in China, but the quality is good. And you can order a single deck if you want – it'll be relatively pricey compared to a buying a deck of playing cards from a drug store, and the shipping will easily double the cost. The minimum order that makes sense is about 6 decks. They offer a bewildering array of card sizes, and offer a bunch of different stocks and finishes. If you choose correctly, the result is fairly comparable with good quality commercial playing cards. (Pro tip: go for the M31 Linen stock with BETA Playing Card finish.) MPC is a good choice to make prototypes or if you just need a few decks.
If you want the real deal – a proper deck of playing cards – you really need to go with the United States Playing Card Company, one of the oldest and most respected playing card manufacturers in the world, makers of the iconic Bicycle Playing Cards. But USPCC has pretty big minimum order and all kinds of cryptic and confusing rules of what you can and can't do with your cards. And it's cheaper (per deck) than MPC, but only at the quantity of their minimum order. The base minimum order is 1,000 decks, but the pricing is such that you may as well order 2,500 because it's only a little bit more. And there are options that open up to you at quantity 2,500 (due to some of those confusing rules).
USPCC's presses are fast. They make something like 100 million decks of cards a year, after all. But they're so fast that they can't precisely control the number of cards produced. By the time the get the machine up to speed and they shut it down, it's already spit out 1,000 decks, give or take. So one of their crazy rules is that they have a 10% over/under run clause in the contract. If they go under, you still pay for the contracted amount. If they go over, you have to buy the overrun at the contracted per-deck rate. Which doesn't seem fair, but those are the rules.
Then you have to figure out how to pay for all this. It gets expensive. Figure at minimum quantity you're going to pay close to $2 per deck, plus some substantial set-up fees that can add another $1 or more per deck, depending on what options you want.
There are a lot of playing card projects on Kickstarter. And most of them say they're going to print with USPCC (it's a big selling point) but statistically speaking, no one is asking for enough money on Kickstarter to cover standard USPCC costs, and most are barely making their goal. So clearly, almost everyone is having to pony up their own money as finishing costs, with the hopes of selling into secondary channels to break even. There are a few notable exceptions, but they are rare. And it's only made worse by the fact that you have to add Kickstarter fees and fulfillment costs on top of the production costs.
Fortunately, I found a solution. Brick and mortar magic shops are going the way of the dodo bird, but luckily we have one (only one) in Los Angeles. Well, Studio City – The Magic Apple (the magic store on the second floor). I've been a regular at the shop for over a decade, and Brent Geris, the owner, has become a friend. He liked the cards and thought they were unique enough that they would sell, so he offered to release them as a Magic Apple product, and in exchange he covered the production costs. Brent has connections with the other brick and mortar magic shops in the country (like New York's legendary Tannens and San Francisco's Misdirections) and some of them will likely carry the deck. And after the Magic Live convention this summer, he will approach Murphy's Magic, the world's largest distributor of magic products and see if they want to take some, in which case they may be offered by the big magic retailers like Penguin Magic and Vanishing Inc. Which is pretty darn exciting. (Even though Murphys acts like the bastard child of Costco and Spotify, and they don't pay particularly well, but if they take a gross or two of decks at discounted wholesale, it may help cover a good portion of the production costs for the run.)
We were supposed to have the cards in time for Christmas, but USPCC had some trouble with their production line so they only showed up about a week ago. Official release day is tomorrow, Thursday January 19th, but plans for a launch had to be postponed so they're available now.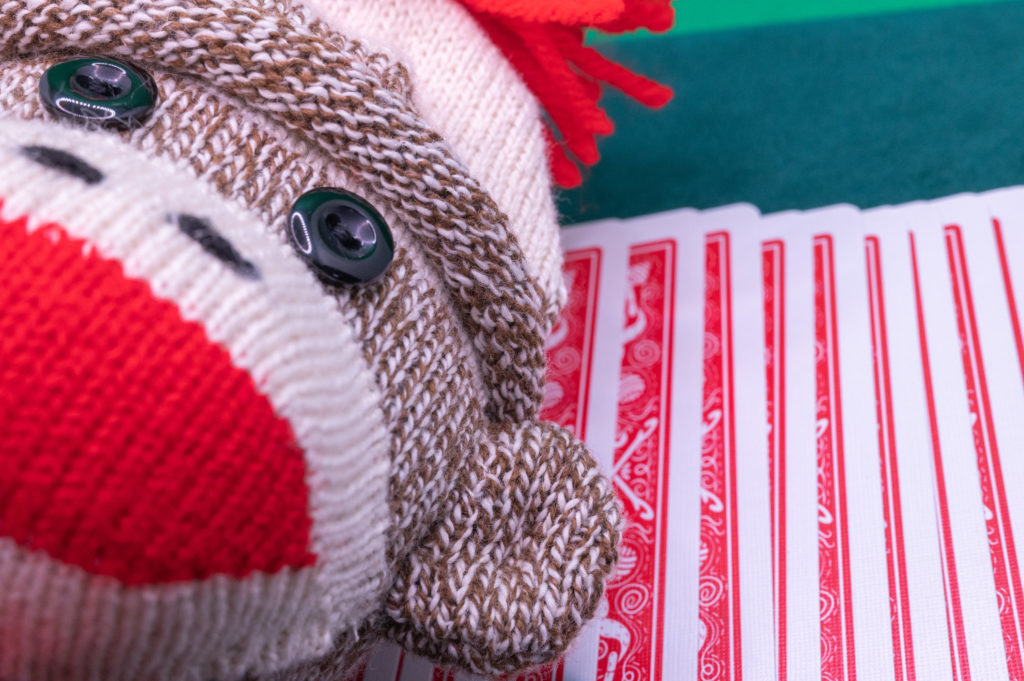 This is not a sales pitch. I thought people might be interested in the production process. And I'm just thrilled to see the cards become a real thing. I will never have to buy another deck of playing cards again in my life. I have been showing these things off to everyone who I talk to. But if anyone wants some, there are a couple ways to get them
The Magic Apple has them, and through 6 PM Thursday January 19th 2023, the decks are on a launch BOGO special – two decks for $9.95. They are available in the store, over the phone, or online. Supporting Brent and The Magic Apple thanks him for believing in the deck and helping making them reality. And if he sells enough of them, we might be able to justify another deck in the future (I already have ideas).
I also have them in my Etsy shop which sells various magic decks and a acrylic card stand that is surprisingly popular. Or if you're local to CRASH and see me in person, I will probably have some decks on me (which would allow you to avoid shipping costs and whatnot).