Representative Town Halls: Make Your Voice Heard!
The House and Senate are in recess, which means it is time for our representatives to come home and meet with their constituents.
Both of our California Senators have town halls coming up. Join us in making our voices heard by showing up in person with your questions ready:
Senator Feinstein Town Hall: RSVP REQUIRED. Thurs, Apr 20th @ 11:00AM
Senator Harris Town Hall: RSVP REQUIRED. Fri, Apr 21st @ 3:30PM
As for the House, here at CRASH Space our local representative is Congresswoman Bass. She does not currently have a town hall scheduled, but she does have a relevant event:
From Nixon to Trump: Perspectives on Presidential Accountability. Wed, Apr 19th @ 6:30PM
Kudos to Congresswoman Bass for being the only one of our representatives to choose a meeting time that is outside of daytime working hours.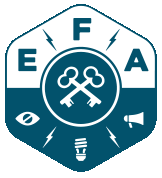 CRASH Space is a 501(c)3 non-profit organization which works to promote education through individual projects and social collaboration. CRASH Space is also a member of the EFF Electronic Frontier Alliance: a grassroots network of community and campus organizations across the United States working to educate our neighbors about the importance of digital rights.
Leading an event in this series is a paid opportunity. We are interested in events which encourage community action and education, on topics such as: civic engagement, social justice, support for marginalized groups, environmental protection, and more. Please send proposals to [info at crashspace dot org]. To support our work, you can donate here.