Engineering as Artistry: The Intersection of Art, Tech, and Music
WHEN: Wed 25th, 8P-10P
WHO: Open to the public!
WHERE: CRASH Space
RSVP: Here!
About this Event
Join visiting international artists Adam John Williams, Portrait XO and Burle Avant for a discussion on the intersection of art, tech, and music! The discussion will cover a variety of Adam's digital & audiovisual artworks, and will show off some Max MSP live coding, generating some live electronic music whilst the process of it's creation is shown in realtime on a projector. For some examples of Adam's work, check out Portrait of an Inventor.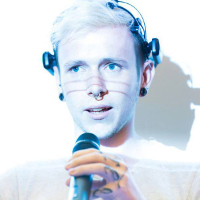 About this Artist
Adam John Williams is:
An award-winning multi-disciplinary digital artist working primarily with music, visuals & electronics.
A hardware hacker, Max MSP patcher, creative technologist and director of the Music Tech Fest Hack Camp.
A musician, DJ & VJ also known as Artemis Beats.
Creator of the maxome audiovisual performance controller.