CrashSpace had a booth at the Southern California Linux Expo Scale12x. We had a ton of crashers show up and and help out. Thanks for that it made it a fun time and I think everyone got to attend the talks they were interested in.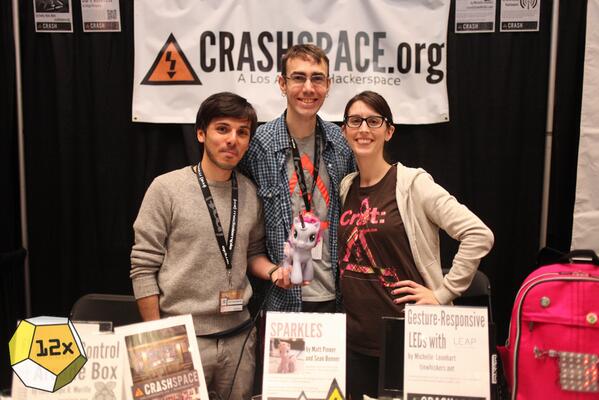 via @SeanLeftBelow
The booth was non-stop activity. See the video below of Saturday's attendees:
We erred on the side of showing small blinking interactive member projects. This made the booth more or less take care of itself while we just hung out to answer questions.
Scale is always an interesting event in that it pulls people from quite far away. Most of the folks we met aren't really interested in visiting Crashspace, but wanted a hackerspace in their neighborhood. It was fun to direct them towards hackerspaces.org or invite them to our party.
Showing off the capabilities of Crashspace through little lasercut give aways and a variety of projects was important to encourage folks to stop buy and use the shop.
There was a lot of interest in more advanced raspberry pi projects, as most had already been through the raspberry pi hacks book. We had a Ground Control Raspberry Pi Arcade Game that was very popular due to the excellent control surface, glowing case, and raspberry pi.
At0mbxmb's leap controlled leds and led backpack were popular. I'm totally sold on using the leap in future demos for an expo hall table. It was super easy for people to interact with when they didn't want to get close enough or touch anything.
A big button displaying that said "Press Me" was great for the kids. They readily banged on it to see our flipbookit and led ball come to life.
Here is the full slide show:
Another big draw was our events. A lot of folks visiting the booth wanted to learn more about coding or to find coders. They wanted to know about 3D-printing. They wanted to learn about Arduinos or find collaborators. We showed a list of our reoccurring events and were easily able to point folks towards our makerbot monthlies, shop sundays, learn to code with us, meetings, or radio mondays.
I was most impressed by the noc team at scale. the wifi was most solid, with a plenty of bandwidth, and stats displayed on the activity. This really made for a pleasant conference experience as one could play along and chat in the back channels during the conference talks.
My favorite talk was a presentation by Ron Evans about CylonJS . It was a demo heavy talk of their framework for robotics and physical computing. They've implemented this framework for Node.JS, Go, and Ruby to integrate all the things: leapmotion, sphero, ardrones, opencv, arduinos, beaglebone, and skynet . At one point they were playing a modified game of like with 5 spheros and even having a drone do facial recognition to follow someone. Yep, they were flying drones over the crowd with their face.

If you'd like to run an event with Crashspace, or help us improve the experience, you can checkout the wiki page.
–matt