Workshop/Patching Circle With Peter Kirn
[Post updated with link to presentation]
This month we have two events with Peter Kirn of Create Digital Music.
On Thursday, September 8th, from 7-10 PM, Peter will be teaching a workshop about using pdlib within Processing.
"Image And Music: Make Your Own Musical Tools, Free, with Processing and Pd"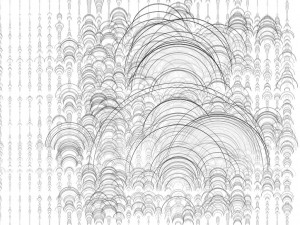 Workshop Thursday September 8th from 7-10 pm. Limited space, $60.
Make your own instrument, sequencer, or effect, then give it a visual interface – not just fake knobs and buttons, but via any picture you desire. Now you can, with two integrated tools, entirely for free.

Learn how:
Using Processing, the artist-friendly rapid code "sketching" environment, and Pure Data (Pd), the visual patching tool, we'll discover how to create custom music creations entirely in free software. Starting with simple projects, you'll learn how to get up and running to create your own tools, see some of the basics of how to make visual interfaces in Processing and construct musical tools with Pd, as well as how to route audio from these into software you already use like Ableton Live.
Via the new free libpd library for Processing, developed by Peter Kirn and Peter Brinkmann, you can use Pd patches right inside Processing. You create your musical creations – sequencers, drum machines, synths, effects, and so on – using the graphical environment Pd, which uses patch cords to represent the flow of signal through your sonic rigs. (A library of useful building blocks means you can construct all kinds of powerful tools even without much Pd knowledge.) Then, in Pd, you can create graphical interfaces via lightweight code, which can even run on your desktop or even mobile phones and tablets powered by Android. We'll experiment with some simple two-dimensional and three-dimensional generative graphics for visualizing and playing our instruments, and some useful tools (a synth, a drum machine, a pattern maker, an effect you can use with a mic).
Update: the class is done, but Peter's presentation has been posted.
On Sunday, September 11th, starting at Noon, Peter will join us for the monthly Pd/Max/MSP patching circle. Bring your project from the workshop, or any other project you're working on. This is also a good chance to learn more about Pure Data (Pd) or Max/MSP.
The patching circle is open and free to all.