Lock Picking from The College of Lock Picking
Saturday, October 1st from 7-9pm
http://collegeoflockpicking.eventbrite.com
You can pick your friends.
You can pick your beer.
But can you pick… a Lock?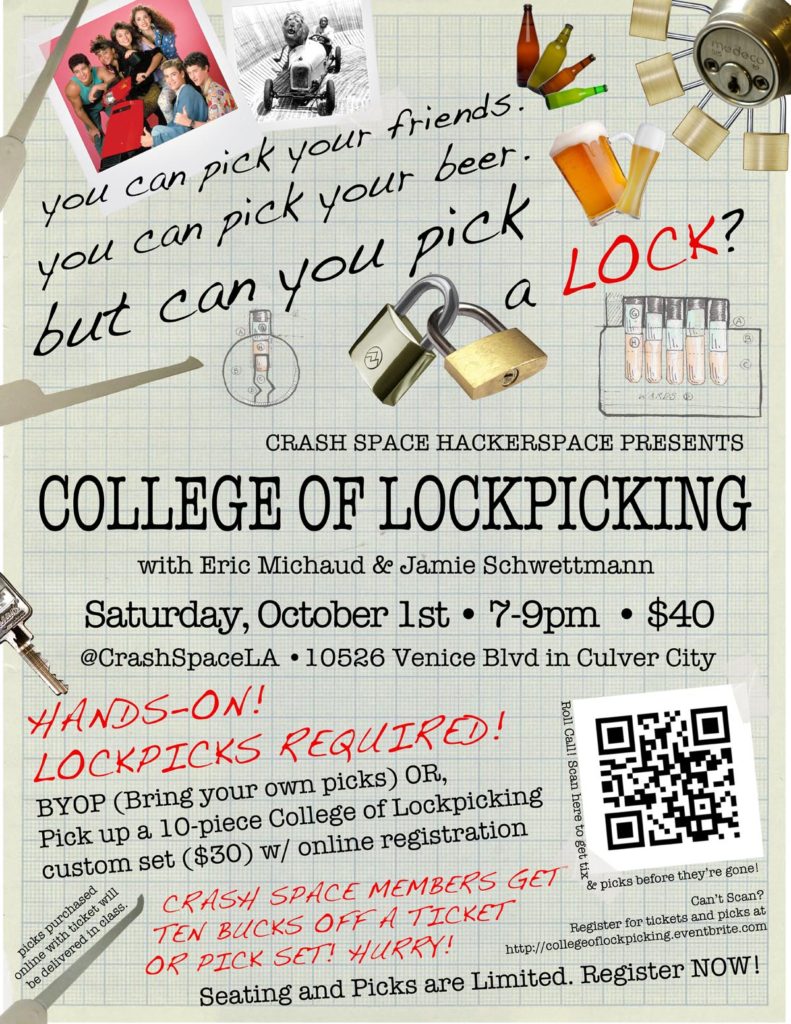 Join us on Saturday, October 1st from 7-9pm, as we embark on an ancient mechanical adventure to explore the inner workings of a modern lock, first developed by the Mesopotamians and Egyptians over 4000 years ago. Led by lockpickers Eric Michaud and Jamie Schwettmann, this workshop will cover – soup to nuts – everything you need to know about how common locks work… and how to pick them open.
Whether you're a complete novice curious to find out what pin-tumbler really means, a homeowner protecting your family's treasures, or a veteran lockpicker with questions about advanced locks and techniques, this event is for you! With 2 solid hours of history, mechanical diagrams ("lock pr0n"), and hands-on lockpicking instruction… first we'll open your minds, and then we'll open some locks!
To properly learn this ancient art, you'll need the proper tools.  By registering for a ticket with a lockpick set, this guarantees you a seat at the workshop, and reserves – all for you – a brand-new 10-piece custom lockpick set by Southern Specialties, hand-picked by Eric and Jamie to maximize utility for beginners and locksport enthusiasts alike, and offered for only $30.
If you already have some picks you're itching to practice with, you can bring them along, and your workshop cost is only $40!
BONUS:  CrashSpace members get $10 off a ticket or pick set!  (Code posted to te member list)
See ya there!
– Eric.
P.S.  Don't forget to Like our Facebook page ( http://www.facebook.com/CollegeOfLockpicking ) and follow @lockpickcollege on Twitter, to get updates about this and future Lockpicking events across the country and around the world!