From RTOS to Rockets: Paul Breed to speak at Crashspace
I am pleased to announce the continuance of the Crashspace Innovators in Art and Science lectures with a fantastic guest, Paul Breed.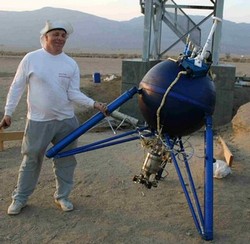 Paul is a man of many talents and no lack of ambition, with a plain spoken manner that comes from years of tackling hard problems on his own terms. With that being said, I will defer to his own words as a way of introduction:
"I had never built a rocket prior to building my first liquid engine, but I had built houses, cars, planes, RC planes, solar powered planes, and record setting race boats, at one point in time the top five F1 boats in the world ALL ran my electronics. All of this was done in my spare/free time as a hobby. Professionally I've spent the last 25 years delivering electronics and embedded computer systems in every realm from full NASA qual hardware/software on the Deep space network to disposable consumer parts."
That's right. He builds race boats as a hobby. Now he has a rather more extreme one: Rockets. He and his son (Paul Allen) together are Unreasonable Rocket, named after the famous quote that many of us hold dear. Unreasonable rocket was one of three teams in the final running for the million dollar Grumman lunar lander X-prize. He and his son built in their garage in Solana Beach a machine that could fly, hover, and land all on rocket power.
Here is a video in which we interview him while he is testing his rocket engine (http://vimeo.com/19829560, about 10 minutes in)
Is this the countdown? from Michael Clive on Vimeo.
But that is only his hobby. His day job is running Netburner, an embedded system company. He will be bringing goodies for Crashers and Nullspace folks to play with. http://www.netburner.com/
Netburners are low cost high power arduino-like devices that run a full real time operating system and built in ethernet programming. It is actually easier to use than Arduino in some senses.

In addition to that, he has adapted a unique method for construction of rocket engines: Laser sintering. His engines are literally printed by a laser in a bath of powdered metal.


When he isn't revolutionizing propulsion, he is working on an open source GPS receiver that will get around many of the limitations imposed on commercial units.
He will talk about whatever we want to hear about, but expect to hear about embedded system design, rocket engines, speed boats, helicopters, solar planes and innovation. This lecture offers a unique opportunity to speak with one of the most innovative people I have ever met. I hope to see you there!
Thursday May 26th, at 7:30 pm
Crashspace
10526 Venice Blvd
Culver City, CA
GENERAL INFORMATION:
The Crashspace Innovators in Art and Science lectures are a way to get up close and personal with the people who are shaping our tomorrows. Previous speakers have included Mark Frauenfelder, author and champion of the Maker movement and Anouk Wipprecht, electronic fashion designer and artist. The lectures are open to the public, free of charge, but a donation is HIGHLY ENCOURAGED as the space is entirely member-funded and operated.
Tours of the facility will be available after the event.