MEGA TAKE APART – this saturday. – the 13th. (tomorrow, I guess)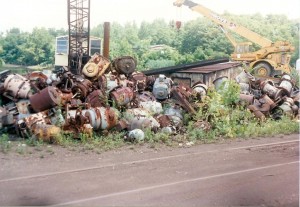 Every once in a great while, you can actually get too much of a good thing.
We have reached that moment now at crashspace. We've been so blessed by great donations of hardware and parts that we've got to get up and start doing something with them!
So this weekend, and the second saturday of every month thereafter, we're having a spare parts party. Come in, bring your unwanted gear, and we'll sort, spindle, mutilate, and brainstorm how we can best use (and abuse) them and their precious pieces. If you see something you want, members get first dibs, but guests can bring home the bacon for a token donation (to be determined by the member on-hand).
We've already got a bunch of stuff to sort and disassemble for parts for storage and use, but I've got a sneaking suspicion there are some even cooler bits out there that could use a good home.
I'll be wielding the pliers and soldering iron in the front room from 10am until midnight, and there will be steady flow of members in and out through the day. So stop by if you've got old gear you can't use anymore, or if you want to pick through our extensive collection of old computers, cables, wires, bits, and pieces.
(also, as staff librarian, I would be remiss if I didn't take this opportunity to pimp our fledgling technical library. If you've got books to donate, we're in full-on collections mode. the older and mustier the better!)
PS: We're well aware of the issues involved in disposing of the complicated and sometimes toxic pieces of industrial whimsy that are our electronic lives. In addition to the swap meet fun and games, we'll be sorting and prepping unwanted stuff for recycling, reuse, and proper disposal, by material. So if you've got stuff you don't know how to dispose of properly, bring it in, and we'll take care of e-waste, mixed plastics, chemicals, and strange metals. It's the responsible thing to do.